For the last 2 years China's approach to managing outbreaks of COVID-19 has been fairly consistent; rapid lockdowns, quarantines, mass testing, and travel restrictions, through which China has very successfully fortified epidemic defences. The British Chamber commends China and its efficient approach to managing COVID-19. However, as China finds itself in the midst of tackling what is recognised as the worst outbreak of COVID-19 since the start of the pandemic, business sentiment has shifted with businesses reporting dissatisfaction with management of the recent COVID-19 outbreaks. Whilst we fully comprehend the predicament of balancing the safety of its people and the unpredictable disruptions to business and day-to-day life, business risk is at the highest it has been since the initial outbreak, and we believe that it is important that policy makers exercise flexibility and adapt the approach to managing COVID-19 in keeping with the evolution of the virus and the new challenges that that brings with it, or risk a diminishing presence of international businesses, talent and investment in China.
The recent outbreaks are pushing the contingency plans that were put in place by businesses and the government alike during the initial outbreak to the limit, and as a result 74% of surveyed British businesses have reported a large or serious impact on business operations and cash flows. Businesses are reporting an impacted ability to attract and retain foreign talent (69%), decreased yearly revenue projects (55%), difficulty in developing the market and opportunities (54%), supply chain disruptions (51%) and decreased and delayed investment (49%) as a result of recent outbreaks. Equally concerning is the outlook for the next year if current COVID-19 restrictions remain in place, with surveyed businesses expecting a reduction in:-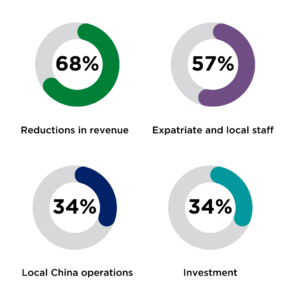 Shanghai, China's largest city with a population of over 25 million people and China's commercial capital, was reported as the city where business operations were most affected by the latest COVID-19 outbreaks (68% of responses). This is to be expected given the wide scale lockdowns across the city as at the time of publishing, however, there is understandable concern as to which city will be impacted next. Businesses are keenly aware that there is a period of recovery after restrictions are eased, and that ripple effects are felt months afterwards, as evidenced by the impact of the Xi'an lockdowns in December 2021 on the manufacturing industry in particular. Unsurprisingly, the impact on companies' investment plans and ability to attract and retain foreign talent, and the concerns about the continued impact of COVID-19 restrictions are similarly shared amongst businesses and industries across China evidencing a nationwide concern for companies and their operations if the policies for the management of COVID-19 remain the same. 
Businesses and individuals alike are currently suffering from a lack of clarity and unified enforcement of COVID-19 management policies. Surveyed businesses reported dissatisfaction as a result of unclear regulations in regards to lockdowns and testing (50% of responses), with the largest number of respondents identifying the instability created by unpredictable and frequent COVID-19 lockdowns and restrictions as the main cause of impacts on planned investments. 46% of companies also cite unclear and non-uniform implementation of regulations in China as one of the aspects which has impacted the ability to attract and retain foreign talent. The education industry in particular is expecting an overall negative impact on business due to increasing difficulty of hiring foreign talent (74% of responses), which is concerning when paired with forecasts for the upcoming 2022-2023 year indicating an expected turnover of teachers at 40%. Our worry is that this will contribute further to the flow of talent out from China in the coming months if left unaddressed.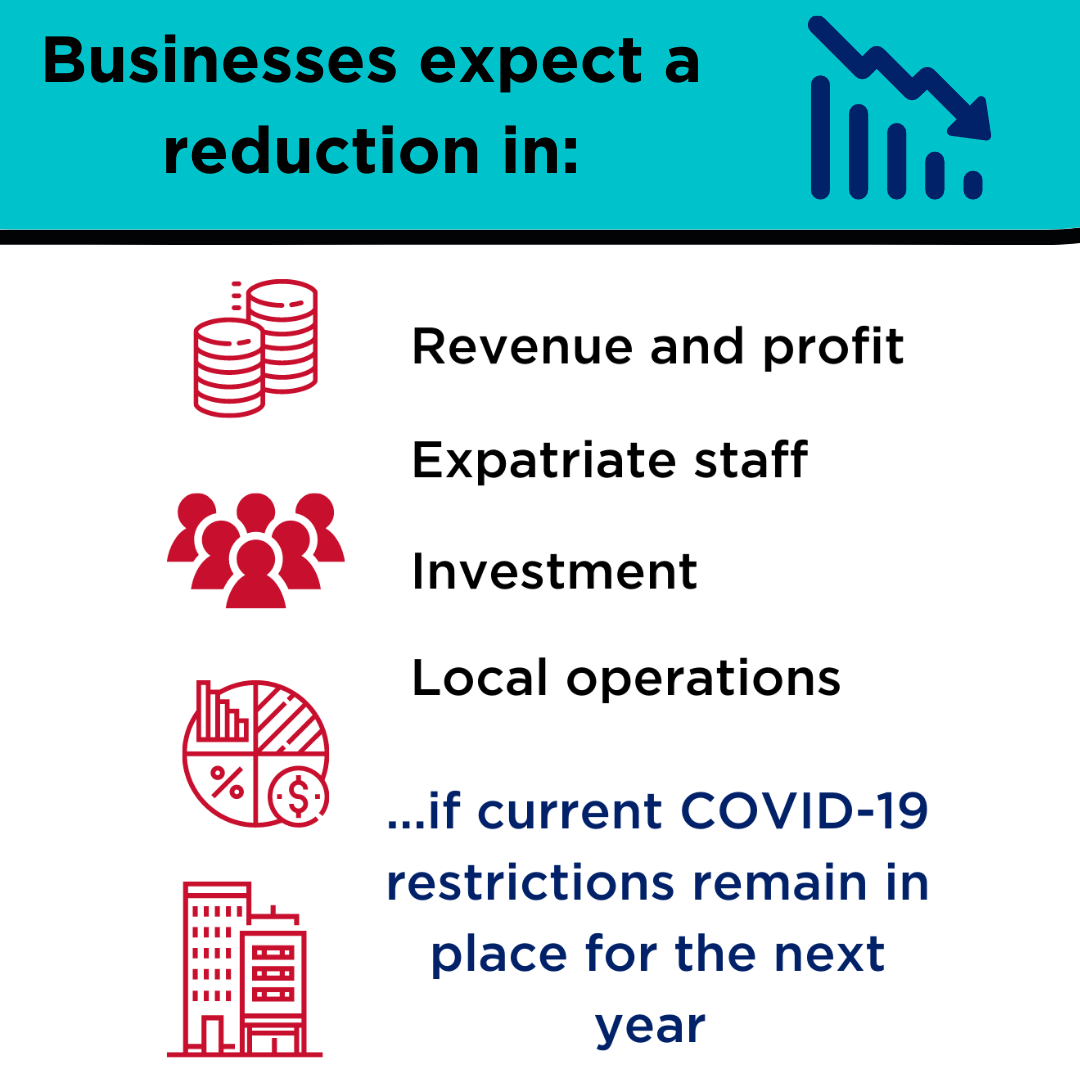 As the world continues to work towards a future where COVID-19 can be classified and treated as an endemic situation, the approach to controlling the spread of COVID-19 in China is starting to have an increasingly negative effect on businesses, their investment plans and their talent. In order to restore business confidence, and for China to remain an attractive destination for foreign investment and foreign talent, it is necessary that a clear and adaptable framework and strategy is drafted and implemented by government agencies across China at a national, regional and local level. 
Our worry is that China is rapidly diminishing as an attractive destination for investment and talent. China has previously consistently been considered a global leader in COVID prevention; however, as of April 2022 the sentiment is of regression and growing dissatisfaction. Therefore, we call for policy makers in China to update their COVID-19 policy framework, following a comprehensive science-based approach. We would like to see clarity on China's dynamic COVID-19 policy, and measures that are to be implemented under this policy should be directly proportionate and an appropriate response to the risk posed. 
We believe that under the dynamic COVID-19 policy, it is possible to minimise the level of disruption to day-to-day business operations and personal life, without compromising public health and protecting the vulnerable in the community, and policy makers should seek to enforce epidemic management measures which achieve this. Importantly, home quarantine and/or other substitute options to centralised quarantine (both on arrival and for asymptomatic, mild and close contact cases) should be permitted (recommended by 79% of responses), and under no circumstances should family members be separated. Allowing more flights to enter into and leave China (recommended by 62% of responses), a shift towards easing travel restrictions (recommended by 45% of responses), and allowing foreign vaccines into China (recommended by 57% of responses) would go a long way towards alleviating the impact that the dynamic zero-COVID policy, in its current form, has had. 
By implementing a policy framework that is able to be relied upon by both businesses and individuals, and which provides clear guidelines and science-backed, fact-based mechanisms for the communication and implementation of quarantines, lockdown provisions and restrictions, and requirements for businesses, China's international business environment can continue to prosper in the face of COVID-19 outbreaks. 
Click here to read and download the full report.