Spearhead China, Deerpark Pedigree Pigs, BPA and the DIT secure further large export orders for UK livestock genetics following successful seminars and roadshows. Experts from a series of British and Chinese institutions met to update guests on the developments in livestock production and help develop trade in livestock between the two countries. This led to tangible wins for British firms, with Deerpark securing full order books over the course of the programme.
Great Britain and Northern Ireland are world leaders in animal genetics. To help celebrate this and to further raise market awareness in China, the Department of International Trade (DIT), British embassy, British Pig Association (BPA), UK Technology and Genetics (UKTAG) co-sponsored seminars in Beijing city centre and at the British Pavilion at the Beijing Expo 2019.
An overflowing British pavilion ably catered for over 100 guests from the Chinese food chain industry company while they listened to presentations from British and Chinese experts. These experts represented a range of institutions including the Roslin Institute, which is pioneering the technique of gene-editing to produce disease-resistant pigs, in addition to the National Sheep Association (NSA), UKTAG, Deerpark Pedigree Pigs, the DIT, Genus plc, the British Pig Association, the Tianjin Pig Association and Huazhong Agricultural University.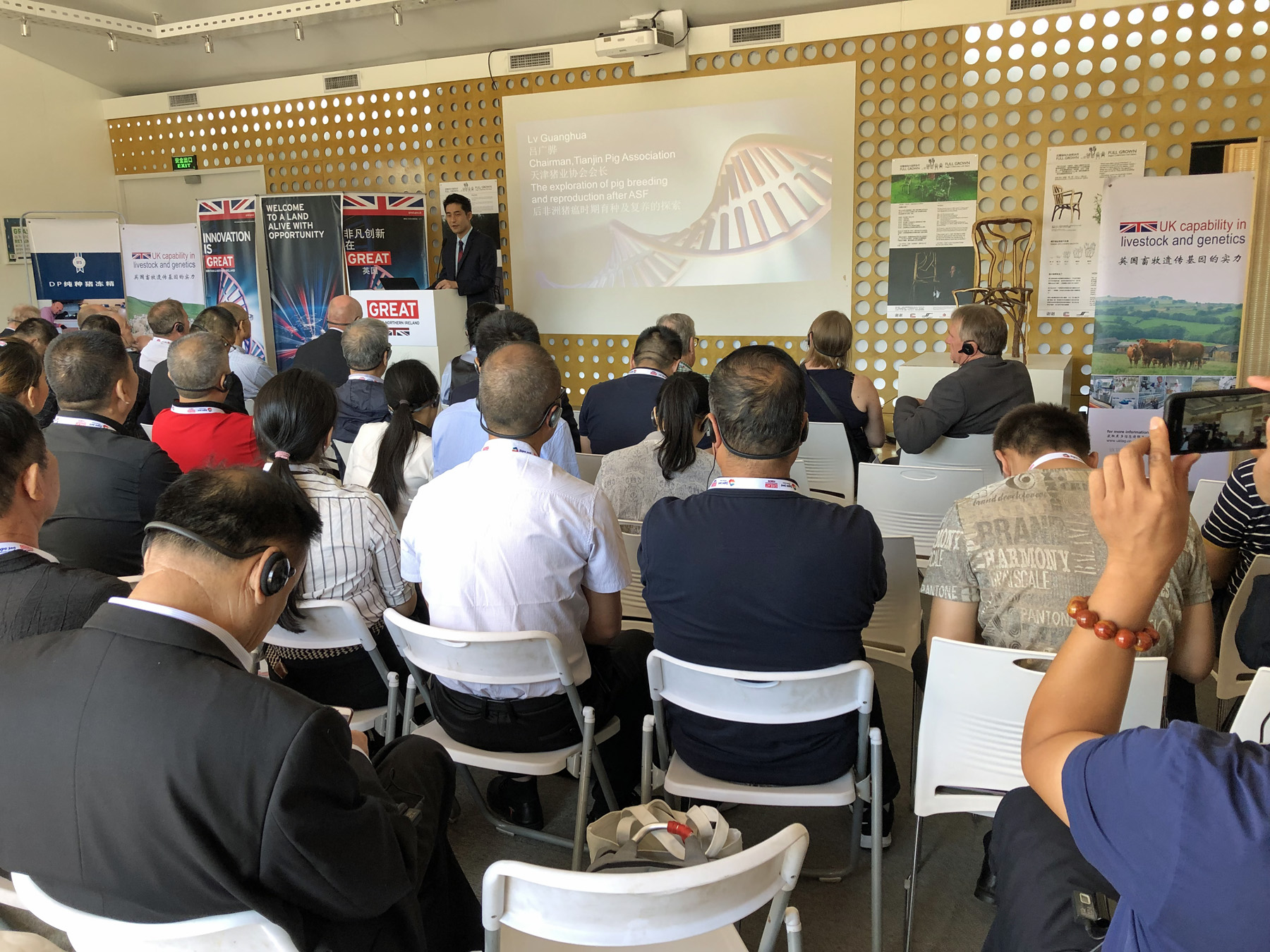 The seminar programme was accompanied by the launch of a 48-page booklet setting out the UK's capability in livestock and genetics. The document, which has been published in Chinese and English, covers all major livestock species and poultry, as well as research and innovation. Announcing the launch of the capability statement, Dr Elizabeth Warren, FRSB, lead in Agri-Tech at the DIT, said:
With the launch of this capability statement, we aim to raise awareness of the UK as a source of improved livestock genetics. UK livestock and breeding companies are world leaders and we look forward to building long term partnerships with Chinese companies as they build capacity for sustainable production of animal proteins to meet growing demand in China.
This was followed by a reception for guests and speakers hosted by Ray Smith – UK Agri, Food and Drink counsellor for the DIT – at the Ambassador's Residence, with the main guest speaker being Christine Middlemiss, Chief Veterinary Officer for the UK. Following the seminar, the Spearhead team worked with the BPA, Deerpark and UKTAG on two separate roadshows and secured immediate full order books for pedigree Deerpark pigs from Northern Ireland. Guests were also able to network with and put questions to the UK delegation during banquets held both the night before and the night following the event.
The success of this British SME in China is a beacon to encourage other SMEs to dip their toe in the water and succeed in China.
---
About Spearhead China
Spearhead China is an international consultancy company who are pragmatic and deliver effective appropriate results for, and with, their clients. For more information, please visit www.spearheadchina.com.