Welcome to China in Five! Each Wednesday we bring you up to speed with what's caught our eye in the China-sphere in five(ish) minutes.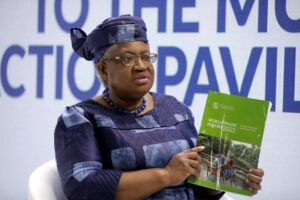 What's the background? 
On Monday, the World Trade Organisation ("WTO)" released the World Trade Report 2022 at the 2022 United Nations Climate Change Conference (COP 27) which commenced on 6 November in Sharm el-Sheikh, Egypt.
Fact 1:
China has a number of climate change goals including reaching peak carbon emissions by 2030, and being carbon neutral by 2060.
Fact 2
China accounts for approximately 30% of global greenhouse gases, and the World Bank estimates that USD 14trillion in investment is needed in power and transport in order to achieve China's carbon neutrality goal by 2060.
Fact 3:
The WTO World Trade Report 2022, calls for trade barriers to be addressed which are impeding on the dissemination and use of low-carbon technologies and impacting upon low carbon industries, highlighting the importance of global trade in driving carbon change and reducing emissions without overly affecting living standards and development prospects.
BritCham comment:
Climate change is a global issue, with the earth recording the eight warmest years on record. As United Nations Secretary-General Antonio Guterres said in his opening comments at COP27, "Humanity has a choice: cooperate or perish". Furthering climate goals has always provided a beacon of light for bilateral cooperation between China and its global allies, including the UK. However, many posit that the absence of President Xi Jinping from COP27 not only underscores the geopolitical tensions at play at the moment, but has also raised concerns from some attendees as to whether China is in a position to reduce its reliance on fossil fuels and cut its emissions. Despite President Xi's absence, there is an envoy from China in attendance. China's recent domestic energy crisis and global rising commodity prices, highlight the need for increased investment in alternative energy sources and energy security. International trade and investment will lie at the heart of driving such adaptation, by reducing costs of technology, sharing innovation and improving global resource allocation. The hope is that COP27 achieves what it boldly sets out to do, which is to ensure the full implementation of the Paris Agreement with UN Climate Change Executive Secretary Simon Stiell highlighting that "With the Paris Rulebook essentially concluded thanks to COP26 in Glasgow last year, the litmus test of this and every future COP is how far deliberations are accompanied by action".
 -Alexandra Hirst
-Senior Policy Analyst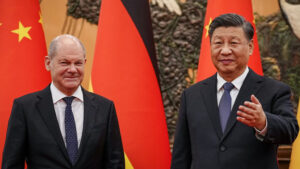 What's the background? German Chancellor Olaf Scholz visited Beijing last Friday and met with Chinese President Xi Jinping and Premier Li Keqiang. He is the first G7 leader that has visited China in three years and the first leader that has done so since the recent party congress.
Fact 1 During the visit, Scholz brought with him a delegation of business representatives from 12 German industry titans including Volkswagen, Deutsche Bank, BASF, Siemens, BioNTech and Merck.
Fact 2 Following on from the visit, Scholz said that China would approve BioNTech SE's COVID-19 vaccine for foreign residents next year, which will be the first mRNA vaccine that China approves for use in China.
Fact 3 Economic ties between China and Germany remain strong during the pandemic. The first half of 2022 for example, witnessed a record high German investment into China.
BritCham comment:
Chancellor Scholz's China visit carries significance, not only because he was the first foreign leader Chinese president Xi met after the 20th party congress, but also as it took place amidst growing concerns about the current state of Germany-China relationship within Germany and among some of its Western allies. Such concerns stem from what many see as Germany's 'over-reliance' on China and the latter's increasing divergence and frictions with Western countries. Despite the opposition, the visit, however, was necessary from Chinese and German leaders' perspectives. As Mr. Scholz pointed out in his op-ed, China remains an important business and trading partner for Germany and Europe. Geopolitical tensions, especially the war in Ukraine, and concerns over Taiwan and human rights issues also highlight the importance of continued dialogues with China. From China's perspective, the country is still in need of foreign investment, with its economy recovering on shaky grounds. The deterioration in relations with Western countries, especially the US, also means China will continue to keep Germany happy where it can in order to keep this relationship on relatively good terms.
-Sally Xu
-Policy Analyst
Our podcast pick of the week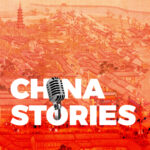 China's pandemic control protocols, which often lead to lockdowns and business closures, have assaulted almost every sector, with indoor dining one of the most affected. Now buffet restaurants are inviting diners for a feast with a "more-for-less" price tag to attract option-hungry consumers, or those who are tightening their belts. In this podcast, Meihan speaks to many buffet owners and catering consultant, who attributed the trend to the "consumption downgrade" of consumers amid an economic slowdown, with restaurants seizing the opportunity by providing cheaper and higher quality buffets. Given their prospects for growth, would buffets become the mainstream catering type in a sector dominated by hot pot restaurants?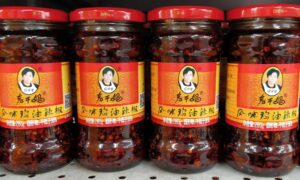 A staple face in any Chinese kitchen, Tao Huabi is widely joked about as "China's hottest woman" for her sensational product Lao Gan Ma Spicy Chilli Crisp, a hot, crunchy sauce of chopped chillies fried to a dangerous red. Despite the formidable look, people's love for Lao Gan Ma is undeniable, bringing Tao Huabi an estimated fortune of $1.05bn, according to Forbes China. Domestically, this magic sauce is enjoyed with almost everything, including ice cream! Abroad, Lao Gan Ma is gaining popularity due to its unique packaging and irreplaceable flavour. To many Chinese people, Lao Gan Ma is not only a delicious chilli sauce but also an emotional embodiment of nostalgia for socialist China and a "simpler time".
What's on our feed

Questions? Feedback? Critiques?
Get in touch at advocacy@britishchamber.cn