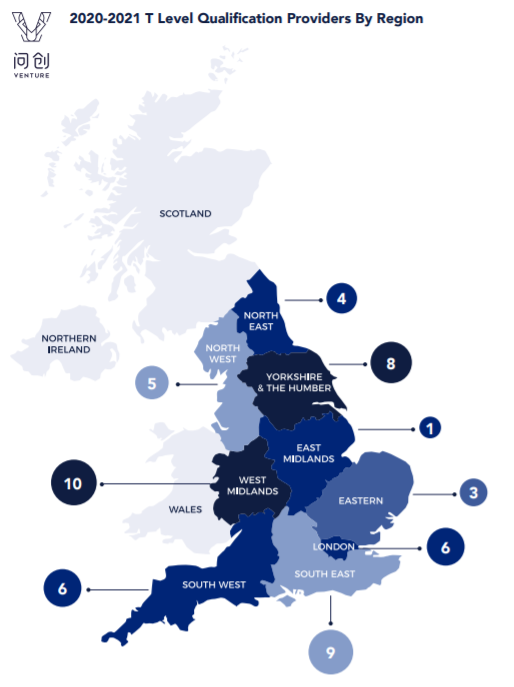 British Government Announces Details of New Technical Qualifications
On the 27th of May, the British government announced the first 52 colleges and post-16 providers which will teach the new T Level qualification. The qualification, described as 'the most significant reform to advanced technical education in 70 years' will be on par with A levels, giving young people the choice between technical and academic education post-16. Courses in education & childcare, construction, and digital (design, production and development) will be taught from September 2020, with further courses being rolled out the year after.
(Source: gov.uk)
JiaYi Education Company Plans for Further Investment in UK
The Beijing based education company, which recently purchased Devonshire-based nursery group Bambinos, will continue to look for more investment opportunities in the UK. The Chinese company is particularly interested in the "management system and curriculum of British nursery stage education" and has plans to send Chinese teachers to Bambinos nurseries in the UK for training and also bring over British management to advise on expansion plans for Asia.
(Source: China Daily)
Times Higher Education Releases 2018 World Reputation Rankings
The reputation rankings were compiled from a survey, completed by 10,162 scholars across 138 countries, in which respondents were asked to name no more than fifteen universities that they believe are the best for research and teaching in their field. Of the top 100 spots, the UK held nine, including two in the top five, whilst mainland China occupied six spots, including two of the top twenty.
(Source: Times Higher Education)
Bright Scholar and Beijing Normal University to Establish International Education College
The two Chinese organisations signed a strategic partnership on the 25th May to establish the Huiyan International Education College which aims to provide international education training for new and existing teachers. The college, which will be the first of its kind in China, will collaborate with international universities to offer degree programmes, develop international curriculums with Chinese characteristics and conduct teacher training programs.
(Source: Bright Scholar Education Holdings)
BSCE to Establish Eight Skills Training Centres Across China
The British Sectors Centre for Excellence announced on Tuesday that it will establish eight skills training centres in cooperation with municipal governments, institutions, and enterprises across China. The centres, which will offer technical and vocational education in design, tourism, logistics and education, aim to each train 3,000 skilled workers within three years. The training offered will be based on the UK's graduate level apprenticeship standards.
(Source: Xinhua)
Cambridge University Hosts CSSAUK Entrepreneurship Challenge
The Chinese Students and Scholars Association UK (CSSAUK) held the opening ceremony for its High-Level Entrepreneurship Challenge at Cambridge University this week. At the ceremony, Deputy Head of Confucius Institute Xia Jianhui expressed hope that the competition would encourage greater contributions from high quality innovation and entrepreneurship exchange between China and the UK.
(Source: People's Daily)
CBBC Associated Universities Rank Highly in International Reputation
In the recently published Times Higher Education 2018 World Reputation Rankings, CBBC member universities UCL, University of Edinburgh and King's College all placed in the top 50, ranking at 18, 35 and 42 respectively. Overall, nine British universities placed in the top 100.
(Source: Times Higher Education)
NEW REPORTS & PUBLICATIONS
2017 Beijing Innovation and Entrepreneurship Education in Higher Education http://www.jyb.cn/zcg/xwy/wzxw/201805/t20180528_1089385.html
85,800 full-time undergraduate students took part in innovation and entrepreneurship competitions in 2017.
73,200 full time undergraduate students took part in innovation and entrepreneurship training projects
UPCOMING EDUCATION EVENTS
British Chamber Summer Garden Party
HMA Residence, Beijing
7th June
The sun is out and the city is coming alive again, so what better way to kick off summer than with the 2018 British Chamber Summer Garden Party, a highlight of Beijing's social calendar. This year's party will celebrate a classic British summer sporting festival: Wimbledon. Before the Summer Party kicks off, the Residence will also host the Annual General Meeting of the British Chamber of Commerce in China, at which our new executive committee will be elected.
https://www.britishchamber.cn/en/events/2018-annual-general-meeting-and-summer-garden-party/
China Preschool Education Conference & International Kids Education Expo
Kid's Expo is a professional B2B pre-school educational products exhibition. It offers a great platform to gather the suppliers as well as the preschool education pioneers, educators, caregivers , parents, distributors, dealers and those who care about kid's education.
Poly World Trade Center, Guangzhou
9th – 11th June
http://www.kidsexpochina.com/kidseng2/
School's Out For Summer Education Focus Group Meeting @ Jade Learning School
The meeting aims to welcome all companies in the educational industry, create introduction to the newest members of Education Focus Group, review the past activities and events, and also give the latest updates of the education industry in South West China.
Jade Learning House, Chengdu
12th June, 14:00 – 17:00