Description
"Social innovation is the process of developing and deploying effective solutions to challenging and often systemic social and environmental issues in support of social progress."
[Beijing] The 2018 Women in Leadership Forum is taking the opportunity to shine a spotlight on inspiring women in social enterprise, impact investment and mission-driven business. Women have made some notable achievements in China's digital industry where nearly two-thirds of startups have women in the C-suite, compared to 54% in the US. While the forum will celebrate the success women have achieved in their fields, it also hopes to address some of the discrepancies that still exist. China still ranks 92nd on the World Economic Forum's Gender Gap Index, which measures overall gender equity, including access to education and healthcare, as well as commercial participation and political representation.
The Women in Leadership Forum, co-organized by Cheung Kong Graduate School of Business (CKGSB) and the United Nations Entity for Gender Equality and the Empowerment of Women (UN Women), explores issues important to women's advancement in society with the aim of empowering future female leaders. This half-day event will be held in Beijing, China, from 13:30-18:00 on November 28th, 2018. Participants will have a chance to hear from more than 20 distinguished speakers and connect with over 400 business leaders to improve the status quo.
This year's forum will focus on leading business executives, social entrepreneurs, and diplomats from China and around the world who are working to solve society's most pressing problems through innovation.
The first session – Government: Cultivating HER Leadership – with the first female British Ambassador to China, Dame Barbara Woodward and Australian Ambassador to China, Jan Adams, will focus on government initiatives in place and how public entities collaborate with private corporations to empower women.
The second session – Business: SHE Changes the World – featuring Shirley Chen, Chairwomen of China's leading investment bank CICC, will explore the role women have played in China's business and technology sector and why having women at the top is good for business.
The final session – Social Entrepreneurship: SHE Innovates for Humanity – hopes to inspire more women leaders to do good by hearing case studies from change-makers in the field of philanthropy.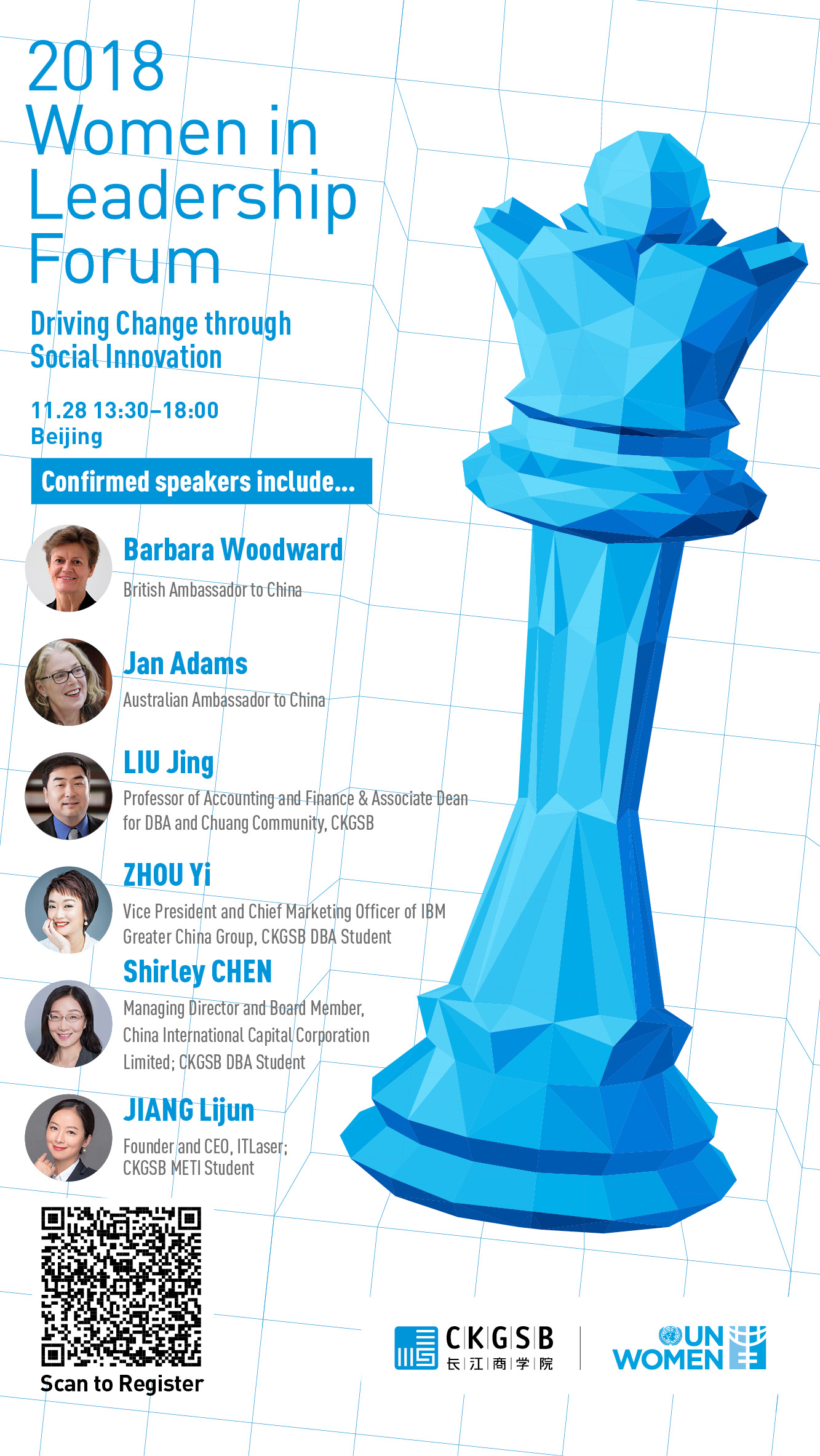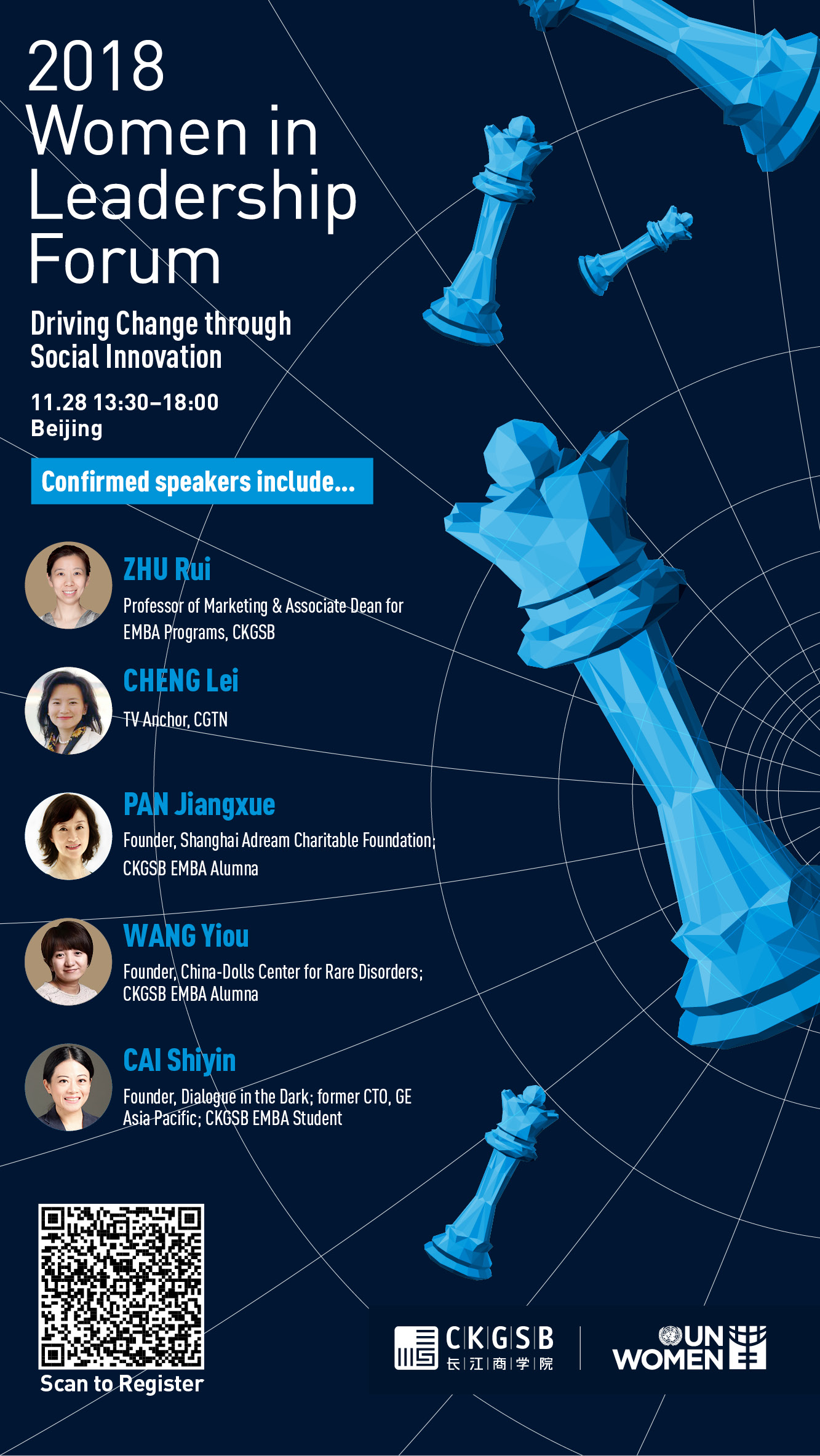 CKGSB held the first Women in Leadership Forum in 2013 as a platform for celebrating success stories, empowering aspiring women leaders, promoting gender equality in the workplace, and offering an opportunity to create positive change. Since then, the forums have featured influential leaders including Sheryl Sandberg (Facebook's COO), Geoff Wilson (KPMG Asia's COO), Julia Broussard (Former head of UN Women China) and Yang Lan (Prominent TV Presenter and Co-founder of Sun Media Group). The 2017 Women in Leadership Forum convened a group of 500participants, selected from 1,400 registrants, and more than 730,000 online viewers.
To register, please visit:
中文注册链接:http://cn.ckgsb.com/edp/MarcomReg/MarComEvent2015s.aspx?id=65
English registration:http://cn.ckgsb.com/edp/MarcomReg/MarComEvent2015s.aspx?id=65&lang=en