Description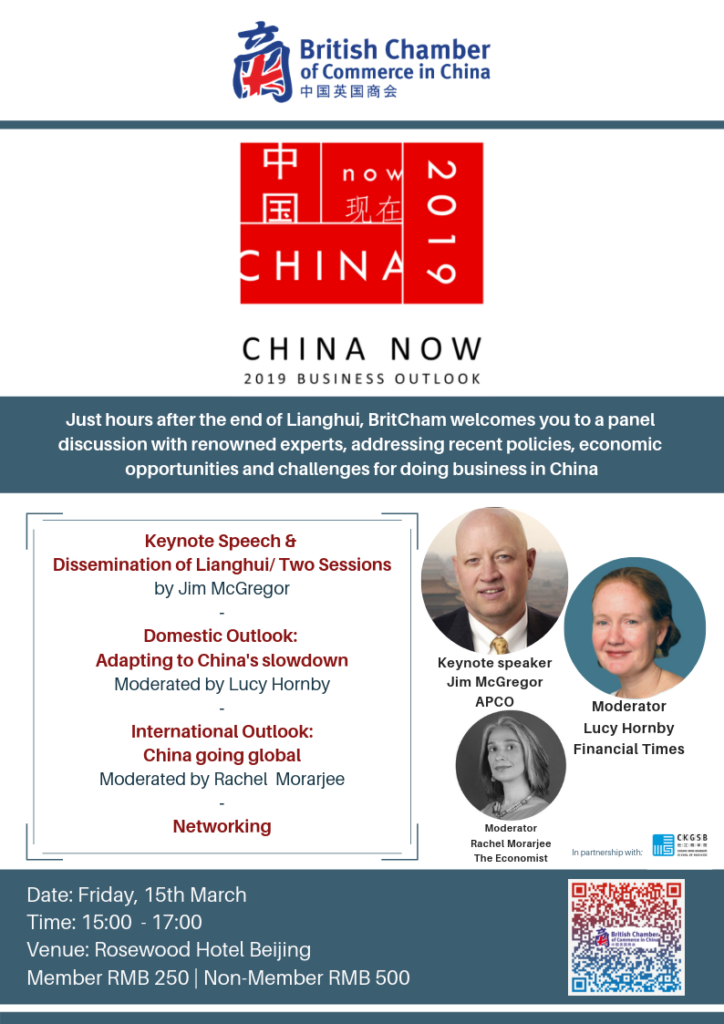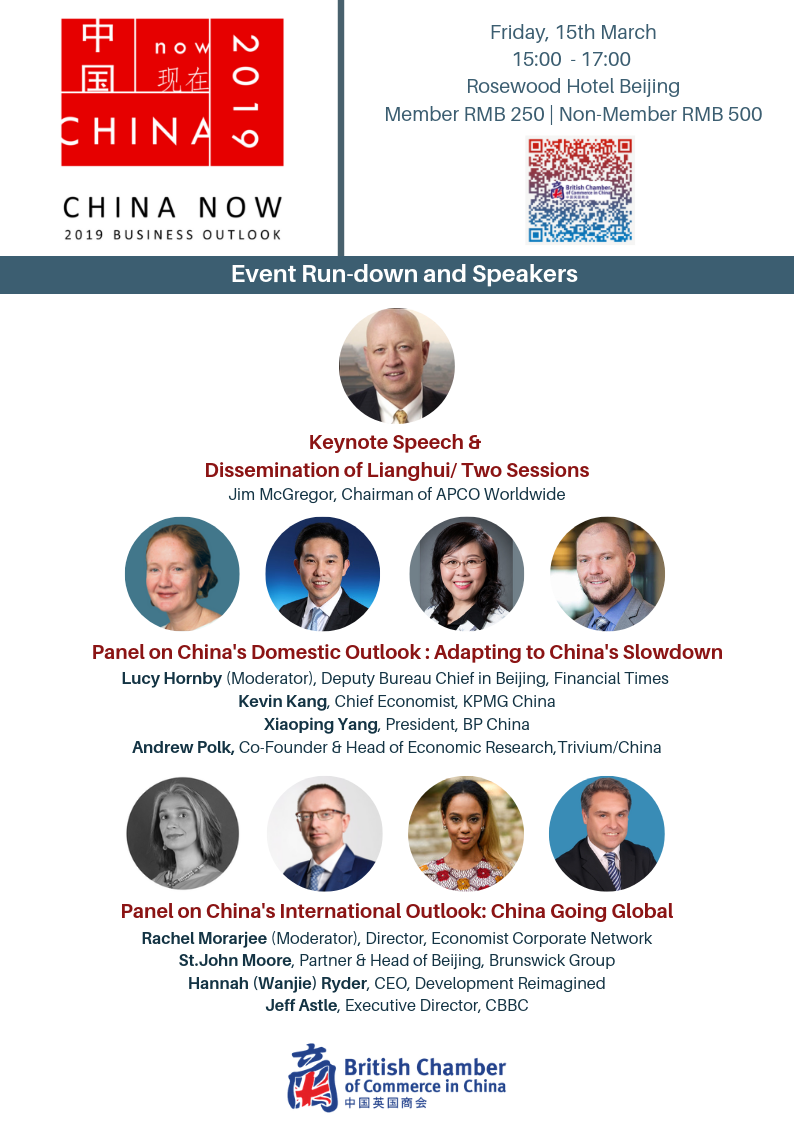 What are the outcomes of the 2019 Two Sessions/ Lianghui?
What is China's domestic and international outlook during economic slowdown? 
What should business be on the lookout for?
Back in 2018, the "Two Sessions" was filled with landmark announcements, the State Constitution was reviewed in the wake of the 19th Party Congress, the presidential term limits were dropped and a enormous government overhaul was devised with new, powerful ministries such as the State Administration for Market Regulation created. In 2018 the "Two Sessions" addressed that China would focus on tackling 'Three Battles' (reduction of poverty, risks and pollution) and the budget envisioned a GDP growth of around 6.5%. A lot has changed since then; increased US – China trade tensions, the slowdown of the Chinese economy and the accelerated revision of key pieces of legislation like the Foreign Investment Law.
Against this backdrop, the British Chamber of Commerce in China and CKGSB are delighted to invite you to join a panel of renowned experts to address all these issues, breakdown the domestic and international outlook for China and disseminate 2019 Lianghui.
China Now: 2019 Two Sessions and China Outlook
Date: Friday 15th March
Venue: The Rosewood Hotel
Time: 15:00 – 17:00 (registration begins at 14:30)
Price: RMB 250 for Member | RMB 500 for Non- Member
Event Rundown:
Keynote and dissemination of Lianghui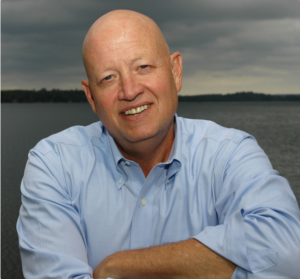 James McGregor is an American author, journalist and businessman who has lived in China for more than 25 years. He is chairman of APCO Worldwide, Greater China. A professional speaker and commentator who specializes in China's business, politics and society, he regularly appears in the media to discuss China-related topics. McGregor is the author of the books "No Ancient Wisdom, No Followers: The Challenges of Chinese Authoritarian Capitalism"​ (2012) and "One Billion Customers: Lessons from the Front Lines of Doing Business in China"​ (2005). He also wrote the 2010 report "China's Drive for 'Indigenous Innovation' – A Web of Industrial Policies."
In 1996, McGregor was elected as chairman of the American Chamber of Commerce in China. He also served for a decade as a governor of that organization. He is a member of the Atlantic Council, Council on Foreign Relations, National Committee on US-China Relations and International Council of the Asia Society. He serves on a variety of China-related advisory boards. After 25 years in Beijing, McGregor in June 2014 moved to Shanghai.
---
Domestic Outlook: Adapting to China's slowdown
Moderator: Lucy Hornby – Financial Times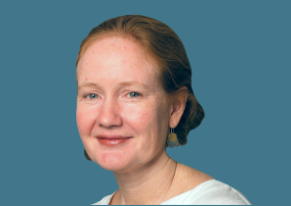 Twenty years in Asia journalism, almost all of that in China. Lucy is the Deputy Bureau Chief for Financial 

Times in Beijing, with a special interest in investigative projects as well as politics and economics.
Panelists:

Dr. Kevin Kang is the Chief Economist of KPMG China. His research focuses on a broad range of economic and social issues. He is an expert on China's economic development, government policies, business strategy, emerging technologies, and cross-border investment and M&As. His research helps companies navigate an increasingly complex business environment and stay ahead of the curve.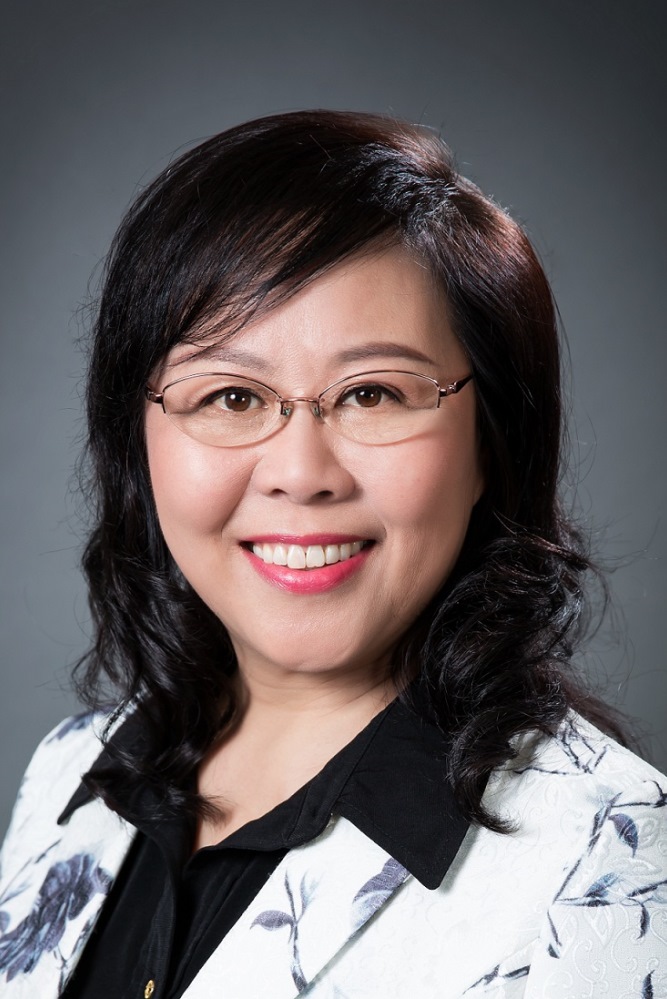 Xiaoping is the President of BP China,  born and raised in China, she has been working for BP for the past 28 years, spending 14 years in the US and the last 14 years in China. Xiaoping has accumulated extensive business insights and industry experience on a number of managerial roles in areas of technology, environment and safety, M&A, commercial and finance; In 2004, returned to China and has since held various executive roles within the petrochemical business, including HR, planning, technical and quality.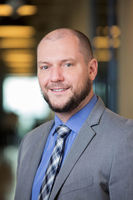 Andrew Polk is the Co-founder and Head of Economic Research at Trivium/China, a Beijing-based strategic advisory firm. Before founding Trivium, Polk was the China Director at Medley Global Advisors, where he advised asset managers and hedge funds on developments in China's economy and financial markets
---
International Outlook: China going global
Moderator: Rachel Morarjee –  Economist Corporate Network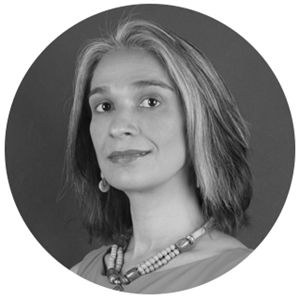 A fluent Mandarin speaker, and former writer and editor at the Financial Times, Rachel Morarjee has written for many of the world's top publications, and is well placed to interpret China for international audiences. She has broad stakeholder management experience at C-suite level, and is well versed at dealing with senior military figures, government and United Nations officials and NGOs.
She has a fundamental understanding of Chinese culture and the challenges of operating greater China markets and has also written extensively about Russia and banking and finance in other emerging markets.
Panelists: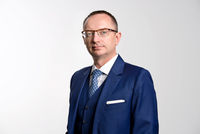 St. John provides counsel to Chinese and foreign companies on matters related to public affairs, issue and crisis management, cross-border mergers and acquisitions, and long-term corporate reputation management. He has been based in Beijing since 1999 and through that time has worked with a wide variety of foreign companies operating in China and Chinese companies going global.
St. John joined Brunswick in 2008 following seven years at APCO Worldwide where he advised foreign multinationals on investment, public affairs, government engagement, and corporate communications issues across China.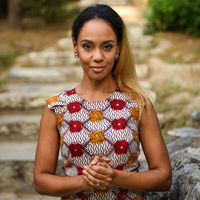 Hannah Wanjie Ryder (芮 婉 洁) is the CEO of Development Reimagined, the first Kenyan wholly foreign owned enterprise in Beijing. She is also International Development Director for the Made in Africa Initiative and China Representative of ChinaAfrica Advisory.
Hannah is a former Kenyan and British diplomat and economist by training with over 16 years of experience, including 2 spent at the UN in China leading a 20-plus team supporting Chinese foreign aid and cooperation, 4 years at the UK Department for International Development (DFID) and 6 years as a climate change negotiator.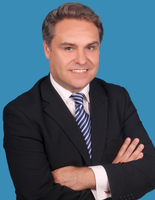 Jeff oversees the CBBC China team, regional operations, stakeholder relations, Govt relations and representation, which includes working with UK companies and with the British Embassy and Consulates across China. He has spent 18 years working in the Asia-Pacific (last 10 years in China) in is currently based in Shanghai, having previously worked in London, Hong Kong, Singapore, Shenzhen, Ningbo and Hangzhou.
During his 25 year career he has gained a wealth of experience in marketing, finance, research, consultancy and international trade development roles. He began his career in the UK broadcasting industry, working in finance, business analysis and strategic marketing roles, which culminated in being the Marketing Director for the commercial digital radio network in the UK.
---
Networking