KWM artcenter is pleased to present its first collaboration with the Whitechapel Gallery, London from 26 February to 16 April 2019 and the Whitechapel's first collaboration in mainland China. Throughout 2019, KWM artcenter will be screening a series of moving image works as part of the Artists' Film International (AFI) project based on the theme of gender. AFl celebrates moving image work and is selected by a global partnership of arts organizations including KWM artcenter. Each nominates an outstanding work from their region which is screened across each venue during the year.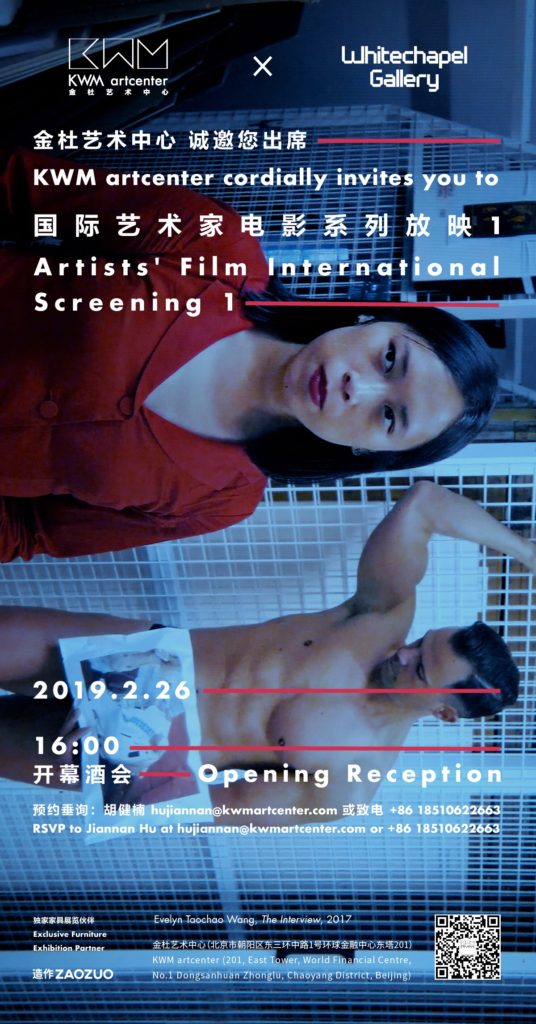 The first 3 selected films are Chinese artist Evelyn Taocheng Wang's The Interview (2017) selected by KWM artcenter; Swedish artist Theresa Traore Dahlberg's The Ambassador's Wife (2017) selected by Bonniers Konsthall, Stockholm, Sweden; and the art group Mwangi Hutter's Eastleigh Crossing (2009) selected by Neuer Berliner Kunstverein, Berlin.
The Interview (2017) is based on a script in which Evelyn Taocheng Wang projects her romantic fantasies, cross-cultural and cross gender associations onto the historical context of the Frans Hals Museum in Haarlem. The artist talks about the differences between Western and Eastern art and is occasionally accompanied by a man with 'ideal proportions'. The work highlights the issues faced in today's society in accepting new understandings both of cross cultural and body identity within art from the past and from the present.
The Ambassador's Wife (2017) follows the French ambassador's wife in her comfortable everyday life in Ouagadougou, Burkina Faso. As part of her daily routine she rehearses her operatic repertoire, well aware that she will never perform for a significant audience as her residence allowance prohibits her from working, making a singer career no longer possible. The film conveys the feeling of the ambassador's wife being trapped in her privileged life and that singing is a way to endure and to hold on to her dreams.
Since 2005, Ingrid Mwangi (*1975 in Nairobi/Kenya) and Robert Hutter (*1970 in Ludwigshafen/Germany) started signing their works as the collective individual Mwangi Hutter, thereby resolving both their identities as artists. Eastleigh Crossing, (2009) is filmed in the flooded streets of Nairobi, in a part of the town mainly inhabited by Somalian refugees. In what Mwangi Hutter calls a "Guerilla Action", Ingrid Mwangi breaks with the conventions of social conduct and confronts the public with irrational behavior. The crowd of spectators tries its best to move out of the way and the viewer of the video is reminded of the priviledged perspective he/she assumes in keeping a safe distance from social poverty.
Special Thanks: ZAOZUO is the exclusive furniture exhibition partner.
See original article here: https://mp.weixin.qq.com/s/ArHuMi19BHGA1C4EfA3RoA