Announcement: BritCham's Business Sentiment Survey 2019/2020 is now open for responses. Make your voice heard in our 15 minute survey here. If you haven't received your company's password for the survey, please contact advocacy@britishchamber.cn.

The British Business in China: Member Sentiment Survey 2018/2019 is the first public survey of British businesses in China. This survey assessed over 200 of our members' reflections on their business experience in 2018 and their outlook on 2019. Topics discussed include: business environment, market access issues and the impact of global affairs on member companies' operations.
Our survey finds that at a time of flux in international economic relations for both the UK and China, British business is expressing overall confidence in the Chinese market. However, respondents highlight that there are still key business environment and market access issues for British business in China that must be addressed. The most critical of these issues are:
cybersecurity requirements.
intellectual property protection.
licensing restrictions.
Nevertheless, our survey finds that businesses on the whole remain optimistic about the opportunities found in the China market and are investing in China accordingly.
Click the image on the right to download the full survey report. For hard copies or more details about the survey and our advocacy work, please contact: advocacy@britishchamber.cn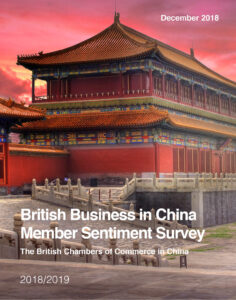 Market Access for UK Business in China: Make Your Voice Heard
The British Chamber's advocacy work gathers information from the British business community about market access issues and the wider concerns of British business in China.