The novel coronavirus is likely to bring 2020 annual GDP down to 5.4-5.7%.
The economy has mainly been affected by an unexpected drop in household consumption, supply chain disruption and the uncertain investment environment.
British businesses are optimistic about long-term economic recovery and remain committed to the market.
The rapid emergence of the novel coronavirus makes it difficult to assess its impact on China's already slowing economic growth. The outbreak has caused commerce to slump as the number of confirmed cases continues to rise and residents self-quarantine. While the situation is still unfolding, businesses are now beginning to think about how this black swan event might impact the Chinese economy and their bottom lines.
The epicentre of the outbreak, Wuhan, is a relatively significant contributor to the Chinese economy. It's China's ninth richest city, boasts a growth rate of 8% and is a rising innovation and education centre. In addition, it is a manufacturing and logistical hub, and thousands of foreign-invested enterprises have a presence in the city, over 300 of which are British-funded firms.[1]
The standstill in Hubei and disruption across China is likely to constrain already-slowing growth, and could lead to losses of RMB 432 billion (USD 62 billion) in the first quarter in 2020, according to one estimate.[2] Many analysts are revising annual growth levels for 2020 down to between 5.4% and 5.7%, with worst-case scenarios of 4.5% growth should the outbreak take over two months to contain.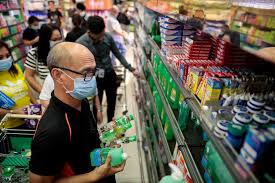 The concurrence of the outbreak with the Lunar New Year holiday has created additional economic challenges. While companies usually factor lower production levels caused by the holiday into their strategies, the mandated holiday extension added to difficulties in getting staff back to the workplace safely will make it more difficult to return to normal operations.
The services industry in China, which makes up 53% of national GDP,[3] is particularly exposed to the effects of the virus. The outbreak cost over RMB 1 trillion (USD 144 billion) in losses to the restaurant, tourism and film industries over the Lunar New Year holiday.[4] The sector has been brought to a halt as gyms and cinemas remain shut across the country, tour groups and travel operators refund cancelled trips, and hotels remain empty.
Household consumption is down, as fears of the contagion have reduced footfall in retail centres, undercutting gains retailers expected to make during the holiday season. Several retailers, including Apple, Hugo Boss and IKEA have temporarily closed their doors across China. China's strong e-commerce infrastructure may mitigate this in the long-term, but retail growth may only expand by 3-4% year-on-year in the first quarter.[5]
The goods industry is also facing strained resources. For example, the already struggling automotive industry has a high concentration of factories in Wuhan, and may cut production by 15% due to shuttered plants.[6] The Wuhan Port usually clears 1.5 million containers of goods and thousands of coal, steel, crude and fertilizer cargoes per year.  A current ban on entry is leaving many cargo ships moored down river and businesses without critical supplies.[7]
Investors made their concerns felt as the outbreak sent markets tumbling. The Shanghai and Shenzhen stock exchanges dropped by 8.7% and 9.1% respectively, their worst losses since 2015.[8] To mitigate liquidity pressures and calm investor fears, the People's Bank of China injected RMB 1.2 trillion (USD 173 billion) into the financial system and has lowered certain interest rates, reducing lending pressures on banks. Some local authorities have also delayed tax and rent payments.
Nevertheless, HR pressures, limited household spending and continued market uncertainty will require sustained policy support for businesses as long as the crisis continues. This is especially true for small and medium sized enterprises, which are unlikely to have the resources necessary to sustain themselves through a protracted crisis.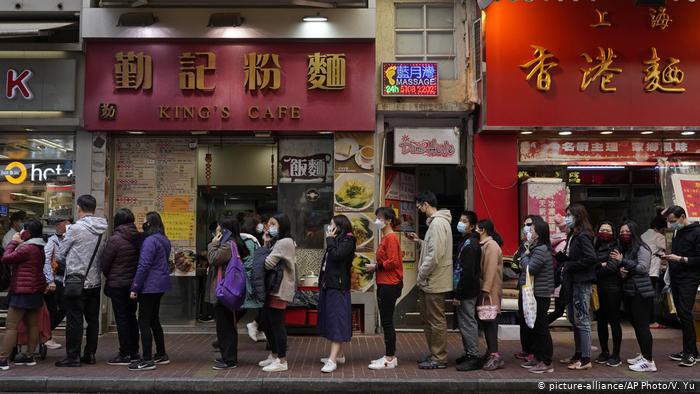 While the full extent of the economic impact cannot be assessed until the coronavirus has been contained, the 2003 SARS outbreak is a useful benchmark for its potential economic consequences. SARS cost the Chinese mainland USD 40 billion in lost productivity and stunted growth by 1.1%.[9] China's services sector has grown by 11% since 2003, increasing the economy's overall exposure to reduced private consumption. Although the novel coronavirus isn't as serious as SARS in terms of the mortality rate and thus, both this and the disease's higher transmission rate could lead it to have a greater impact on the economy regardless.
Furthermore, China is far more important to the global economy than it was in 2003. Its share of global GDP has grown from 4% in 2003 to 17%.[10] Many countries are now suffering from the sudden decline in outbound Chinese tourism, a significant customer base. An extended decline in the price of commodities driven by lack of demand from China, particularly in copper and oil, will hit developing economies hard unless the crisis is resolved soon. OPEC has already convened to discuss the response to the difficulties facing their largest customer. The exact impact will depend on the length of the outbreak, but economists are already revising their estimates for global growth down.
All this being said, it is still too early to understand the full economic impact of the coronavirus outbreak. As was the case with SARS, a short-term drop in household consumption and heightened investor uncertainty will inhibit Q1 growth and may affect Q2 growth. Businesses, particularly SMEs and those in the services sector, will need ongoing support throughout this period. However, growth should rebound and stabilise once the infection rate peaks. The crisis has also brought the country together, with strangers helping strangers and many businesses donating medical supplies. Despite the temporary disruption, British businesses are confident that the economy will recover and remain committed to the China market.
References:
[1] Central China's Wuhan city welcomes foreign investors: mayor, Xinhua, January 2018.
[2] The coronavirus could cost China's economy $60 billion this quarter. Beijing will have to act fast to avert a bigger hit, CNN Business, January 2020.
[3] Composition of GDP by the three strata of industry, NBS, accessed February 2020.
[4] Coronavirus Costs China's Service Sector $144 Billion in a Week, Caixin, February 2020.
[5] Coronavirus Closes China to the World, Straining Global Economy, The Wall Street Journal, February 2020.
[6] Coronavirus damages China's auto industry as outbreak worsens, CNBC, February 2020.
[7] China Holds Back Some Ships from Calling at Wuhan, The Wall Street Journal, January 2020.
[8] Update: China Markets Tumble on Coronavirus Fallout Fears, Caixin Global, February 2020.
[9]Coronavirus Closes China to the World, Straining Global Economy, The Wall Street Journal, February 2020.
[10] Coronavirus Is More Dangerous for the Global Economy Than SARS, Bloomberg, January 2020.