The "Two Sessions" is the annual meeting of the two major political bodies of China, the National People's Congress (NPC) and the National Committee of the Chinese People's Political Consultative Conference (CPPCC). This meeting reveals China's policy plans for the year, providing a valuable insight for foreign business to be able to determine their next steps in the China market.
Analysing the Premier's report, Xi's keynote speech and the various policy proposals across the "Two Sessions", the British Chamber in China presents you with the key takeaways from the 2023 "Two Sessions" including implications this may have for British business in China.
SIX THINGS YOU NEED TO KNOW
1) A new national financial regulatory administration
What's Happening?
This new financial regulatory administration will replace the current China Banking and Insurance Regulatory Commission (CBIRC), and be put under direct supervision of the State Council, along with the China Securities Regulatory Commission (CSRC).
This new financial regulatory administration will seek to standardise the responsibilities and supervision of financial regulators.
Why does this matter?
In the long term, having one supervisory body could address issues of blurred responsibilities and different regulatory standards, and lead to streamlined process and more consistent implementation through greater clarity. This would address concerns of UK financial services businesses around the enforcement of laws and regulations and transparency of the business environment.
However, in the short term, businesses in the financial sector should prepare for a period of potentially greater uncertainty and increased compliance risks whilst the new administration establishes itself.
2) Enhanced legal protection for IP rights
What's happening?
The State Intellectual Property Office (SIPO) will become an institution directly under the State Council.
Accompanying this shift, China is also stepping up judicial protection on IPR creation, application, protection and management. The push for digital innovation and technological development relies on a stable market environment in which entrepreneurship can flourish.
Why does this matter?
Despite improvements in China's protection of IP rights in the past few years, 40% of British businesses reported experiencing challenges in this area and concerns around IP enforcement continues to influence company strategy and operations in China.
This new shift in structure and legislation may provide UK businesses with cautious optimism, if only because it indicates an active attempt by the state to combat IPR issues facing businesses.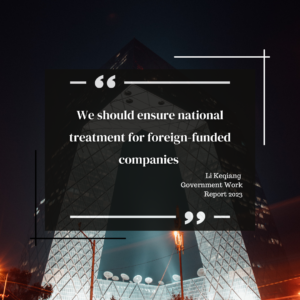 3) New National Data Bureau
What's happening?
China is establishing a bureau responsible for coordinating the development and sharing of data resources. This will sit directly underneath the National Development and Reform Commission.
This new bureau is intended to help mine and unleash China's great data resources, developing China's digital economy and increasing the state's international competitiveness in the sector.
Why does this matter?
Navigating China's cybersecurity, IT and data regulations was the third biggest regulatory challenge facing British businesses last year. Whilst having one regulator to oversee the development of data resources is beneficial, as rule-making is streamlined, it remains to be seen how easily the new bureau will be able to deliver on its agenda without the ability to also regulate data security, the responsibility of which currently still sits with the Cyberspace Administration of China.
4) GDP growth target set at "around 5%"
What's happening?
China has set its GDP growth target for 2023 at "around 5%" – an increase from the actual 3% of 2022, and in line with IMF predictions.
The Chinese economy is currently experiencing a steady recovery, so this moderate target of 5% can be understood as a purposeful decision by the state to focus on stability and sustainability.
This gives the country time to deal with the local government debt, intensifying geopolitical tension and demographic concerns.
Why does this matter?
This moderate target for economic growth appears to indicate a government that is prioritising sustainability over rapid expansion, and looking to avoid the inflation pitfalls that are being faced in other areas of the world
This should come as reassurance for British businesses, who reported concerns about the health of both the global and Chinese economy coming into 2023. If the state can maintain this stability and momentum, they will foster conditions in which businesses can expand in the China market.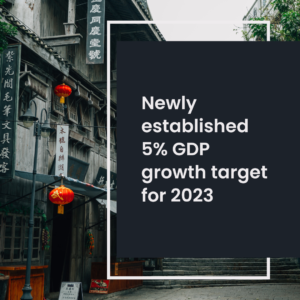 5) A new private economy promotion law proposed
What's happening?
The All-China Federation of Industry and Commerce (ACFIC) proposed establishing a new law that ensures private companies are treated the same as their state-owned (SOE) counterparts.
The new law would endorse Xi's stated "unwavering support" for private business to allow for fair competition through equal access to the government and business opportunities.China claims to be looking to rely more on private businesses to stabilise the economy; this proposed law would be one way of doing this.
Why does this matter?
British businesses, particularly those in the energy, built environment, and IT and telecommunications sectors, should be pleased to see an acknowledgement by the state of the disparity between them and SOEs in the market and the proposed regulation to combat this inequality.
If successfully enacted, and leaving aside the difficulty of actually enforcing regulation that would require the long-standing relationships with SOEs to be largely abandoned, private businesses could see greater market stability and a more fair and competitive environment in the years to come.
6) A New Central Commission on Science and Tech
What's happening?
China has proposed a new central commission to manage the science and technology sector, which is led by the Central Committee of the CPC.
This focus on science and high-tech comes at a time of high geopolitical tensions over tech – especially over products such as semiconductors.
Fears over the future of the high-tech global supply chain have led China to pursuing self-sufficiency in the sector, meaning the state now needs to invest more to try to catch-up in a field that is dominated by foreign companies.
Why does this matter?
China's commitment to 2% growth on science and technology spending is a signal to private businesses to participate in this growth to drive innovation.
This flagging of science and technology as a priority industry could mean that these sectors become a more stable investment. However, the focus on self-sufficiency in these sectors may mean that domestic businesses will be afforded preferential treatment that may not be extended to foreign owned enterprises. With 49% of British businesses who reported feeling less welcome / unwelcome in the Chinese market citing rising protectionism and self-sufficiency, innovation in these sectors should be driven by inclusive policies.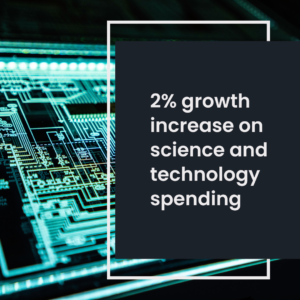 THREE KEY PHRASES
"Foreign Direct Investment"
This year's Lianghui follows the principal rhetoric of China 2023 of the state's endorsement for foreign direct investment (FDI). Li Keqiang ranked attraction of foreign investment as the #4 priority, up from #7 in 2022.
The way that this is being done is by "comprehensively improving the business environment" – with particular emphasis on legal and regulatory moves to promote fair competition and better protect foreign investment. This includes actions such as shortening the foreign investment negative list, and promoting China's accession to economic and trade agreements, such as the Comprehensive and Progressive Agreement for Trans-Pacific Partnership (CPTPP).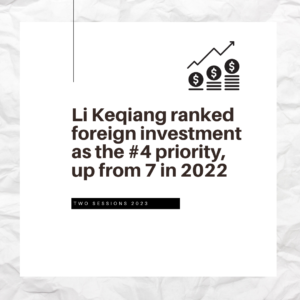 "Technology Focus"
This government is giving businesses the signal that the technology sector is one to invest in and foreign businesses could take this as an opportunity to invest in China. However, technology and science are currently at the helm of numerous flashpoints in Chinese geopolitics.
This means the state is also utilising it to push Chinese self-sufficiency and combat protectionism. The question that rises, therefore, is how does this balance with stated aims in support of multilateralism and avoid decoupling? And how stable is this market for foreign investment even amongst state endorsement.
"Regain Market Confidence"
After three years of Covid-19 restrictions and amongst heightened geopolitical instability, China needs to regain confidence in their market. To achieve this, NPC representatives are making proposals on addressing the long-held market concerns such as IPR protection and inequality of opportunity between private business and SOEs.
Reforming these sectors encourages stability of the market amongst instability in geopolitics which the state cannot control.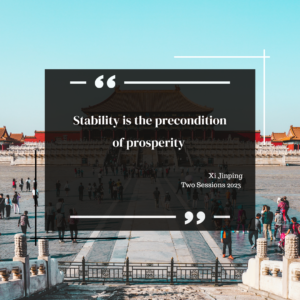 ---
In comparison to previous years, the 2023 "Two Sessions" has delivered more all-encompassing and interconnected proposals directed at stimulating investment and driving confidence in the Chinese market. This follows the moderate GDP target for 2023 in demonstrating that China is prioritising sustainable recovery and controlling risks, in the name of a stable, investable Chinese market. Although the government appears to be answering some business concerns, worries over the geopolitical situation and consequences on the global value chain have not been alleviated.
Even though the "Two Sessions" have concluded, the details of many of these policies are still to be ironed out. The British Chambers of Commerce in China will continue to provide information and insight each step of the way.
---
If you are interested in understanding more about how the British Chamber of Commerce in China can support you and your business in the China market, please email: