On Thursday, the British Chamber of Commerce in China was pleased to welcome Ben Greenwood, First Secretary for Trade Policy for Market Access and Business Environment, and John Crichton, First Secretary and Deputy Director for Financial and Professional Services, from the British Embassy Beijing to discuss the outcomes of the 10th UK-China Economic and Financial Dialogue (EFD).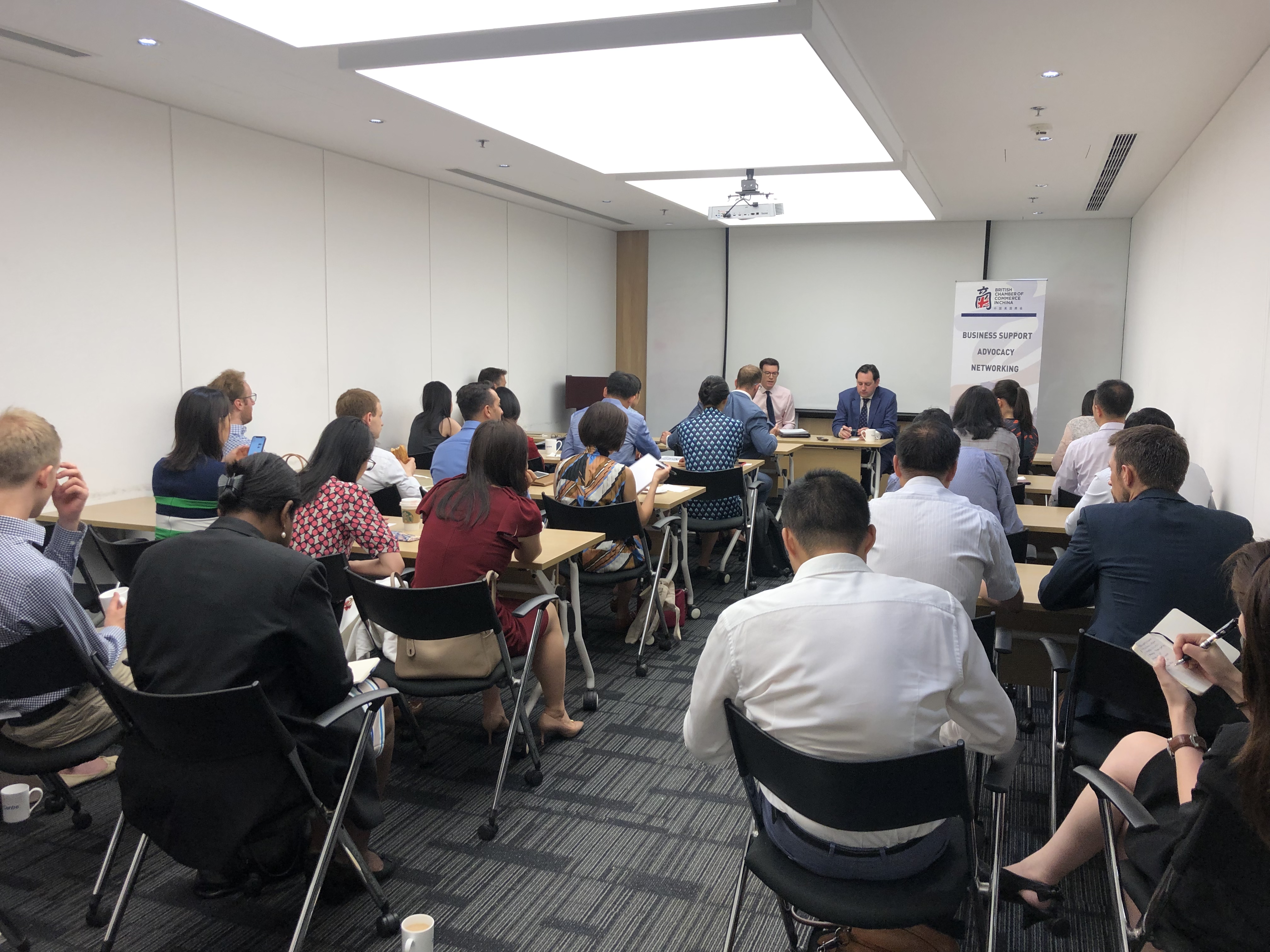 Earlier this month the Chancellor Philip Hammond hosted Chinese Vice Premier Hu Chunhua in London for this year's EFD to discuss economic challenges and trade and investment opportunities between the UK and China. With the findings of BritCham's inaugural Position Paper having informed the discussions between the two sides, Thursday's briefing served as a valuable platform from which government and business could talk about how the market access barriers facing British companies were addressed.
Mr Greenwood began with an overview of some of the major milestones in the EFD, citing more than £500 million in commercial deliverables in areas such as energy, education and financial services. Significant progress was made in opening up Chinese markets to British businesses. Mr Greenwood spoke about a protocol that was signed which permits the British exports of beef to China for the first time in over 20 years, worth approximately £230 over the next five years, in addition to greater access for UK pork products, an MOU between the UK and China on cooperation in third countries around infrastructure projects. There was also commitment to work together on longstanding issues, such as the removal of animal testing requirements for imported cosmetics, UK investment into biofuel markets in China, and accounting standards.
The UK is a global leader in financial services, and securing sizable deals to deepen investment and financial links between the two countries was a key focus during the EFD. Mr Crichton went into detail about the financial deliverables, most notably the launch of the London-Shanghai Stock Connect which allows UK-listed companies to sell shares in mainland China – the first opening of its kind for foreign businesses in China. Other significant deals Mr Crichton mentioned included a new UK-China Fund worth £1 billion to be invested in British SMEs with growth plans in China, and the first ever green loan facility from a Chinese bank, worth up to $400 and to be managed from London.
One BritCham member that saw major gains from the Dialogue was Schroders WFOE. Elaine Zhang, General Manager of Schroders in China, commented that "Schroders is very pleased to see the progress made in the 2019 EFD. China's asset management market opening continues to pick up pace, and we are committed to investing in our business here as the market develops."
The British chambers' advocacy work informs UK and Chinese government policy of the views of British business through the annual Position Paper, derived from a rigorous consultative process with its members. Ahead of the EFD, the Paper was presented to Vice Premier Hu Chunhua, HM Trade Commissioner to China Richard Burn and Permanent Secretary of HM Treasury Sir Tom Scholar. The outcomes of the EFD covered a number of areas highlighted in the Paper by British business as challenges or opportunities. These include licencing issues, IP protections, transparency of standards and further bilateral cooperation, investment and connectivity within sectors.
The event provided a helpful channel to inform members of major policy outcomes as well as for members to respond to government. Mr Greenwood commented that "We are very grateful to the Chamber for its crucial business insight as we prepared for the EFD.  Maintaining a regular feedback loop, whereby we report back on outcomes, is key to sustaining our cooperation over the long term."