As 2022 begins, we're running you through some of the major developments that we'll be watching for in the next year, and what British businesses in China need to keep in mind.
What will happen for 2022 in….?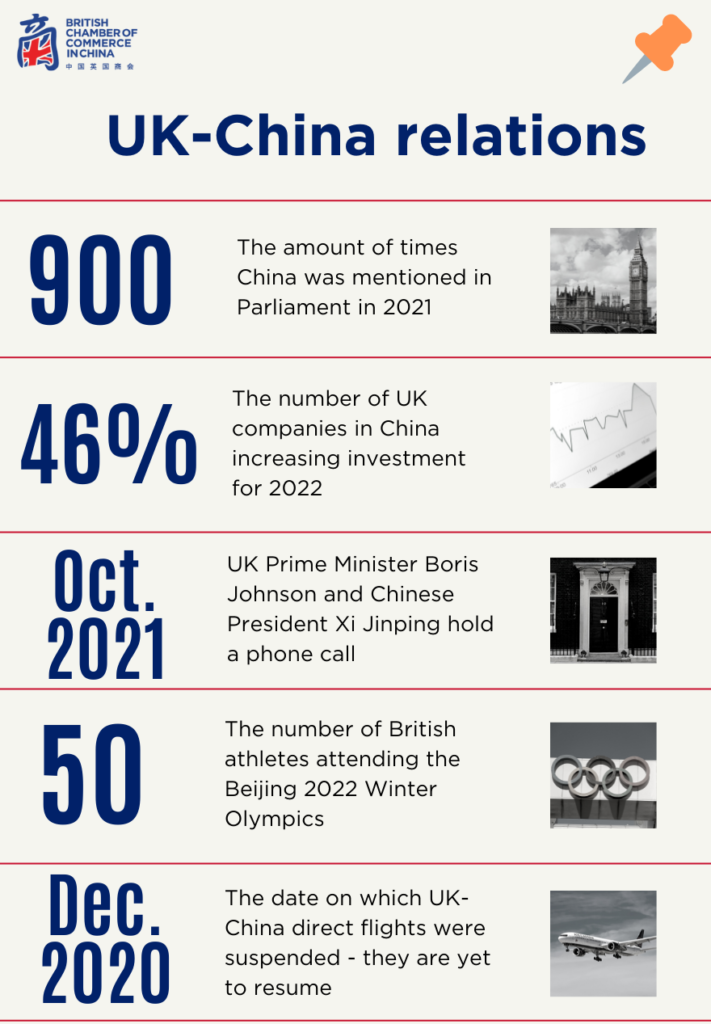 When asking about the UK-China relationship, it's useful to remember that a 'bilateral relationship' is a multifaceted object. While from a security and geopolitical perspective there are significant differences that are unlikely to be overcome in the short term, there is significant scope for co-operation on trade, R&D, climate change and public health. Bilateral trade has continued to grow despite political challenges, reaching almost GBP 79 billion in 2020. The push and pull of these different forces will keep the UK and China carefully treading the line between co-operation and competition.
Encouragingly, this month a UK-China joint research project made a pioneering breakthrough in creating green hydrogen. As the UK and China celebrate 50 years of diplomatic engagement, we hope that this achievement sets the tone for the bilateral relationship.
Key question: Will this year's EFD lead to significant market opening in the second half of the year?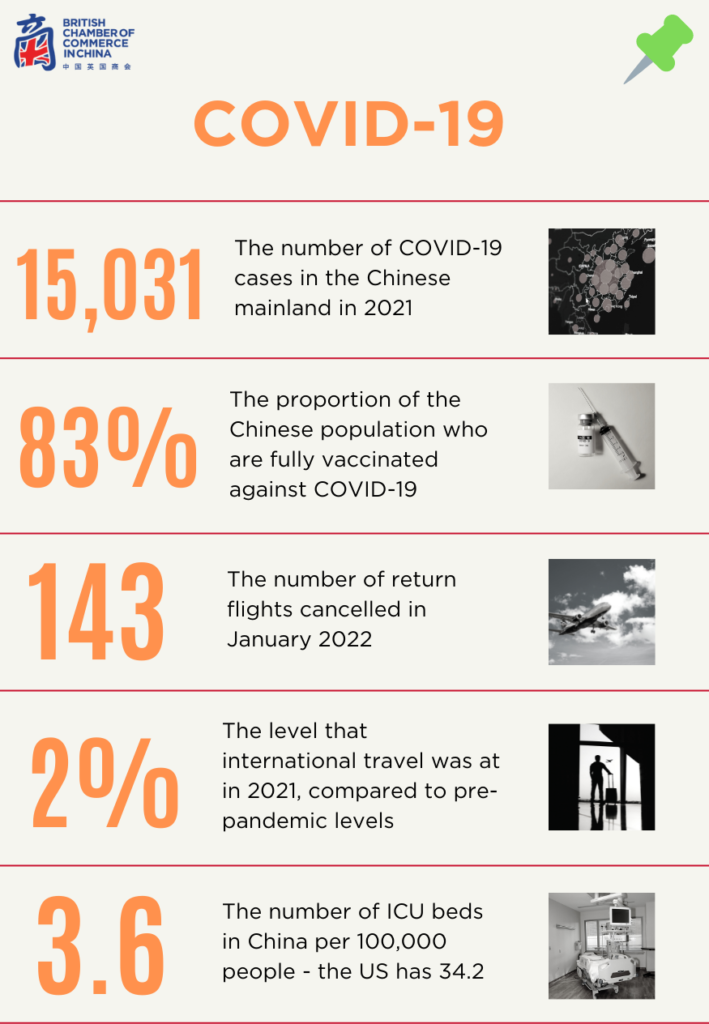 China's public health measures to stop the spread of COVID-19 has been instrumental to achieving the relatively low level of cases in the Chinese mainland in 2021. Looking forward to 2022, public health measures are likely to stay relatively strict, in order to minimise the impact of COVID-19 on the Winter Olympics and on the 20th Party Congress.
However, we may seeing a shift from zero-COVID to dynamic COVID policies. Under a dynamic COVID strategy, different local authorities could respond to COVID-19 outbreaks as dictated by the severity of the outbreak, and allow a certain level of relaxation to public health requirements until an outbreak is confirmed. This approach is far from perfect, but may be further improved in 2022. International travel in 2022 is unlikely to change significantly, and China's circuit-breaker system will continue to mean many direct flights will be cancelled.
Key question: Will UK-China direct flights resume in 2022?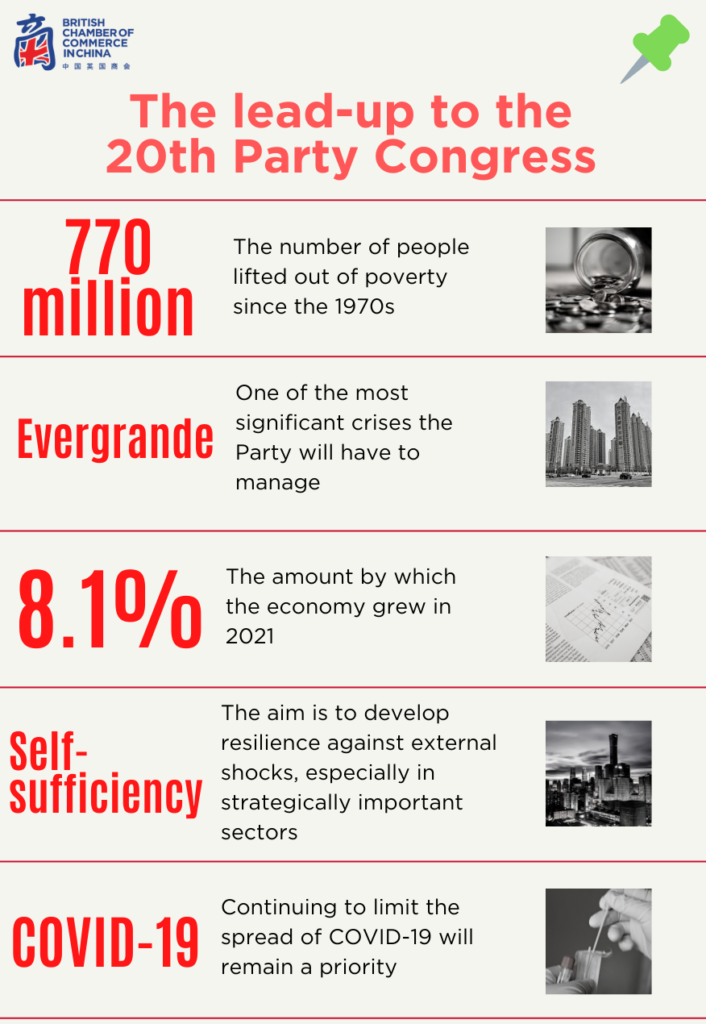 The next of the one-every-five-year Party Congresses will be held at the end of 2022. By now, many people know what is on the agenda: a tour de force from the Party, and President Xi in particular, highlighting the need for China to pursue higher quality, fairer and greener economic growth. Common prosperity, the gold and silver mountains of environmental protection and strong leadership in the face of international criticism are all likely to feature heavily in speeches and announcements.
The Dual Circulation System and related themes are likely to feature heavily in the face of strong uncertainty in the external environment. It remains to be seen if drives for self-sufficiency will lead to significant drops in engagement with foreign investors – a trend that could inhibit the knowledge exchange necessary to drive innovation taken too far.
Key question: How many people on this year's standing committee will stay on for another term?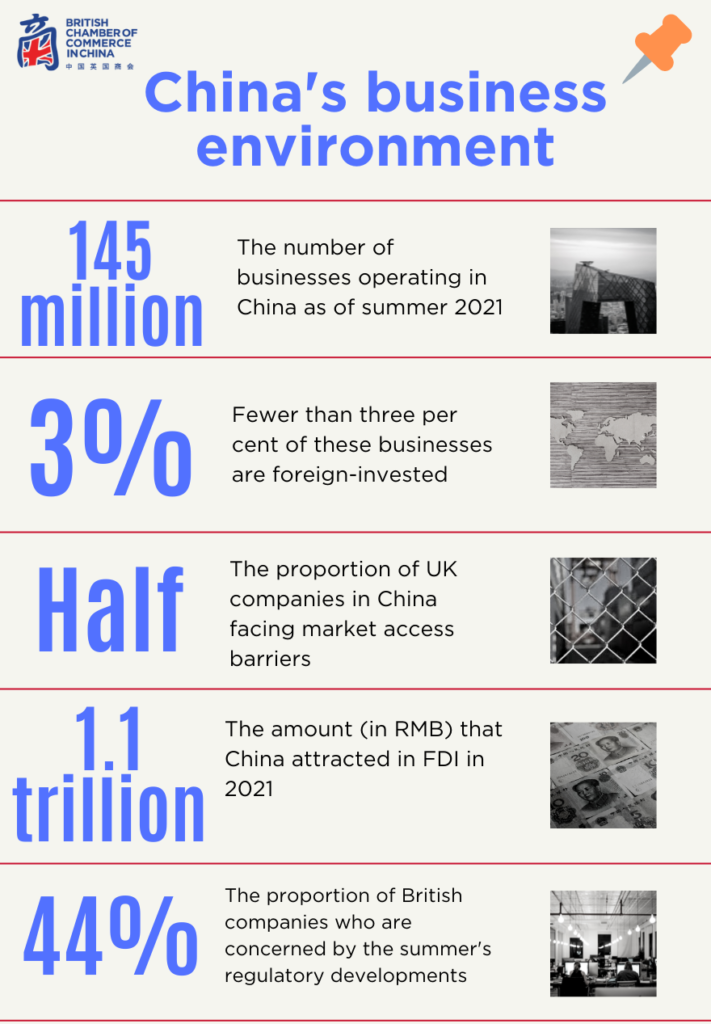 2022 will be an interesting year for foreign businesses. Regulatory shifts in 2021 created some concern among foreign companies about direction of the business environment, particularly in sectors like education and healthcare. However, several high-level policymakers also publically stated that China would continue to welcome foreign investment, most recently including President Xi at Davos. 2021 also saw a number of market openings, in cosmetics, financial services and other areas, and FDI flows increased by 14.9%.
The question of foreign-invested companies' role in a policy drive to improve resilience against 'external shocks' will continue to be central in 2022, in everything from procurement to data to banking services. Beyond this, supporting innovation, strengthening cybersecurity and encouraging sustainable growth (from supporting the real economy to the green transition to anti-monopoly regulations) will drive commercial policy.
Key question: Will the self-sufficiency narrative strengthen next year?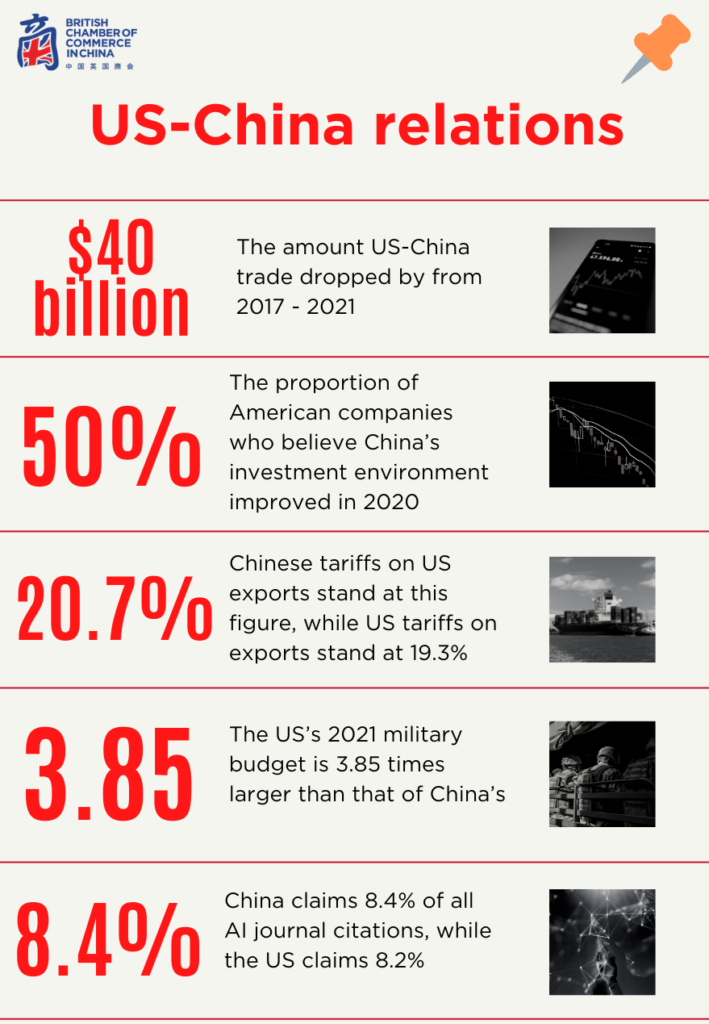 Domestic politics will be driving both President Xi and President Biden's foreign policy, with the 20th Party Congress and mid-terms taking up the bulk of their attention in 2022. As such, US-China relations are likely to remain on their current trajectory and competition – not conflict – will be the dominant theme this year. Nowhere will this be clearer than in the tech sector, and China is expected to make significant gains in the digital space, particularly in AI. Alliances like AUKUS will only strengthen, as will China's presence in the South China Sea and its links with Russia.
Climate change was seen as a potential space for co-operation, but bilateral action has been limited. Instead, co-operation around trade and investment seems more promising, with US companies generally optimistic about doing business in China and a US-China Travel Fast Track helping to rebuild business-to-business and people-to-people ties.
Key question: Will we see tech decoupling between the US and China?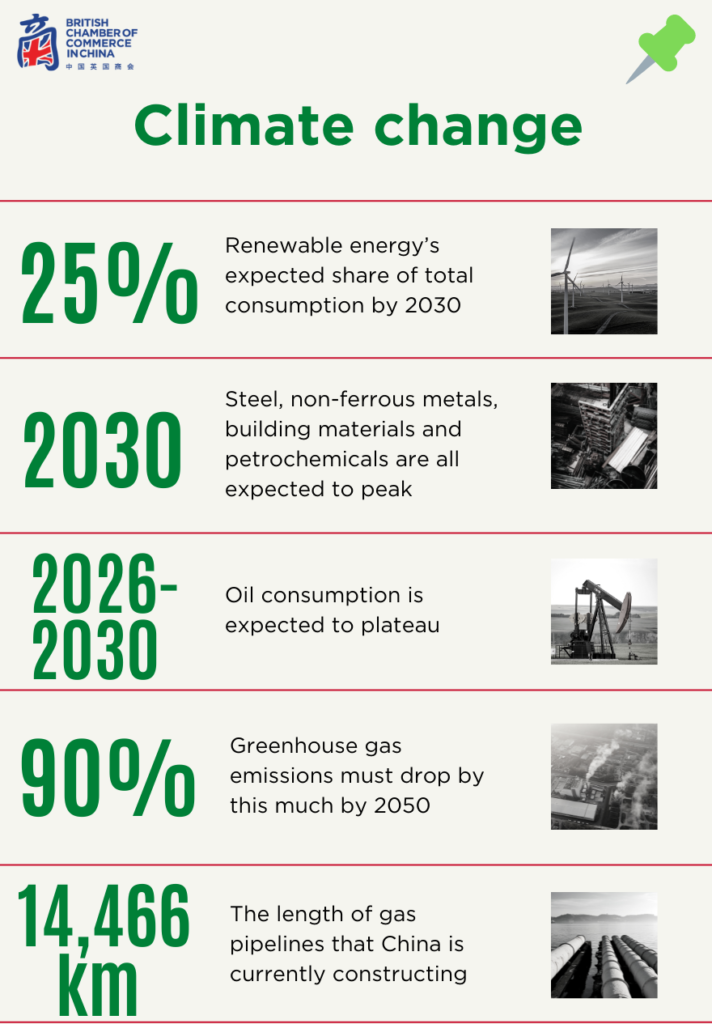 Climate change will continue to be a defining issue in China in 2022. The release of its roadmap to achieve net-zero emissions by 2060 is a useful tool to understanding China's environmental policy priorities for 2022, as it gears towards a carbon peak in 2030. Providing green electricity and improving energy efficiency, especially for energy-intensive industries such as steel and construction, will be a key priority.
From a business perspective, ESG considerations will continue to be a part of many boardroom discussion. Uptake of net-zero targets still has some way to go, however, as only 32% of UK businesses in China have a plan to be net-zero by 2060.
COP 26 requires participants to evaluate their progress on 2030 targets at the end of 2022, and so we may see concrete updates from China on its environmental progress in Q4.
Key question: Will we see declines of coal and oil use in 2022?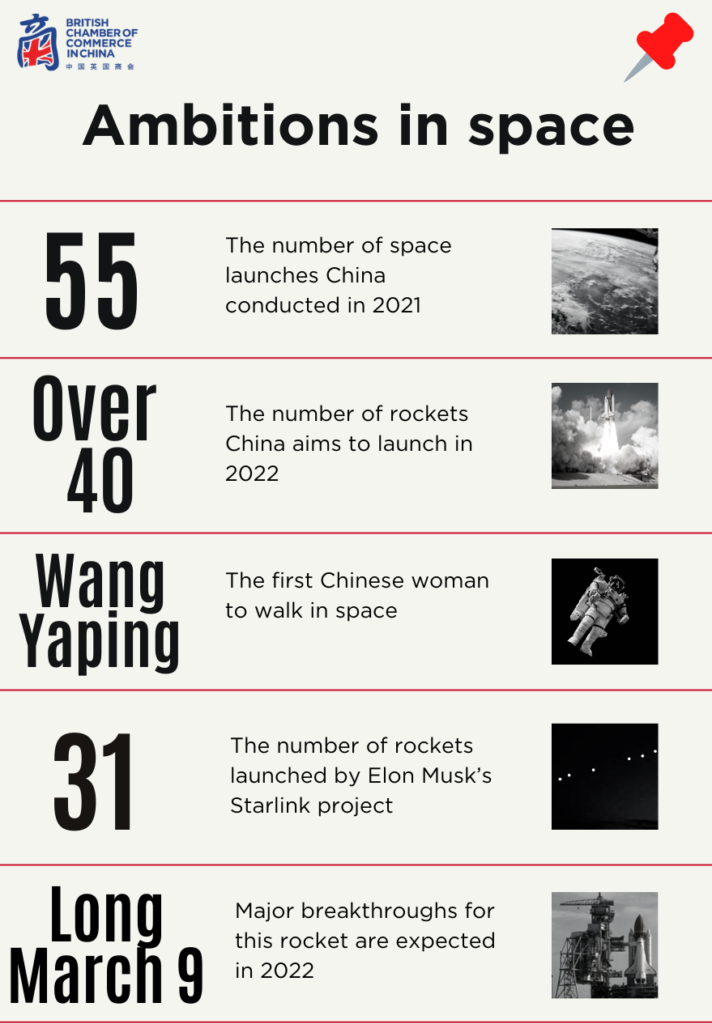 Developing capabilities in space is another strategically inescapable – if environmentally unfriendly – focus for governments going into 2022. NASA's 2022 budget is the largest one it has ever been granted, at USD 24.8 billion. While China does not publish its space programme budget, it's estimated to be at least USD 9 billion, the second largest in the world.
China has several key projects in the pipeline for 2022, including completion of the Tiangong Space Station, operationalisation of sea-based rocket launchers and rover missions on Mars and on the moon. It is working towards a manned flight to the moon in 2030. US-China competition in space will therefore continue to be a key security interest in 2022, complicated by deepening China-Russia co-operation in space missions, but a reversal of the current status quo in 2022 seems unlikely. China has made impressive advances in space technology in recent years, but there seems to be a relatively large capability gap between the two countries for now.
The private sector's role in a traditionally government-led space could upset the apple cart. China's Space Station had to conduct emergency manoeuvres to avoid one of SpaceX's Starlink satellites, a matter that it raised in the UN. The near-miss adds another facet to an already headache-inducing aspect of policy – what are the rules for different countries' actions in space, and how do private companies fit into that framework?
Key question: Will there be an international forum on rules for space activity in 2022?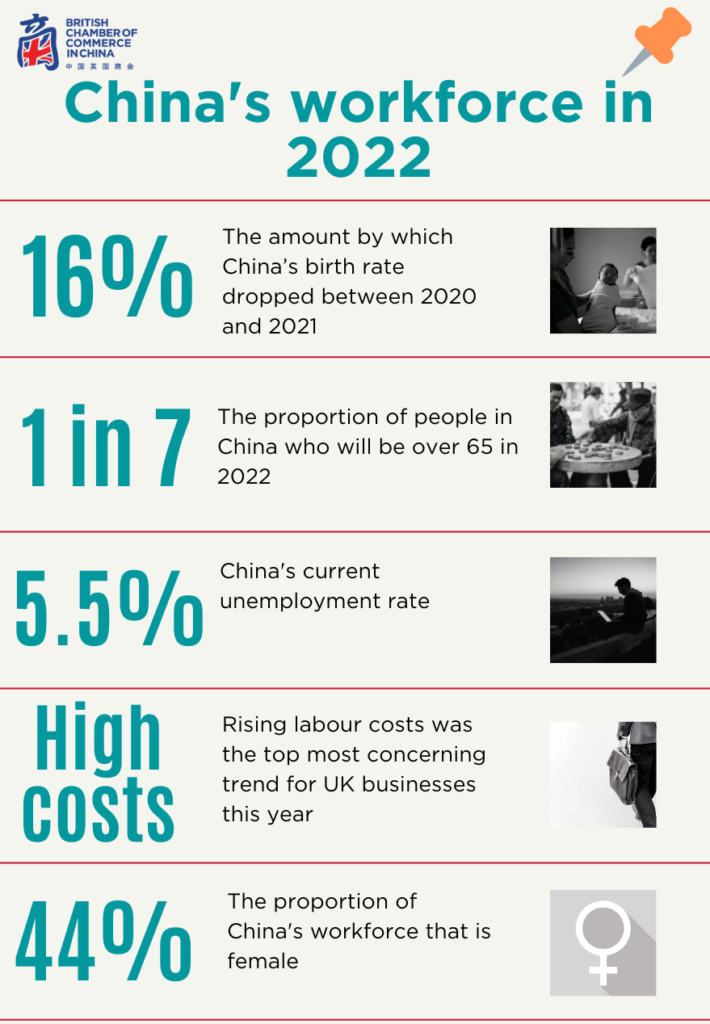 China faces a number of significant demographic challenges in 2022. Its birth rate has fallen significantly, with economic pressures making many young people less interested in having children. The Chinese government has taken steps to address these pressures, especially in terms of making housing and education more affordable, but the costs of childrearing makes it prohibitive to many.
At the same time, roughly 14% of the population is expected to be over 65 years old in 2022, officially making China an aged society and placing significant pressures on pensions and healthcare systems. China is likely to continue to encourage private sector involvement in 'third pillar' pensions and elderly care – albeit in a regulated space that guards against predatory practices.
There are also significant challenges in terms of the workforce. New graduates are facing intense competition for jobs, heavy workloads have led to a rise in apathy towards working life and rising labour costs are creating challenges for companies. The Chinese government has already started crafting relatively direct policies to address these challenges, from the three child policy to the outlawing of '996' work culture. We may see more of these in 2022, but a resolution will be many years in the making.
Key question: How much further will measures to reduce pressure on the average Chinese worker go?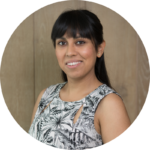 Anika Patel
Senior Policy Analyst
British Chamber of Commerce in China