Dear BritCham community,
Tomorrow will be my last day at the British Chamber; I will be stepping down as Managing Director and heading back to the UK. Even though I knew I'd be leaving soon, you are never prepared for how it feels. Beijing is so precious to my family and I – the richer and deeper our relationships here, the more painful it is to say goodbye.
Like so many of us, I'm completely blown away by the complete COVID U-turn we are all facing right now. While this may not be the exit plan we all expected, this is the beginning of the end and it's certain that new challenges in 2023 await, I really hope China will recalibrate and get back to the vibrant and welcoming country it once was when I arrived all those years ago.
I have had such an amazing journey in China; originally planning to only come for 6 months, I eventually stayed for around 12 years. I joined the British Chamber 9 years ago as an Events Executive, but have been the Managing Director for around 6 years – it has given me more than I could have ever imagined.
My reflections
Proceed like success is inevitable – Believe in yourself personally and professionally – you need to take risks, fail, learn, innovate and progress. It's not luck, the Chamber always makes things happen.
Optimists do more – Passion, energy and drive are the building blocks for any form of success, and happiness is a choice; embrace that life comes with its ups and downs, enjoy the highs and don't get disheartened by the lows. That's a winning attitude. The optimist will see the good in people and the opportunities in anything. Optimists are progressive problem solvers and in the Chamber context that means always fighting for our community.
Doing the right thing is never the wrong thing – Stay true to your values and belief system, and remember that conflict can keep you honest. In the words of Winston Churchill – 'You have enemies? Good, that means you've stood up for something, sometime in your life'.
All people are different people – Diversity is an amazing thing, and the Chamber stands by our core beliefs of diversity and inclusivity to make sure the Chamber represents the communities we work with and support.
The Chamber is something to be proud of… because it's your Chamber! The Chamber makes a real difference through our important role as a bridge between the UK and China – in a divided world we are stronger together, and we have such a deep meaning and purpose as the voice of British business in China. The bilateral relationship needs more advocates; for the Chamber to mean something to members, we need our community to step up and get involved – the more you put in, the more you will get back. With such limited resources, the Chamber consistently delivers incredible results! I've been so proud of this amazing team, so please do thank the Chamber team and our Executive Committee when you can.
Thank you
I would like to sincerely thank all the Chairs and Executive Committee members I have worked with over the years, and I am so proud of the Chamber team both past and present – you have all been superstars!
I would like to wish the best of luck to Rachel Tsang as our new Managing Director –  I can guarantee the Chamber is in safe hands and will go from strength to strength, as Rachel brings dedication, competency and a strong institutional knowledge.
I also want to make special mention to Nick Holt, St. John Moore, Julian MacCormac and Julian Fisher. We set out on a journey to holistically reform the Chamber, and 6 years later we can firmly say we are the powerhouse we hoped we would become. Personally, it's been a genuine privilege and honour to work alongside you and more importantly call you friends!
Looking to the future
I have just become a father to our amazing daughter Belle. I want to instil the advice my parents taught me in her, and I hope this should resonate with my time at the Chamber – 'just go for it' and 'always pick things up and leave them in a better place'; I really hope I've done that with the Chamber.
Finally, I have been so privileged to get up every morning to do a job I really love and that really matters. I am so incredibly grateful to have been the custodian of this incredible organisation, from Position Papers and Sentiment Surveys to British Balls to the day-to-day office environment – I have loved it all!
I can't wait to see what the next chapter looks like, and hope that 'this is not goodbye, just see you soon.'
All the best,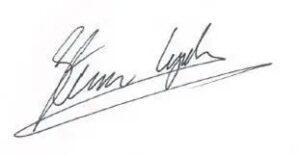 Steven Lynch
Managing Director
British Chamber of Commerce in China