UK Secretary of State for International Trade Liam Fox attended a dinner organised by the British Chamber of Commerce in China at the Kempinski Hotel on Thursday 23rd August. The select group of attendees were made up of members of the Chamber, CBBC, CBI and Department for International Trade.
At the dinner, attendees primarily discussed Dr. Fox's negotiations with senior Chinese government ministers, as well as opportunities and issues in the Chinese market for British business. Other topics of discussion included the state of Sino-British diplomacy, policy and regulatory issues, the Belt and Road initiative, Brexit, as well as a wide array of sector-specific issues. The occasion was also used to present Dr. Fox with a copy of The Business Environment Market Access (BEMA) Report, which was mentioned as a sustainable way to promote the voice of British business in China.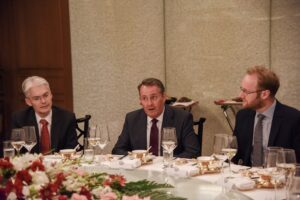 While on his trip in China, Dr. Fox attended high-level JETCO (UK-China Joint Economic Trade Commission) meetings with Chinese officials. An example of the achievements emerging from these negotiations included China's agreement to import around £240 million worth of UK dairy products over five years.
Dr. Fox commented that "It is great to see many UK businesses making the most of this opportunity and providing the high quality goods that Chinese consumers demand."
Chair of The British Chamber of Commerce in China, Mr. Nicholas Holt stated: "British business in China welcome the Secretary of State for International Trade's visit to Beijing, and the ongoing commitment to strengthening commercial and business ties that this represents. Along with the successful outcomes of the JETCO, these sorts of meetings are all the more important considering the significance of China as a key trading partner with the UK now – and in a post-Brexit future".
The British Chamber of Chamber in China would like to thank the Department for International Trade for making the event possible. The continued partnership between the two organisations shows the strength of their relationship.