日落希庭烤肉自助
Terrace Summer BBQ
是时候逃离空调的依赖,来北京希尔顿希庭尊享初夏美好时光。可以俯瞰三环美景的希庭,在这个夏季特别准备食色俱佳的优质料理,琳琅满目的海味生鲜,多种多样的应季时蔬以及无限量畅饮的各种饮品。携三两好友,伴随着夏日余晖,感受着清风拂面,来夜晚的希庭一起畅聊生活吧。
每位人民币168元+15%服务费每位含软饮畅饮,另加30元享指定款啤酒及红酒畅饮
扫描如下二维码直达微信商城,即刻选择。
It is time to escape from the dependence on air conditioning, to enjoy the early summer outdoors. Hilton Beijing have prepared a variety of delicious food, seafood, seasonal vegetables and drinks for this summer. With a couple of friends, accompanied by the summer afterglow, feeling the breeze, getting a relax night at the beautiful Terrace.
Price: RMB168 +15% service charge per person including free flow soft drinks, plus RMB30 to enjoy the specific beer and wine.
Please scan and start to book.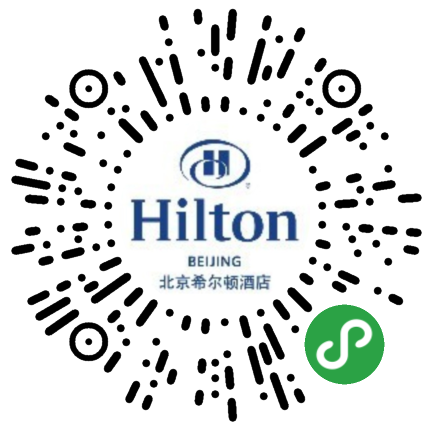 惊喜客房
Spring sizzler on new rooms
"外交官官邸"风格设计的全新客房也在这个春天推出了特别礼遇。全新客房设计别出心裁,房间内充满韵味的正红色大面积使用,作为客房里的特色墙,增加客房亮点,提高客房整体的空间风格与色调,使其更加轻松明亮。床头造型受中式窗格的启发,利用木皮转印的特殊手法,以时尚方式呈现眼前。灯具再次重申"外交官官邸"的故事轴线,点睛似的运用东方美学线条的吊灯,增强氛围。最值得一提的是客房内书桌由固定的方形桌调整为可移动的圆桌,恰到好处的高度可以同时满足阅读、休闲及用餐等多种需求,打破了传统写字桌的严肃,带给您家外之家的温馨舒适。
特别礼遇:酒店官方微信商城推出系列奢享住房特惠,单日房及十日连续入住或者三十天长住均可选择。
The new "Diplomats Mansion" style of the guest rooms offers a subtle blend of traditional charm with modern amenities. By using historical references, the ancient and modern Chinese are integrated beautifully. Hints and suggestions throughout harken back to a more gilded age in China and to historic old Beijing. Open-style wardrobes combined with luggage counters as well as the mini bar create additional space for each guest room. Characteristic Chinese red walls are widely used giving each guest room an iconic feature, the bed was inspired by a Chinese-style, using a special method to transfer printing from leather to wooden surfaces adding a mix of textures. Lighting once again reiterates the concept of the "Diplomat's Mansion" and uses chandeliers of an Oriental aesthetic to enhance the ambience. Creative and multiuse round desks have been used to satisfy the needs of reading, leisure and dining, and the stunning bathrooms were inspired by traditional moon doors commonly seen in Beijing gardens. We have achieved our aim to bring every guest the opportunity to feel like a visitor to a "Diplomat's Mansion".
Special offer: the official WeChat eshop offers a series of room promotion, which can be used for a single day or a 10-day stay or a 30-day stay.