The British Business Awards 2020 Launched in Shanghai
Honouring British Business Success
Shanghai, 12 June 2020 – The British Business Awards 2020 was launched yesterday at The Langham Shanghai Xintiandi by the British Chamber of Commerce Shanghai. The Awards, supported by Department for International Trade (DIT), The British Council, China-Britain Business Council (CBBC), Confederation of British Industry (CBI), and British Chambers in Beijing, Guangdong and Southwest, seek to celebrate the fantastic work being done by British businesses across China and the ever-growing trade between China and the UK.
Established in 2008, the biennial British Business Awards have grown to become a prestigious feature of the business calendar, recognising and promoting excellence in innovation, enterprise and endeavour in the British and Chinese business communities. Through ten categories in 2020, the Awards act as a testimony to the depth, breadth and success of British businesses operating in China, as well as recognise the excellent achievements of Chinese businesses operating in the UK.
"The UK and China have fostered a constructive trade relationship over recent years. 2019 saw record volumes of UK-China bilateral trade. Total bilateral trade reached GBP 104.5 billion. China remains the UK's third-largest export market after the EU and North America. The UK is the global No.1 destination for foreign direct investment in Europe and was the largest recipient of Chinese investment in Europe in 2019. We have also seen high levels of UK foreign direct investment flow into China, reaching GBP 3 billion (RMB 27.4 billion) in 2018, up 159% on 2017.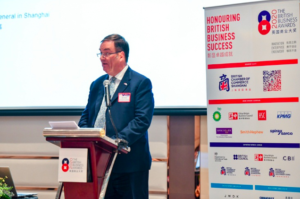 (Photo: Chris Wood, British Consul-General in Shanghai)
Although the epidemic has indeed hit hard trade around the world, including trade between our two countries, Britain and China maintain confidence in the prospects for future economic and trade cooperation. British and Chinese businesses will be at the heart of the recovery and of that cooperation – helping not only to exchange knowledge and expertise but also to maintain and build trade ties between the UK and China. The British Business Awards will play a hugely important role in highlighting the skills and expertise which British businesses can offer to China." – British Consul-General in Shanghai, Chris Wood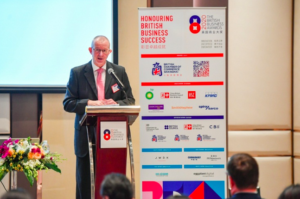 (Photo: Ray Chisnall, Chairman of the British Business Awards 2020,
Vice Chair of the British Chamber of Commerce Shanghai)
Chairman of the British Business Awards 2020, Ray Chisnall, introduced this year's Awards, "This year, we expand the Awards by introducing three new categories, British Exporter of the Year Award, Leadership Award and Best Employer Award. By doing so, the Awards cover more areas and aspects to recognise and reward the best that British companies offer to China." Ray also encouraged applicants to build a bright future for both Chinese and British economies in this challenging time with their entrepreneurial spirit and cooperative stewardship. "We are living in truly unprecedented times, and it is only by working collaboratively across all boundaries that we can overcome the challenges and make sure business continues to grow between the UK and China. The Awards are a recognition of the tremendous work being done, and it is vital we continue to build on the strong foundations that exist. I encourage all companies to seize the opportunity this presents to showcase their business in the UK, China and beyond."
Award categories of the British Business Awards 2020 are:
Innovation Award (sponsored by bp)
Sustainability Award (sponsored by Houghton Street Consulting)
Education Institutional Partnership of the Year Award
Entrepreneur of the Year Award (sponsored by The British Chamber of Commerce Shanghai)
Chinese Investor in the UK Award
British Exporter of the Year Award (sponsored by CBBC)
Leadership Award (sponsored by The University of Manchester China Centre)
Best Employer Award (sponsored by Smith+Nephew)
Best Services Award (sponsored by KPMG China)
British Company of the Year Award (sponsored by SpiraxSarco)
Applications are now open, and the Awards invite all eligible individuals and organisations to enter. Five finalists in each of the ten categories will be chosen by the corresponding independent panel of judges and announced at a Finalists Event on 3 September. The highlight of the Awards, an Awards Gala Dinner will take place on 29 October, when the winners will be announced.
Application deadline is 31 July 2020.
More information is available at www.britishbusinessawards.cn.
###
For further information, and/ or for interview arrangements, please contact:
Janet Jiang
Director of Marketing Communications and Events
The British Chamber of Commerce Shanghai
Tel: +86 21 6218 5022
Email: janet.jiang@britishchambershanghai.cn
About The British Chamber of Commerce Shanghai
The British Chamber of Commerce Shanghai is a non-for-profit membership organisation with a history extending back to 1915. For more than 105 years, the Chamber has always implemented its original ethos of helping each other in the interests of growing British trade with China.
Currently, the Chamber represents over 300 companies with around 1500 member individuals.
By organising over 170 online and offline events, as well as committee meetings every year, the Chamber offers a vast amount of information and is able to promote the exchange and sharing of expertise among its professional community. The strong and diverse network to which we offer access to also assists members to raise their profile locally and rapidly expand their business contacts here in East China.
In May 2019, four British chambers of commerce in mainland China launched the inaugural Position Paper for UK business in China. This report was a special milestone, as it represents the culmination of two years of reform of the British chambers of commerce in China. Four British chambers of commerce representing Beijing (China), Shanghai, Guangdong, and the Southwest are now working together for members representing a single combined voice of British business in China.
This report was the culmination of feedback from a number of roundtables, interviews and surveys focusing on the business environment and market access issues for UK member businesses operating in China. The second Position Paper was launched on 9 June 2020.