Why is advocacy so important
"Today, we celebrate an advocacy success with the waiving of the requirement for PU letters. This, combined with the recently announced reduction in quarantine times, is a welcome step in the right direction. However, further measures are needed to restore confidence in the business environment. The UK still lacks direct flights to and from China. The resumption of flights is critical, and while this will not entirely address our continued concern around foreign talent leaving China, direct flights, combined with no requirement for PU letters and reduced quarantine will go a long way to resolving the issue of foreign talent outflow.
As we have seen, through consistent messaging, there can be movement. Myself and the BritCham team will therefore continue to champion your concerns and needs, with the multifaceted advocacy approach that we have adopted, raising our concerns and recommendations directly to the Chinese authorities (including to Premier Li and other national leaders) as well as publicly highlighting the impact that COVID restrictions are having on business operations through our media engagement. In doing so, we hope that we will see continued relaxation of the restrictions on international travel.I hope you will spend a few moments reading the below information on how we have supported British business! Our recent Position Paper highlights the completely unique business environment we face here in China and the areas in which we must continue to lobby for improvements, which ultimately benefits both the UK and China."Steven Lynch – Managing Director, British Chamber of Commerce in China
Waiving of the PU letter requirement – what does it mean? 
The British chambers of commerce in China have been in discussions with various sources from a number of government departments. We can confirm that the requirement for PU letters has been waived – meaning that foreign passport holders who have been approved to work in China and have obtained work permits, as well as their dependents, are able to receive certain visas allowing them to enter China from abroad without this additional document. Furthermore, officials at the city level of China's Department of Foreign Affairs will also be allowed to issue PU letters, a widening of the original scope which only permitted provincial level officials to do so.
Some Chinese embassies (such as in Singapore and South Korea) have already posted notices regarding these changes on their website. We are informed that we can expect for this policy to be applied across the globe. If you have specific questions about visa requirements, contact your provincial and municipality level foreign affairs department or commerce department.
Deepening our media engagement to voice our members concerns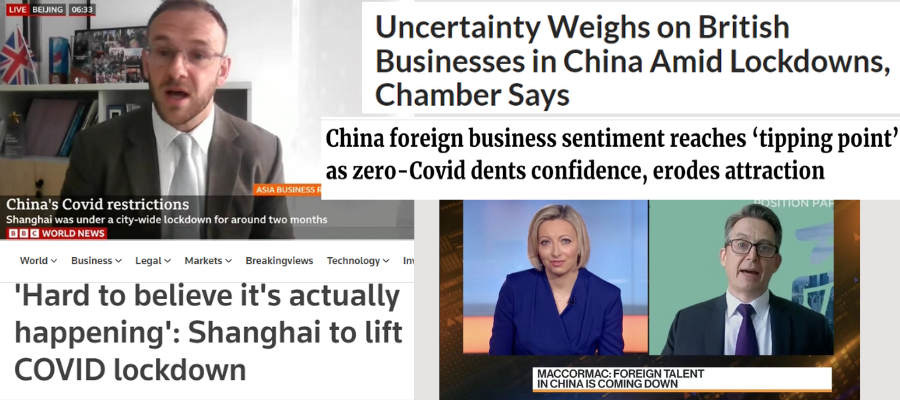 BritCham has appeared on multiple international and domestic media channels to advocate for members' key concerns:
BBC News – Asia Business Report
BritCham Managing Director Steven Lynch discussed the challenges faced by British businesses in China.
He explained that British businesses were previously broadly optimistic about China's long-term potential and viewed it as a priority market. However, recent lockdowns are creating huge uncertainty, with businesses unable to plan for the coming months. If lockdowns continue with no exit strategy, will British businesses still see China as an opportunity, or as a risk?

Bloomberg
BritCham Chair Julian MacCormac appeared on Bloomberg Business News to discuss the issues raised in the Position Paper, including concerns around foreign talent, data security, and regulatory barriers.

The Guardian
"On Tuesday the British Chamber of Commerce in China released its annual position paper, warning that Covid restrictions and uncertainty about the future were having a negative impact on British companies in China."
"All we can expect is more uncertainty, disruption and potentially more lockdowns", as China continues with its zero-Covid targets, said the chamber's chair, Julian MacCormac. "There is a real nervousness and concern that something like [Shanghai] could happen again in the current environment." The report found 43% of member companies were facing challenges including hiring foreign talent, and 23% had a net decrease in foreign staff. It said 41% were anticipating their staff will leave within a year."

Reuters
"Julian MacCormac, chair of the British Chamber in China, said Shanghai brought COVID under control at "very significant personal and economic cost". "What has materially changed to ensure that this will not happen again?," he asked. "That's where the uncertainty lies."


South China Morning Post
"Uncertainties are "reaching a crescendo", which are weighing on operations and forcing foreign talent to leave China, with "considerable barriers" to bringing in replacements, the chamber added.
"The lack of clarity and communication in regards to various policies, goals and processes is perhaps the most significant cause for concern."
Chairman Julian MacCormac welcomed Beijing's recent measures to address business concerns, but added that the chamber was still waiting to see the actual results on the ground while also looking for long-term certainty."

CNBC
BritCham Managing Director Steven Lynch appeared on CNBC's 'Squawk Box' series to discuss the findings of the Position Paper, and why the uncertainty of recent outbreaks means we need to restore foreign business confidence in China.
Caixin Global
"A majority of British companies in China have forecast falling revenues for 2022 as they expect the country's current wave of Covid-19 outbreaks and the resulting government response to take a serious toll of business this year. That's according to an annual business sentiment survey conducted by the British Chamber of Commerce in China, which says 'increasing uncertainty' threatens to undermine what many foreign companies see as a major strength of doing business in the company."
Wall Street Journal
"Despite a sense of relief throughout Shanghai, foreign businesses remain unnerved by uncertainties over China's stringent policies to quash Covid outbreaks. Businesses are planning shorter term, sometimes in daily cycles instead of projecting weeks ahead, said Steven Lynch, managing director of the British Chamber of Commerce in China."
We are the voice of British business and here to represent you and your business. If you would like to be involved in the Position Paper or have your key issues represented in other reports, please contact us: