Last weekend, the British Chamber Young Professional Forum united with YP's from around the world for a fantastic cause during the current situation. Our Charity Trivia raised over RMB 6000,thanks to amazing kindness of our YP's, supporting businesses and mentors. This amazing achievement is down to their donations and contributions resulting in an incredible event.
The YP Forum Chair, Nathan Cornwell, announced how the event symbolised the positive influence of our YP network who have a"natural eagerness and enthusiasm to support not only others who need it most but support great businesses and their peers too."
Amy Hope, YP Forum Committee introduced the sponsored charity, Migrant Children's Foundation, that helps disadvantaged schools and providing healthcare and educational opportunities for them.
Our quiz hosts, James Ashcroft and Betty Xiao, YP Forum Committee, divided our YP's into teams and took them through a gruelling 4-round test of knowledge. It was a hard fought battle of intellect. In the end, the high-scoring affair reflects optimism for those leading the future of our economies.
Generosity has been in a surplus during the entire organising and running of the event. We sincerely appreciate everyone who were involved! Congratulations to our event winners that received some great prizes from our supporting businesses.
The Hutong School
"We want to thank YP's programme and team for their cooperation on this event. Their enthusiasm for developing young talent is something we have in common and we look forward to working together more in the near future." – Robert Warman, General Manager
Hutong School are an award-winning Mandarin school situated in the heart of Sanlitun.
A multi-cultural team passionate about helping expats and students from all over the world, they also offer Chinese cultural events and China focused career workshops alongside their Mandarin programmes.
Hutong School currently have a great 2 for 1 promotion where every 2 hours of offline group or private classes you take during the month of purchase, you will receive a voucher for 1 additional hour. In addition, Hutong School have offered to support the development of our Young Professionals by offering a 10% discount on Chinese classes. 
If you want learn more about learning Chinese at Hutong School, you are welcome to drop by for a free trial class and level test. Feel free to reach out to Education Coordinator, Angelina Lee @ angelina.lee@hutongschool.com – Phone (+86) 10 6403 8670 – WeChat – ange_lee.
Earthern Roots
"Earthen Roots was delighted to sponsor the British Chamber's online trivia event to help disadvantaged children in the local area and to get the chance to meet other young professionals in China and across the globe. It is our belief that during these testing times, health is of foremost concern for many people, which is why we are proud that our natural drinks with less sugar can help people lead a healthier and tastier lifestyle." – Lewis Murray, Founder
Earthen Roots creates delicious craft soft drinks and mixers fit for cocktails. Founded in 2019 through a collaboration of two cocktail and general drinking enthusiasts, Earthen Roots builds on traditional British classics by adding exotic flavours from the orient. We have two unique flavours of craft ginger beers available now, crisp and spicy, which are both delicious on their own or great when mixed into a cocktail.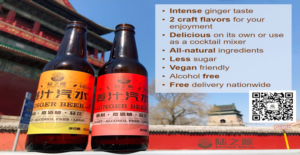 BeanMade
"It was great to be connected to everyone, the YPDP community is really growing and events like Trivia knit the community together, plus I sharpened my general knowledge" – Sally Victoria, Founder
Beanmade handmakes vegan candles, home and body products. With your busy lives, Beanmade is here to help you feel calm, relaxed and give you an extra hug. We believe caring for your mind is as important as caring for your body. Made with love and care- sending positive energy into your homes. We care about our planet and animals too, therefore all candle pots and bags are reusable or refillable, we only test on humans.
Moka Bros
Moka Bros fuels inspiration with food and drinks prepared from scratch, and only fresh ingredients. From breakfast, to business lunches and post-dinner drinks – we endorse the idea that life should be lived in balance. The vibrant atmosphere, ever-changing wall art, inspired events and high-energy playlists, make Moka more than just a coffee shop, or restaurant, it's the coolest place to eat healthy food.
Sherpa's
Founded in 1999, Sherpa's delivers your favourite restaurants to you, and now you can order movie tickets and buy groceries too. We have an easy to use app and a bilingual call center that are ready to help you if you need any assistance. We deliver from hundreds of restaurants across Shanghai, Suzhou, and Beijing, providing a friendly and reliable food delivery service with over 20 years' experience!
The charities founder Helen Boyle OBE thanked the British Chamber for their initiative and generous donations
Thank you for your generous donation to MCF. Like many others, we at MCF are struggling to get to grips with life in the wake of the Coronavirus. Our usual means of providing support to migrant families, through learning in schools around Beijing and providing health checks in hospitals, remain on hold at the moment as we wait for better times ahead. But these families need our help now more than ever, and we are working hard behind the scenes to find new ways to provide the right support in the most appropriate way.
As I write, the friends of MCF, who are currently scattered all over the world, are meeting on Zoom and various other platforms, to drive forward a number of ideas to take MCF forward into a new and exciting phase of our development. There are projects currently underway to deliver valuable learning to children remotely through a carefully designed curriculum by our education professionals. We hope to put this online, thereby becoming effective across China and not just in the vicinity of Beijing. We also have native English and Chinese speaking members collaborating on a project to roll out some story telling to children, with associated resources, in an imaginative and dynamic way.
Both of these projects will hugely benefit from the support you have given us, and for that, I am truly grateful. Not only can we use the money to buy resources which are much needed but we can also help to secure the future of our office, which is the beating heart of all MCF's activities. Having recently provided a single family with two laptops to enable children to continue learning through a tremendously difficult time for their parents and families, the timing of your generous gift could not be better.
Thank you once again for your support.