On Tuesday 11th December, the British Chamber Young Professionals Forum held the final Young Professionals Development Programme workshop on the theme of 'Entrepreneurship'.
Our YPDP Entrepreneurship Co-mentors, Zhu Bei (Co-Founder of Venture Education & Atlas Education) and Dominic Johnson-Hill (Founder of Plastered 8), led the workshop at CKGSB, one of China's leading business schools, which counts Jack Ma as an alumni. The mentors shared in their introductions that being an entrepreneur 'can be hell', the skill itself 'can be hard to teach' and overall it requires you to be 'hands on'.
In this session, the mentors aimed to enhance the fellows' ability to 'identify and create opportunities'. They advised us that being entrepreneurial involves reflecting on 'Who You Are' as an individual, and offered themselves as examples by citing their own competencies and how these unique traits led them to found and run successful businesses.
Convincing People- Dominic explained how his 'Hutong Catwalk' event really got his brand noticed. The media attention that the event accrued was not out of luck, but out of carefully planned invitations to key people at top designer magazines.
Honest & Welcoming- ZhuBei shared how she had been able to convince her first teacher recruits through her honest and welcoming nature. These same qualities allowed her many years later to be given the opportunity to train over 500 volunteers for the Beijing Olympics.
Inspire with a Story. When opportunities arise, like a hugely popular talk show host coming into your store, grab them with your story, if you have cute kids, use them! Your passions are hard fought for and you have to push yourself into situations that can appear uncomfortable.
Creative Solutions. ZhuBei shared how her business partner's mantra "there's always a silver lining" kept her going through hard times, and motivated her to work hard together with her team to 'bend the universe'. In 4 short years, her and her team have gone from working out of a house with angry neighbours to opening an 800 metres squared learning centre.
Think about Opportunity. 40% of Dominic's revenue now comes from creating artwork for other brands. This all came about from being asked to do something with a blank wall in Moka Bros.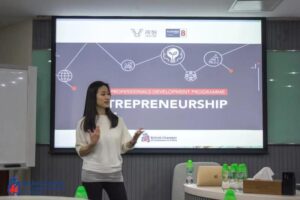 Break out session
Fellows were paired up with a 'business partner' and assigned a 'company'. We were asked to consider how our company could 'plant a seed' in the head of a newly formed connection in order to potentially develop a business opportunity, the scenario being: 'The boss of an events company, whose team is miserable, has a large amount of money to invest.'
In our partnerships, the fellows took time to consider 'who we are, what we know and who we know', then worked to understand what opportunity we could pitch to the case study that would allow for us to work together.
The groups in turn pitched their Avocado smoothie drinks, hotels in Qingdao, PM2.5 watches and more. We learned that there is always an opportunity to be seized and that delivering a convincing story is hugely influential in the outcome of your pitch.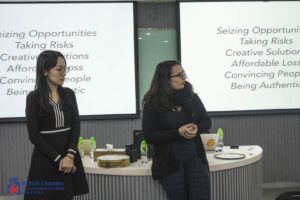 Key Takeaways
Effectual Thinkers. Entrepreneurs have a tendency to open the fridge, see what they have and use the ingredients they find to make a meal. Causal thinkers are more likely to find a recipe, buy the ingredients and follow the guidelines to make a meal. In other words, effectual thinkers don't begin with a clearly defined goal; rather, they allow the goal to emerge organically through the process.
Fire, Fire then Aim. Sometimes you don't know what you're going to get out of this, as an entrepreneur you never know where a key revenue driver will come from. So seize opportunity when it presents itself.
Starting is the Hardest. Entrepreneurship is not about having a brilliant idea, it is about being willing to make a bad idea happen and to learn from it. One must simply 'begin'.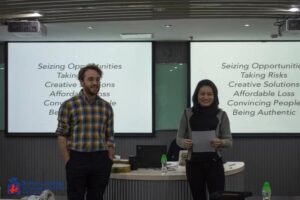 Feedback
"Inspiring workshop to end on, with an inspiring message to begin."
Charlotte Smith, YPDP Organiser
"The interactive workshop with ZhuBei and Dominic really helps us in understanding some personal stories and lessons about creativity, opportunity-seeking and the challenges of entrepreneurship. I learned a lot about how one can be entrepreneurial, especially in a Chinese context."
Linh. P. Nguyen, YPDP Fellow
"Inspiring stories of entrepreneurship. Hammered home the importance of taking that first step, regardless of the risk involved and never forgetting the story behind your product."
Joshua Taisler, YPDP Fellow
The Young Professional Development Programme workshops are concluded and the Graduation Ceremony will take place on Tuesday, January 8th 2019.