We are currently accepting responses for our 2022 Diversity & Inclusion Survey – click here to find out more and to fill out the survey!
British businesses in China found that diversity and inclusion made them more innovative, more efficient and better places to work.
In the second edition of the British Business in China: Diversity & Inclusion Survey, we found that 80% of companies have implemented D&I programmes in their organisation, and 72% have seen tangible improvements on their business performance as a result.
Uptake of D&I programmes such as mentoring schemes, equal pay commitments and unconscious bias training is much more widespread. Maternity and paternity leave periods are both getting longer, with many companies now offering far more than the standard two weeks of paternity leave.
British businesses are leading the pack in terms of hiring women, with women making up 46% of British workforces, 3 percentage points higher than average female participation in the workforce in China but lower than women's overall share in the population. Representation of many underrepresented groups remains relatively low.
Foreign passport holders make up a smaller percentage of workforces this year compared to last year, likely due to COVID-19 travel restrictions leading to many abandoning their China careers. LGBTQ employees, employees with disabilities and employees from lower socio-economic backgrounds in workforces are also lower than in international benchmarks.
Nevertheless, half of companies already offer unconscious bias training to employees, which is the strongest predictor for more diverse workforces. We hope that, with continuous uptake of this training and improved monitoring of the impact of D&I programmes on both diversity and business performance, British businesses will continue to thrive in the China market.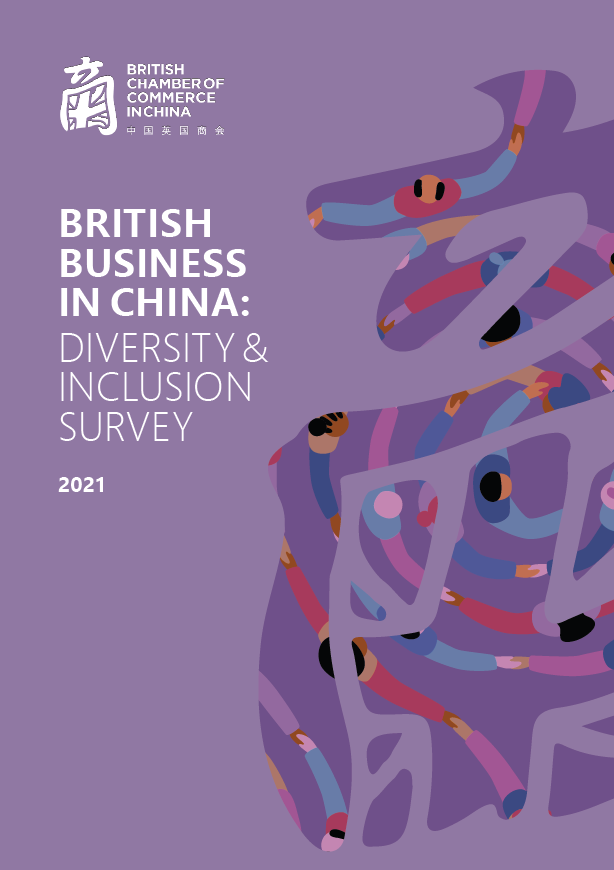 British Business in China: Diversity & Inclusion Survey 2021
Click the image to download the full survey report. For hard copies or more details about our Diversity & Inclusion survey, please contact: anika.patel@britishchamber.cn
British Business in China: Diversity & Inclusion Survey 2020