British businesses in China are in the midst of a fragile recovery. Optimism and investment are up following the normalisation of China's business environment in 2021. But blockages that were initially expected to be short-term now threaten to dam the flow of talent and innovations in and out of China. Many companies have yet to recover to pre-pandemic revenue levels, and these challenges threaten the gains that they have made.
The British Chamber of Commerce in China therefore calls for greater market reform, a more predictable business environment and the facilitation of UK-China travel.
Our annual survey finds that COVID-19's greatest impact continues to be centred on travel in and out of China. Opaque, inconsistent travel and visa policies have made it extremely challenging to bring foreign staff into China, and 43% of British companies continue to face hurdles in this area.
These forces caused employing foreign staff to leapfrog last year's key challenges and become the top issue facing British businesses in the Chinese mainland. Firms now foresee a greater negative impact from it than they do from long-standing challenges, such as unfair competition with state-owned enterprises, burdensome cross-border capital transfers and opaque cybersecurity regulations.
The top three challenges facing British businesses in 2022 are:
Employing foreign staff
Navigating cybersecurity and IT regulations
Enforcement of laws and regulations
Firms nevertheless see significant potential in the China market. Its technological innovations, economic prospects and 30-60 climate goals are of particular interest. Climate action remains a robust area of UK-China engagement, both at a governmental and business level. One third of British companies plan to be net-zero by 2060. There is more work to be done, however, as a further third of companies believe that net-zero requirements do not apply to them.
Click the image to download the full report. For hard copies or more details about the survey and our advocacy work, please contact: advocacy@britishchamber.cn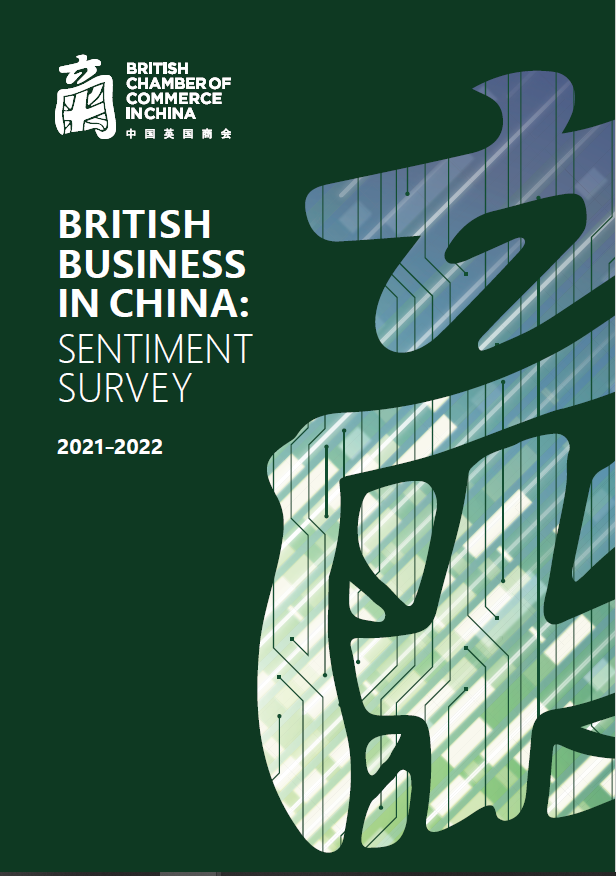 The British Business in China: Sentiment Survey 2021-2022 measures the outlook of British businesses across the country for 2022, representing the voices of our members across goods and services, from small businesses to large multinationals with on-the-ground operations.