Dr. Jane Goodall Inspires and Delights at BritCham's "An Evening With Jane"
Article by Drew Pittock, beijingkids 
"Everything led in the most natural way, it seems now, to that magical invitation to Africa in 1957 … My mission was to get close to the chimpanzees, to live among them, to be accepted."
These words are spoken by renowned primatologist and conservationist, Dr. Jane Goodall DBE, in the opening moments of her eponymous documentary. The film, which was produced by National Geographic in 2017 and pieced together from over 100 hours of footage shot in the 1960s, thought lost to time until it was rediscovered in 2014, offers a rare glimpse into the early life and career of one of the most fascinating and groundbreaking scientists of the 20th century. 
Dr. Goodall's pioneering research into the behavior of primates, and specifically, chimpanzees, constitutes one of the largest leaps in how we understand our distant relatives, since the earth-shattering breakthroughs of Darwin himself. And what made this titan of wildlife particularly compelling was not only her willingness to tread deep into uncharted territories of scientific inquiry, but into uncharted territories of the natural world, having lived amongst her subjects for long stretches at a time while gaining their trust and earning their respect.
Moreover, her first foray into the jungles of Gombe, Tanzania was not as a trained professional carrying out her life's work, but as secretary to a scientist who brought Dr. Goodall along due to her passion for animals and the fact that she could provide insights untainted by the dominant scientific theories of the time.
Needless to say, she was a young woman in a man's world, which was further obscured by its relocation to the remote wilderness. Yet she went on, in no uncertain terms, to completely revolutionize humanity.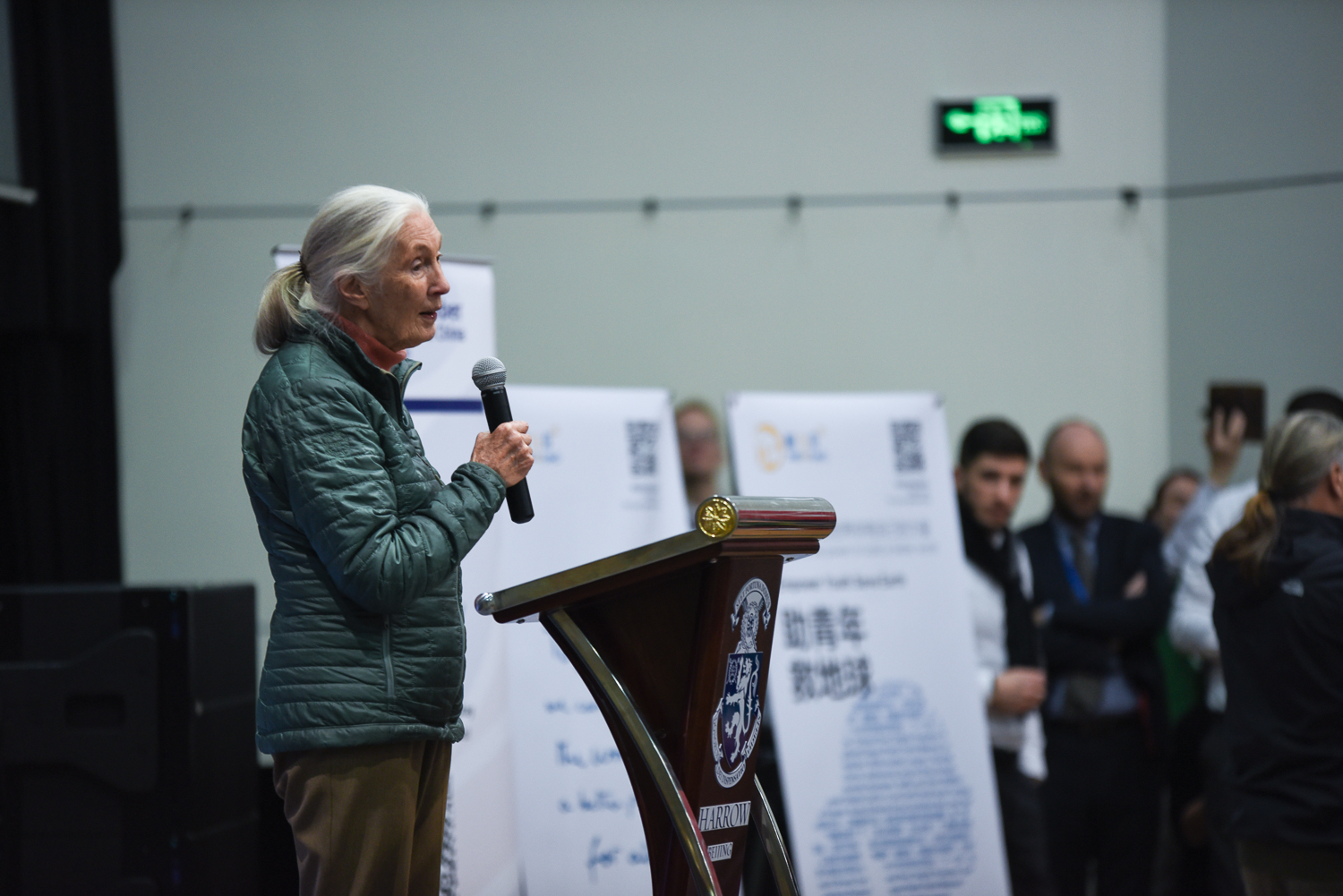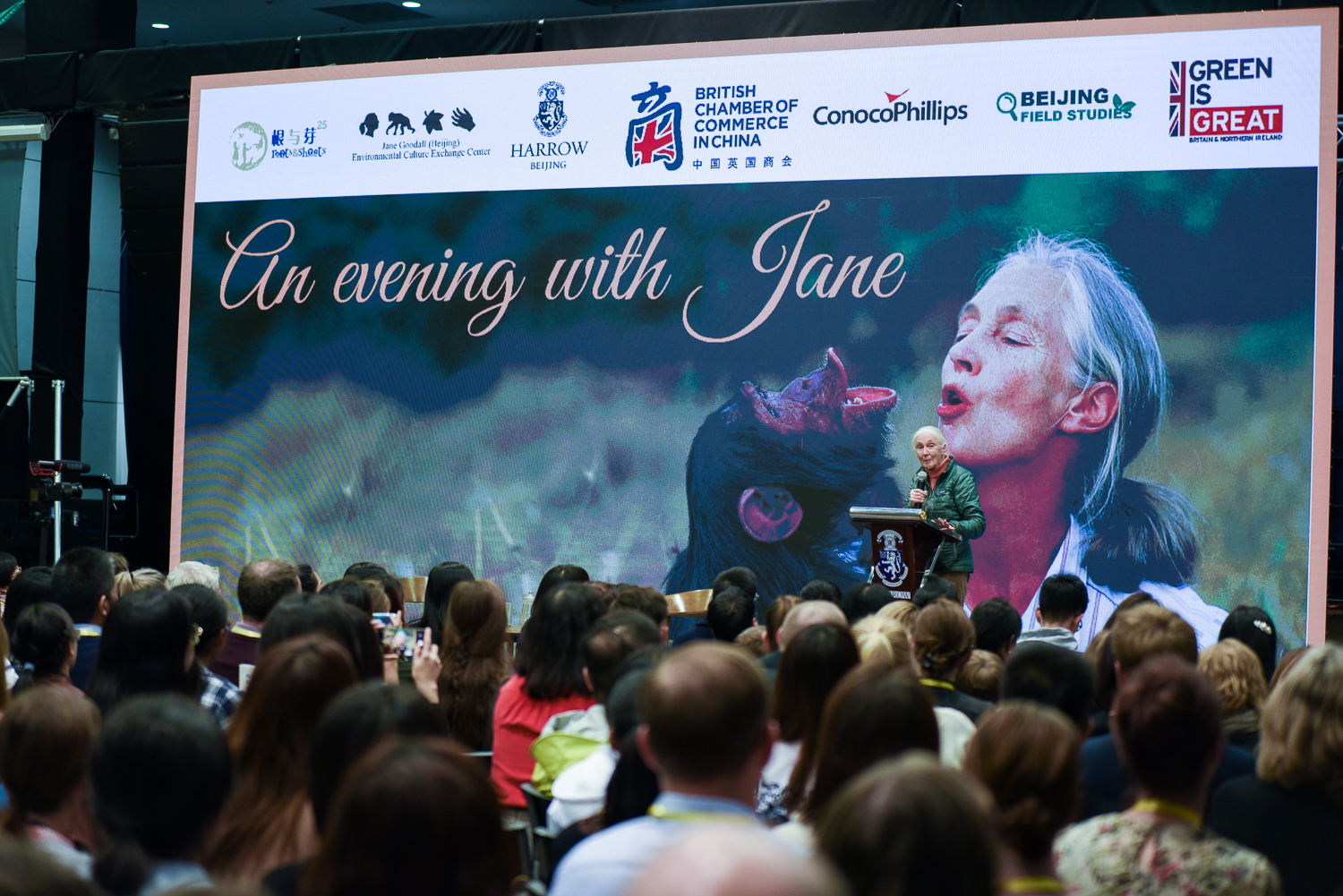 And so it is that when you get to be in the presence of a figure such as Dr. Goodall, you are truly in the presence of all that is great and, in the purest sense of the word, inspiring, about the human spirit. Therefore, when over 600 folks, young and old, from across Beijing, packed into Harrow Beijing's auditorium this past Wednesday (Nov 13) for "An Evening with Jane," the excitement, reverence, and admiration was palpable.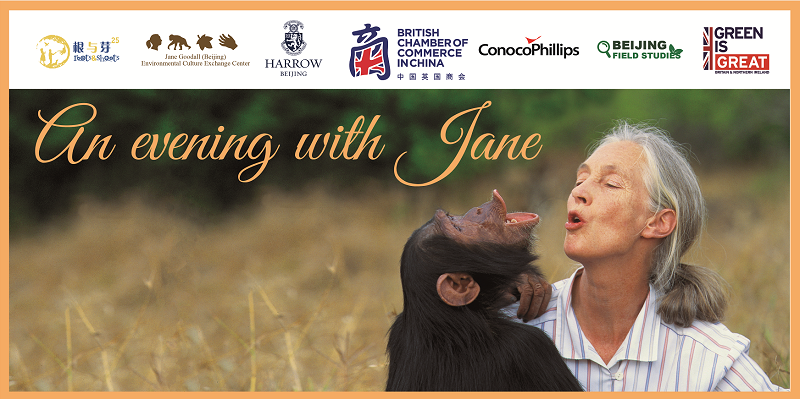 The event — which was organized by the British Chamber of Commerce in China, and supported by Roots and Shoots, ConocoPhillips, the British Embassy, Beijing Field Studies, the Jane Goodall Institute, and Harrow Beijing — featured a screening of the documentary, some powerful words from the guest of honor, and a Q & A. 
Touching on everything from raising her own child on the plains of the Serengeti and readjusting to life in Britain after months on assignment, to being chased by buffalo and the time her students were kidnapped by a rebel faction in the Congo, this was one lecture that certainly had it all. And despite the fact that Dr. Goodall talked about the catastrophic effects of climate change, and the drastic measures that we must take to ensure the preservation of natural worlds for generations to come, she spoke with a sense of optimism, perhaps buoyed by the fact that there were so many young people in attendance, who were entirely rapt by her presence and words.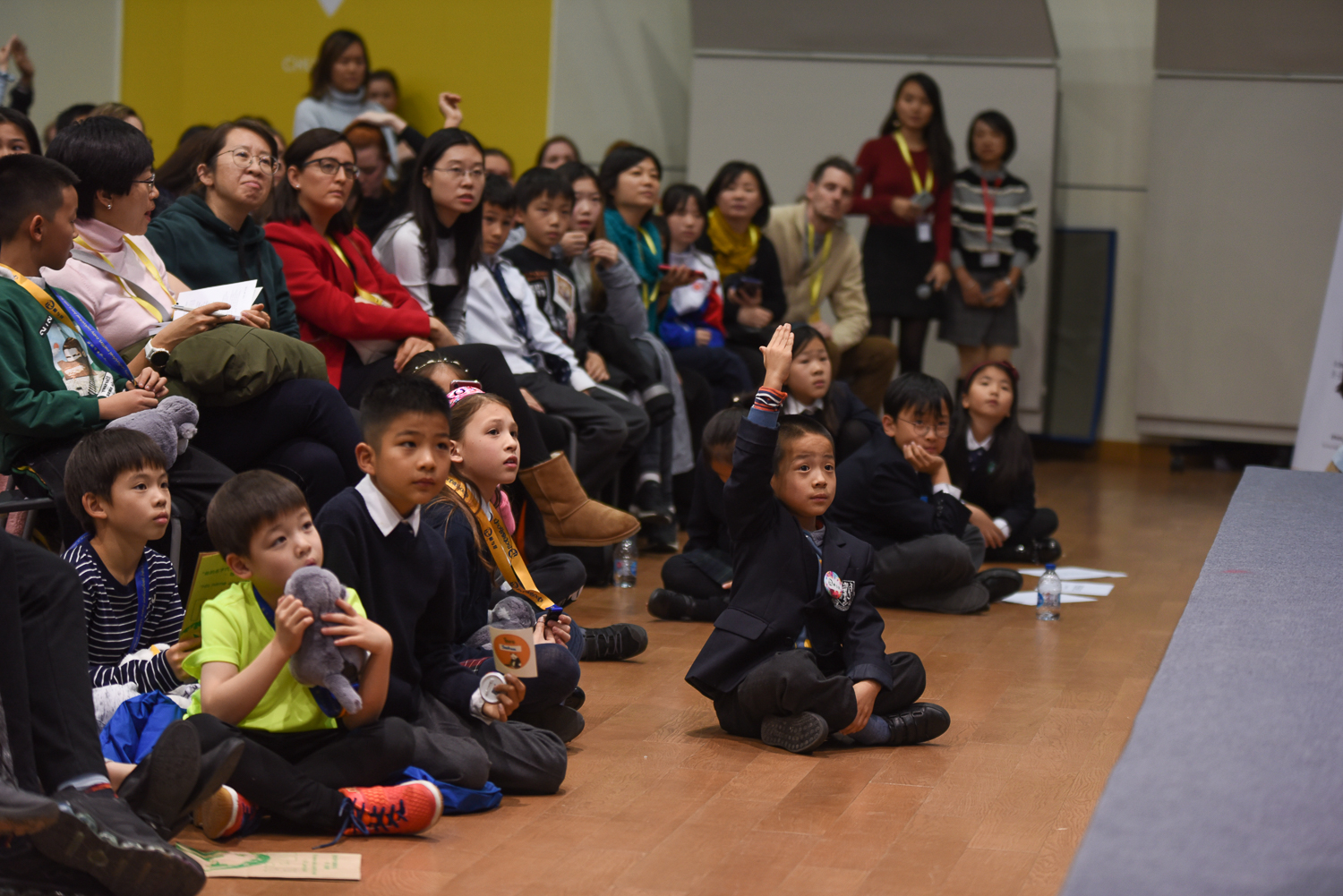 Likewise, when asked about the discrimination she faced as a woman in the field, Dr. Goodall struck a lighthearted tone. Citing an oft-repeated story about people claiming at the time that, given her lack of scientific credentials, and all but ignoring the amount of dedicated hours she put into her work, she was only famous because of her legs, the audience member posed the question, "Does this piss you off? And what other obstacles have you faced in your career because of your gender?"
In reply, Dr. Goodall stated that, "The legs thing is kind of funny actually, because if someone is told today, 'you're only famous because of your legs,' that's really insulting and disgusting. But when people said, 'she's only famous because of [National] Geographic covers and her legs, I thought, well if that's going to give me money to do my research, thank you legs!" Adding, "You have to admit, they were pretty good legs," to the audience's delight.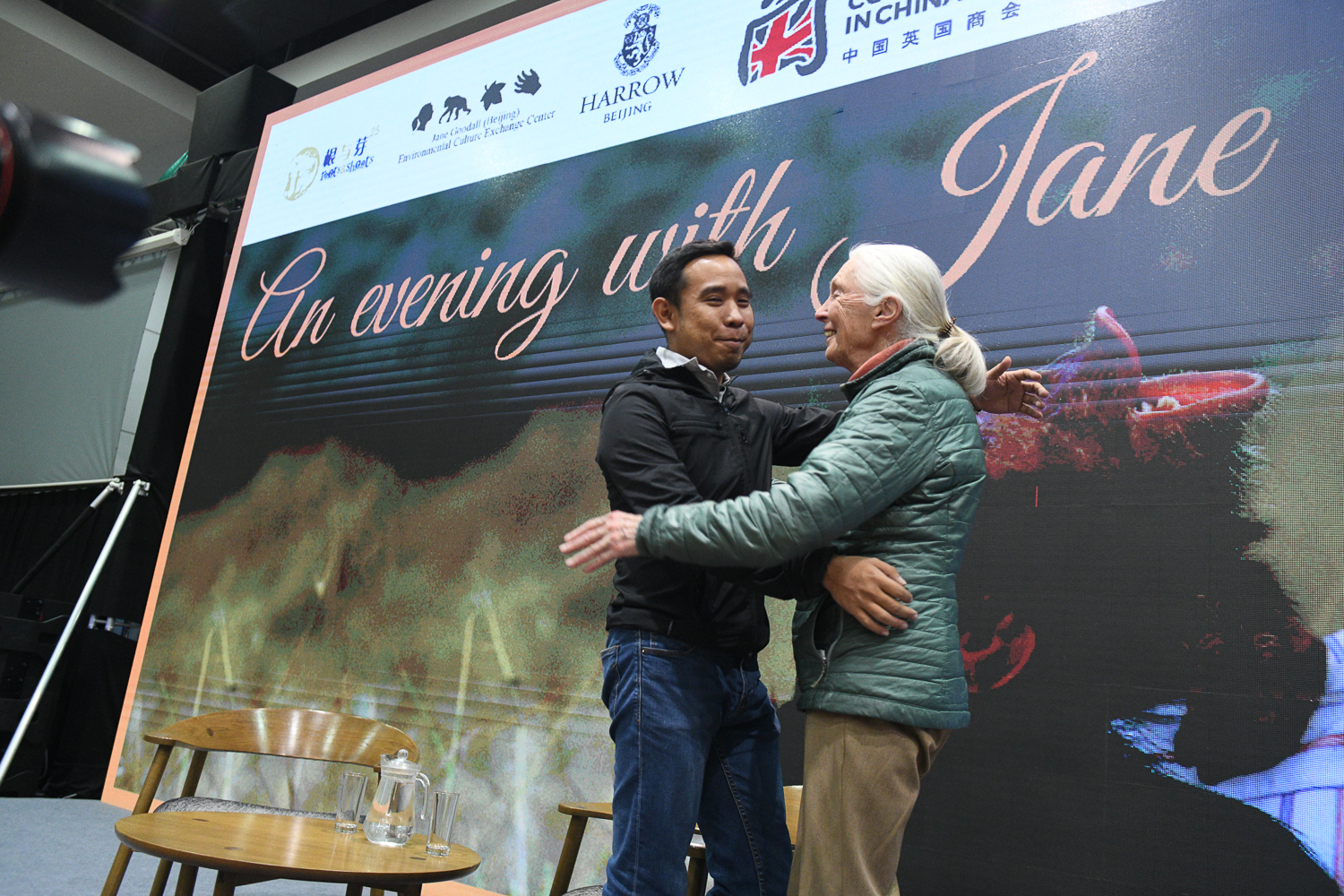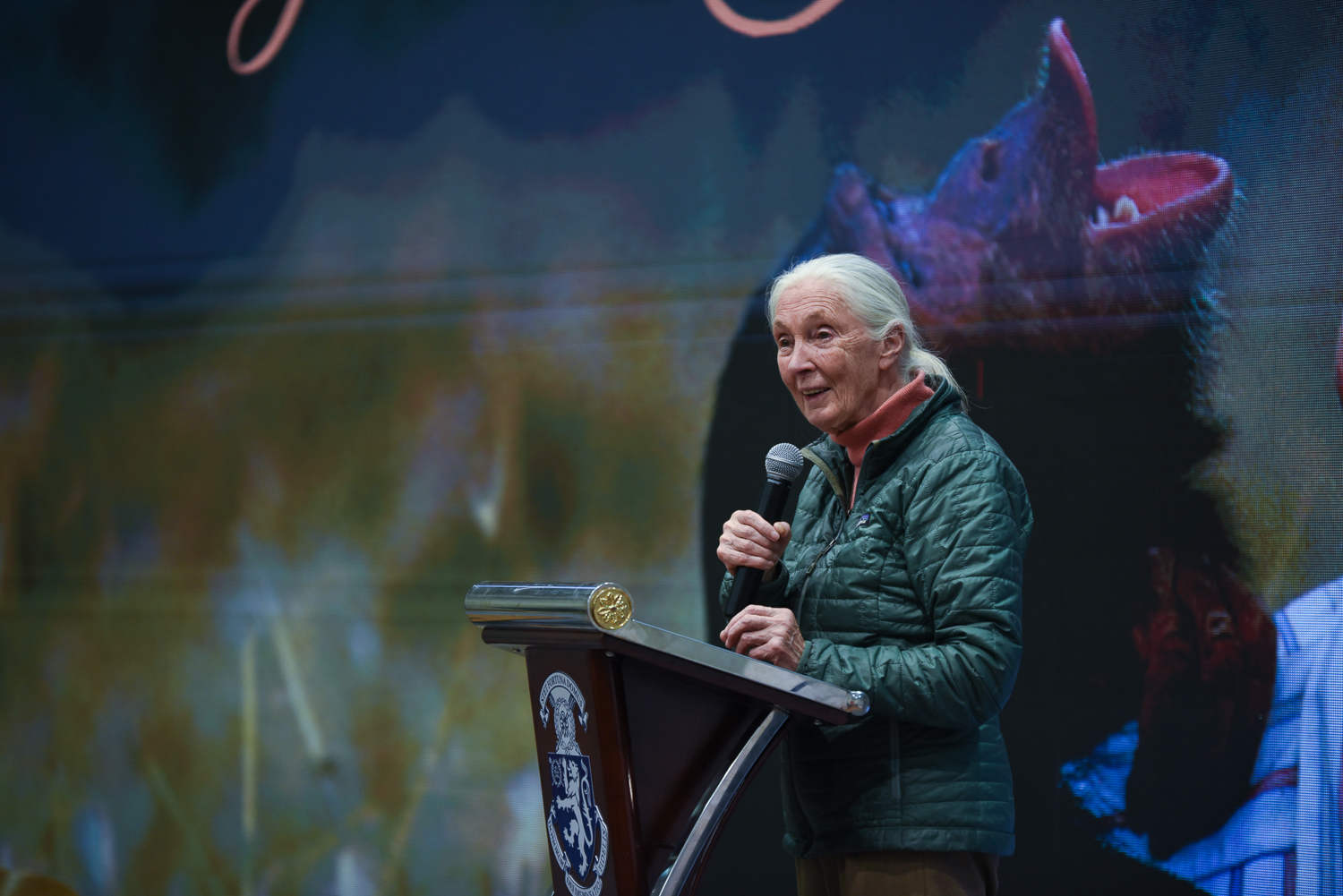 And therein lies the beauty and the heart of who Dr. Goodall is. No matter the challenges she faced as a woman, no matter the challenges she faced in alien and hostile environments, and no matter the challenges we face today as stewards of a rapidly deteriorating planet, with a little bit of humor, a little bit of patience, and a whole lot of determination, our abilities to shift paradigms, both collectively and individually, is always within reach. 
To get involved with Dr. Goodall's organization, Roots and Shoots, click here.