On 30th January, IHG donated RMB 1.5 million through the China Soong Ching Ling Foundation to China Red Cross Foundation, designated to support the construction of Leishenshan Medical Center in Wuhan.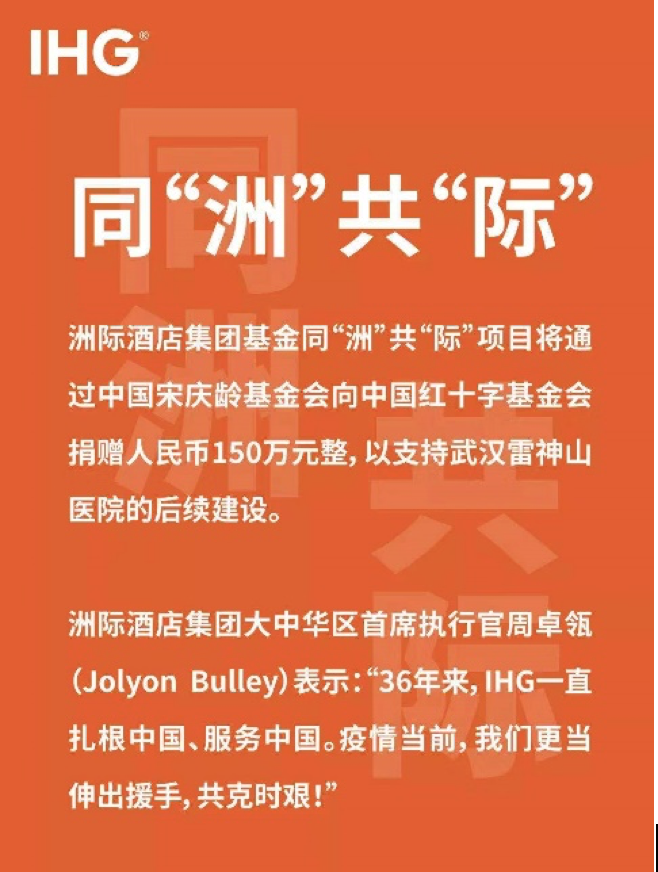 Front-line support to medical team, local government and community
Isolate the virus, not love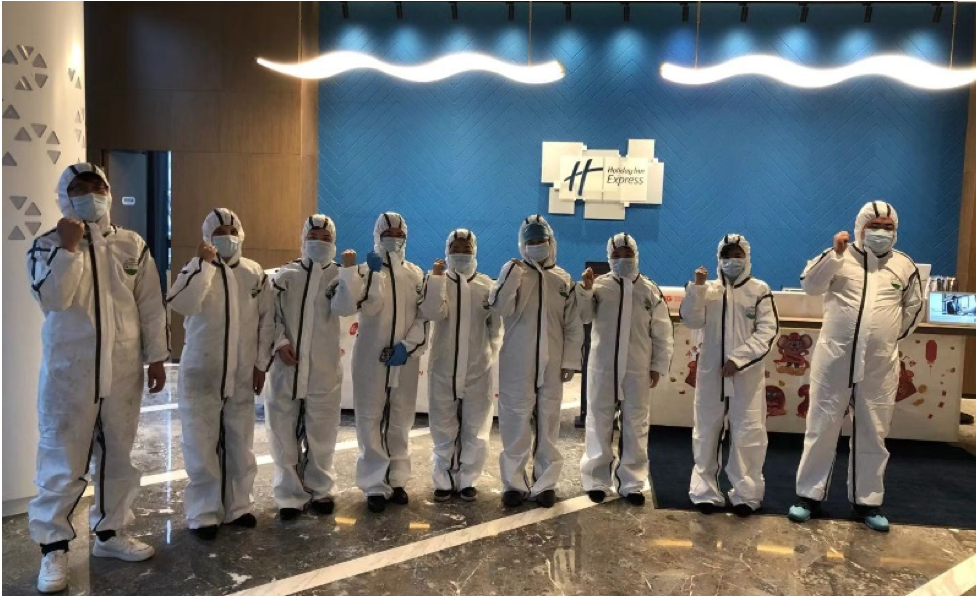 Led by Plain Ping, General Manager, the millennials at Holiday Inn Express Lishui are on the frontline of confronting the Wuhan coronavirus epidemic.
Catching a redeye to come back her hometown Nanjing on 27 January from Phuket, Lady Q (Alias) was expecting to re-unite with her family and be welcomed with their specialty dishes. Yet, she ended up at Holiday Inn Express Lishui in southern Nanjing city with the other 101 passengers on board. As two Wuhan locals who flew with them were running a fever.
The precaution measure of placing 102 people at quarantine was the result of the deadly coronavirus recently emerged in Wuhan and spread throughout the country. In the spirit of True Hospitality, Holiday Inn Express Lishui actively responded to the call of the local authorities and cooperated to ensure the deployment of epidemic prevention work in Nanjing city. It shut down on 27 January to serve as a temporary isolation centre as officially required by the local government to monitor people who have had contact with carriers of the coronavirus. Lady Q was among the first group of these special guests.
"A last-minute call came from local authorities at 7:30 in the morning to explain the situation," said Jonathan Fei, Franchise Performance Support Director, Holiday Inn Express Greater China, "By 9:00, the hotel managed to welcome the guests upon arrival." With the memory of SARS epidemic of the early 2000s still fresh, the millennials, who experienced that deadly coronavirus breakout at school back then, are now the main working force to confront the challenge on the frontline at the hotel. Led by the hotel General Manager Plain Ping, none of them showed reluctancy in the urgent morning briefing meeting.
But the health and well-being of both our guests and our employees IS our top priority. With the help of professionals from local disease control organisation, the hotel conducted training and upgraded internal prevention and control measures to minimize potential risks and protect the health and safety of all guests and staff. And positive feedbacks were received from the hotel guests.
Lady Q has thought of the worst scenario, yet "the working staff are patient and well trained" as she posted on her social network "and their ways of systematic working has helped prevent the potential turmoil from happening."
"Of the utmost importance during this time is the safety of you, our Hotel colleagues who are providing services to our guests each day and some hotels providing service to support impacted guests or government support," said Jolyon Bulley, CEO Greater China, in his notes to thank all hotel colleagues.
Good news is all the passengers have been ruled out after having been placed under medical observation.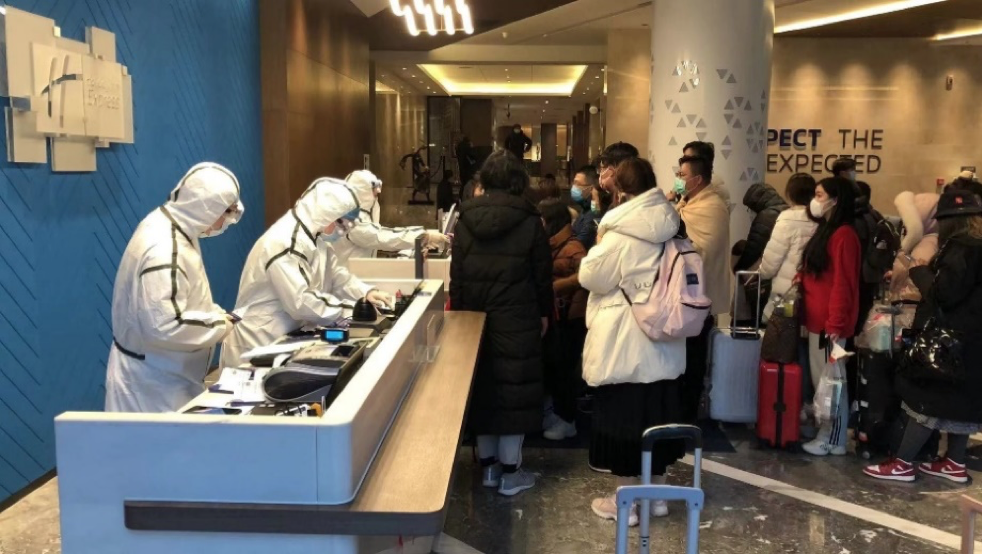 The hotel managed to welcome the guests 1.5 hour after receiving an urgent notice from the local authorities.
"Home away from home" caring for front-line medics
Our four hotels in Wuhan – InterContinental Wuhan, Crowne Plaza Wuhan Development Zone, Holiday Inn Wuhan Riverside and Holiday Inn Express Wuhan Optical Valley are providing a "home away from home" for medical teams who flew in to support Wuhan.
InterContinental Wuhan, for example, quickly summoned a total of 190 staff members in Wuhan. Resuming operation, they finished hotel cleaning and disinfection within just 24 hours, as efforts to support and accommodate front-line medics who were about to fight against the epidemic in the newly built Wuhan Huoshenshan Hospital.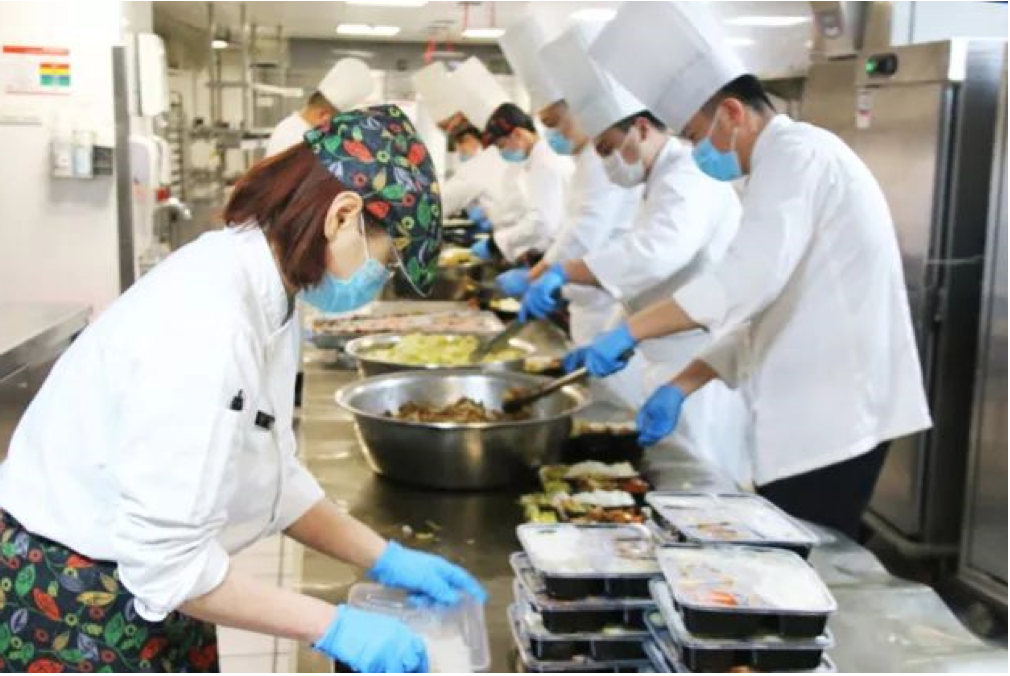 Every day, nutritious meals are prepared, boxed, and kept warm before being offered to the medics, together with fruits and milk. "We wanted to make sure these brave people could have fresh, warm and delicious meals," said a chef from the hotel, "besides offering local cuisine, we also adapt to their tastes, and the food safety is always the priority."
Outside Wuhan, Crowne Plaza Yichang, Holiday Inn Express Beijing Airport Zone and Holiday Inn Express Bengbu Downtown have also taken good care of the front-line medical teams. Below is a thank you note from a health worker with a hospital in Yichang, Hubei. It says: "Thank you for the great support and care during the special period. Though away from home, we are feeling just at home!"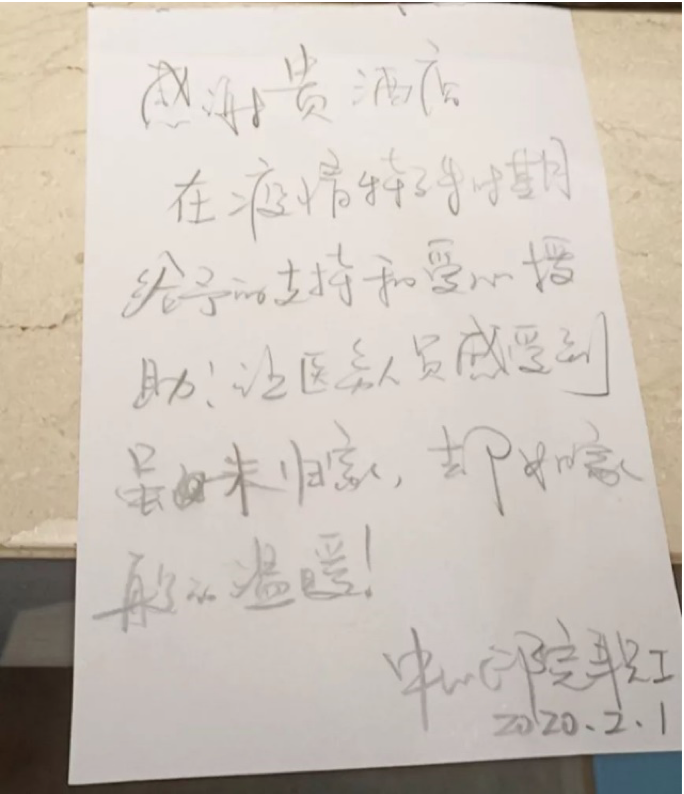 Go all out for health and safety
Our hotels have implemented appropriate protective measures, including using recommended hygiene products, regularly sterilizing public areas and guest rooms, as well as checking temperatures for staff members prior to work.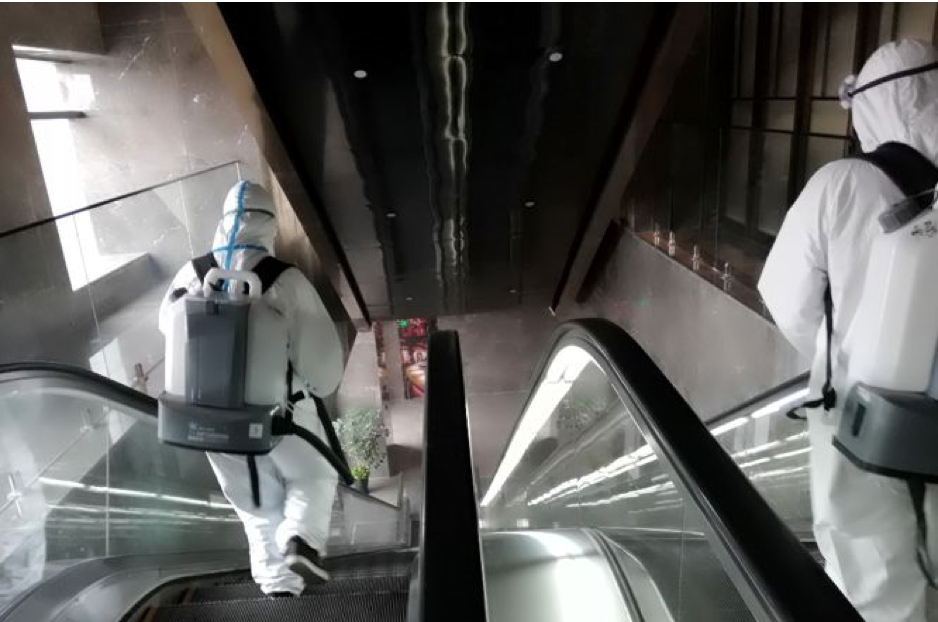 Crowne Plaza Wuhan Development Zone, which was opened less than two months before the outbreak, hired a professional third-party sterilization vendor to ensure the safety of its guests and employees. (See picture above)
Holiday Inn Express Beijing Airport Zone, housing more than 180 medics, introduces the "zero touch" check-in experience, as they record guest information in advance, and hand out the key cards through the contact person from the hospital, not only saving time for guests but also avoiding crowds in the lobby to ensure their safety and wellbeing.
A special Chinese New Year for hotel teams
Impacted by the Wuhan's lock-down, InterContinental Wuhan didn't have enough personnel to maintain a normal shift change in some functions. Some colleagues chose to cancel their holidays and stay at work. Robert Ruan, Director of Security and Risk Management, whose home is in Wuhan, hasn't gone home since 22 January. With the unexpected outbreak, he didn't even have the chance to pack up his personal items.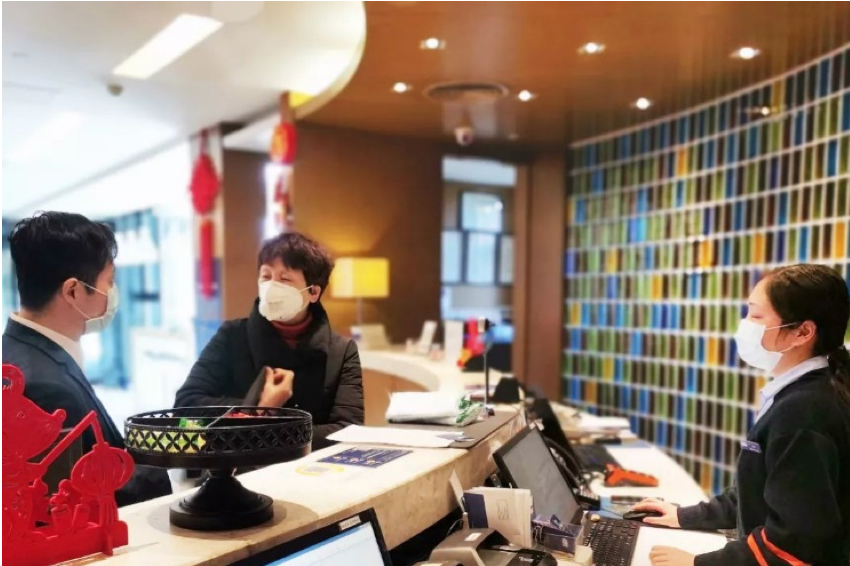 Holiday Inn Express Beijing Airport Zone has accommodated over 180 front-line medical personnel from Beijing Ditan Hospital, one of the Coronavirus-designated hospitals, and they will stay there until the virus blows over. This means that less than half of the hotel workforce in normal days have to take care of nearly 70% of the rooms. Reception supervisor Li Baolin and Zhang Yunqiu have been working restlessly since the first day of Chinese New Year (25 January). Before the outbreak, they would remind their colleagues, "have you smiled today?" But now this reminder became: "Have you put on a mask? Have you washed your hands? Have you had your temperature taken and is it normal?"
Giving back to the society: Coronavirus tears us apart for now, but Love brings us closer than ever!
We also have hotels supporting the local governments and communities in their own ways, be it guests service, hygiene measures, or supply donation. As moved by the bravery of the Chinese doctors and nurses, and others who fight against the virus on the frontline, our hotel colleagues want to contribute and be part of it!
For example, InterContinental Suzhou provided and delivered cakes and pastries for local frontline health workers, so that they can eat without taking off their protective suits. Crowne Plaza Wuhan Development Zone sent food and water supplies to construction workers who participate in building the Wuhan Huoshenshan Hospital.