The United Kingdom awaits the selection of its new Prime Minister .Trade between the UK and China remains strong, however its trade deficit continues to soar–a factor the new UK Prime Minister will need to address in UK-China relations.
Boris Johnson stepped down as British Prime Minister in July, 2022. Throughout his premiership, 'Get Brexit Done' was a reverberating theme, with Brexit providing the United Kingdom (UK) opportunities to form new and innovative trade deals through its 'Global Britain' strategy.
As the UK awaits the selection of its new Prime Minister, the remaining two candidates, Rishi Sunak MP and Liz Truss MP–although both commending the opportunities from Brexit-focus on the political and security challenges of the UK-China relationship. Accordingly, China does not appear to be a prime candidate for entering into a new Free Trade Agreement (FTA). The Chamber wanted to explore what the implications of Brexit has been on UK-China trade and what this could mean for UK-China relations.
The new resident at 10 Downing Street will inherit a strong bilateral trading relationship with China. The total value of trade between the UK and China remains robust at £93bn in 2021 and, despite the impact of the COVID-19 pandemic, continues to grow. British imports of goods from China in particular dominate the relationship, whilst British exports to China have grown 82% between 2011 and 2021.
However, the UK's largest trade deficit is with China–standing at-£39bn in 2021. This negative balance of trade poses a challenge for UK-China relations. Greater economic dialogue, increased engagement on political and business levels, and the exploration of an FTA with China, will need to be key priorities for the next UK Prime Minister.
UK-China Trade Relations
China remains the UK's third largest trading partner. The value of total trade between the UK and China, including goods and services, has grown consistently Year-on-Year(YoY), excluding as light decline in 2020 as a result of the COVID-19 pandemic–growing from £47bn in 2012 to £93bn in 2021 (an increase of 99%).
Indeed, the Department for International Trade (DIT) has noted that China is the fifth fastest-growing market for UK exports ahead of Switzerland and the United States.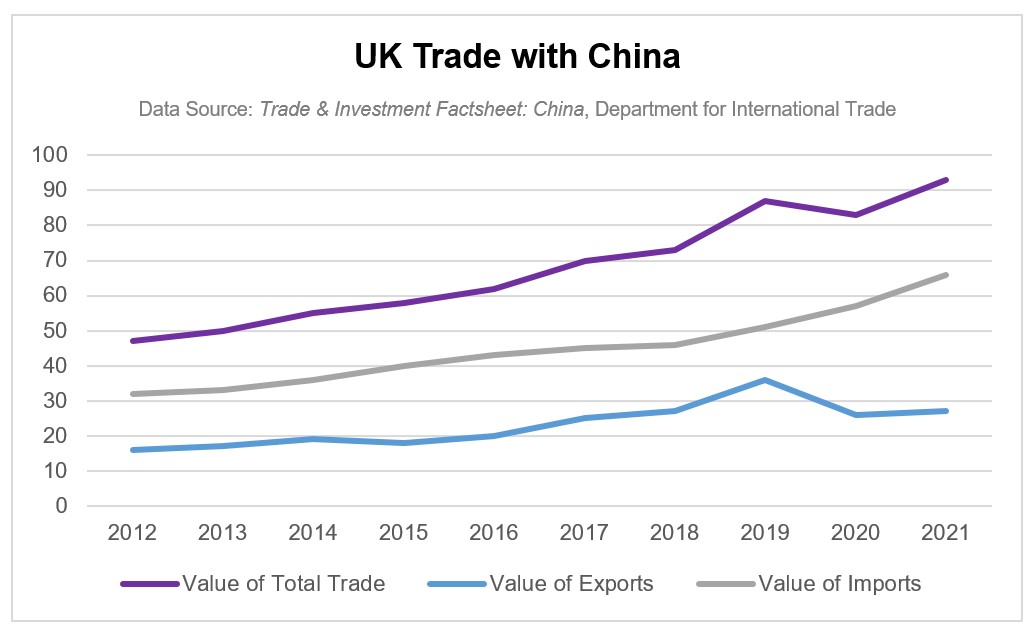 China is the UK's sixth largest trading partner in terms of exports–generating £27bn in 2021. Goods exports from the UK to China take into account roughly 70% of total exports, with transport equipment, machinery, and mineral fuels (such as Crude Oil) being the top three goods exported. Travel and transportation combined accounted for 52% of all services exported to China.
The UK-China trade relationship is particularly strong in regards to the import of goods. A Trade and Investment Core Statistics Book by the DIT highlights that, whilst China is the UK's second largest market for imports at £66bn, only approximately £2bn (3%) originate in service imports (accordingto2021seasonal estimates). China is therefore the UK's largest import market for goods, with
electronic equipment, machinery, and furniture being the top three goods imported from China. China does not, however, feature in the top ten of the UK's largest import markets for services.
It is important to re-emphasise, however, that the UK's trade deficit with China, which stands at-£39bn as of 2021, is its largest trade deficit.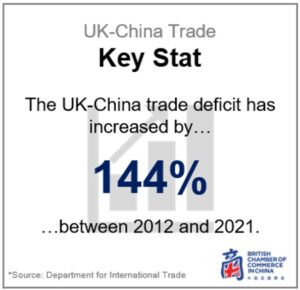 The deficit has been steadily increasing from-£14bn since 2019 as a result of increased demand for imports to the UK prompted by COVID-19–such as in medical equipment (including Personal Protection Equipment (PPE)) and electronic equipment (for example home-working related products).
A high trade deficit can lead to a devaluation of the British Pound (£) and reduce competitiveness of domestic production. Balancing the trade deficit between the UK and China whilst still fostering a strong economic relationship between the two countries will be a challenge the new Prime Minister will have to address.
Brexit in UK-China Trade Relations
The UK withdrew its membership from the European Union on 1st January, 2021– enacting the Trade and Cooperation Agreement (TCA) that removes the UK from the EU Single Market and Customs Union. The TCA allows the UK to independently control its trade -changing how the UK interacts with trading partners. One such change is the replacement of the EU Common External Tariff (CET) with the UK Global Tariff regime (UKGT).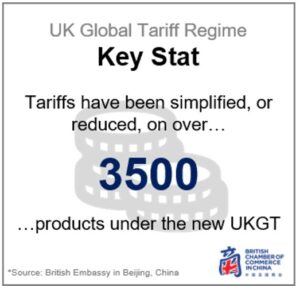 The UKGT contributes to the 'Global Britain' strategy by enabling the UK to independently set tariff rates for imported goods with any global bilateral trading partner–such as with China. The British Embassy in Beijing reported that as a result of enacting the UKGT, over 3500 products have seen tariffs cancelled, reduced, or simplified–enhancing market access and thus encouraging further growth in UK-China trade.
Brexit has also allowed the UK to have an independent role in the global trading system. It is now able to engage with, and advocate its position on, international trade issues independently. This has changed the way in which the UK engages with global trading partners–such as  at the World Trade Organisation (WTO). The UK has already engaged with China in this scenario; making its first independent statement on the WTO Trade Policy Review of China in 2021. Delivered by the UK's Ambassador to the WTO and UN in Geneva, the UK congratulated China on its economic success and engagement with the multilateral trading system, whilst highlighting the need to ensure China practices free and fair trade.
Whilst trade data suggests that Brexit and these resulting regime changes may not have immediately impacted UK-China trade, they nevertheless demonstrate a shift in how the UK conducts trade, and how it communicates with global trading partners including China. These changes provide a foundation for facilitating greater economic cooperation–such as negotiating an FTA with China to further enhance
market access, encourage economic growth between the two countries, and resolve
some of the major issues facing British businesses in China.
Impact on British Businesses



For many British businesses operating in China, Brexit appears to have not been a significant issue. This was communicated through the Chamber's British Business in China: Sentiment Survey2019-2020, with 50% of British businesses reporting that Brexit would not have an impact on their operations in China. 25% of British businesses said Brexit would have a slight negative impact on their operations in China.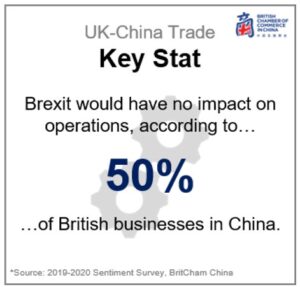 Tackling Chinese regulatory and marketplace challenges remain the most pressing  issues for British businesses. As highlighted in the Chamber's British Business in China: Position Paper 2022, British businesses in China report that a lack of clarity around policies, limited engagement with regulatory bodies, and COVID-19 travel restrictions, are the top issues impacting their operations.
The replacement of the CET with the UKGT has, on the other hand, provided different, or additional, regulations and steps for British businesses in China to export goods and services back to the UK. For example, there has been confusion around what constitutes an "environmental good" in the energy, chemical, and natural resource industries. Further clarification around import/export requirements could greatly ease challenges and simplify processes for British businesses importing, and exporting, to/ from the UK.
Entering an FTA with China could actively address these issues. Such an agreement would align standards, allow for the mutual recognition of various licences and qualifications, and relax customs duties and procedures that would significantly help British businesses succeed in the Chinese marketplace. In addition, ratifying such a trade agreement would increase bilateral/multilateral dialogue–helping to foster constructive economic and political cooperation.
Impact on Chinese Businesses
Chinese businesses, on the other hand, reportedly have been cautious in investing in the UK as a result of Brexit. As highlighted in a tracker report by a British consulting firm, complexities around post-Brexit immigration/employment regulation, and difficulty accessing wider EU talent, are encouraging Chinese businesses to diversify revenue streams in the UK market.
Despite this, additional reports suggest Chinese business confidence to invest in and expand their presence in the UK market remains predominantly high. The Chinese Chamber of Commerce in the UK, for example, emphasised in their 2020 Report on the Development of Chinese Enterprises in the UK that over 83% of respondents consider growing their business in the UK as a major priority. In addition, the same report found that 79% of Chinese businesses had seen stable or improving performance despite Brexit uncertainties. The suggestion that there is continued business confidence to invest in the UK is a further indication of the strong economic bond between the UK and China.
Whilst Brexit was not a major concern for British businesses in China, uncertainty around regulation and talent access has concerned Chinese businesses in the UK. Although Chinese business confidence remains high, the new UK Prime Minister could address these challenges to further endorse strong economic ties between the UK and China–such as through the exploration of an FTA.
UK-China Trade Relations and the New Prime Minister
The two remaining candidates for Prime Minister, Rishi Sunak MP and Liz Truss MP, both have similar, but challenging, views on China. Whilst both candidates emphasise the importance of economic relations with China, both strongly emphasise the security and political challenges facing UK-China relations– potentially shifting the UK Government's priority from trade expansion with China to
enhanced protection.
Whichever candidate takes up residence in 10 Downing Street, they will nevertheless inherit a strong UK-China trade relationship that continues to grow. With trade currently standing at £93bn, the relationship is particularly strong in goods imports–accounting for over 97% of British imports from China. Having said that, the rising trade deficit between the two countries–which stands at-£39bn–will be a problem going forward.
Whilst Brexit does not appear to have been a significant challenge for UK-China trade, there are challenges that the new British Prime Minister will need to address when taking up office in September, 2022. As highlighted earlier, these include advocating for British business concerns about the Chinese marketplace with the Chinese government, whilst also addressing regulation and talent access concerns
for Chinese businesses operating in the UK.

The Chamber believes that greater economic dialogue is needed between the UK and China to actively address the challenges and concerns of both British businesses in China, and Chinese businesses in the UK. The restarting of direct flights between China and the UK in August, 2022, is a positive step towards re-establishing crucial face-to-face exchanges on individual, business, and government levels. The Chamber hopes that, as travel between the two countries becomes easier, we will see are a resumption of formal economic dialogue in the near future-such as with the Joint Economic and Trade Commission (JETCO) and the Economic and Financial Dialogue (EFD).
Greater communication and increased exchanges will not only help British businesses tackle challenges in the Chinese marketplace and regulatory environment, but will simultaneously help Chinese businesses to engage in the UK economy with less uncertainty. Furthermore, increased engagement between the two countries can help tackle the growing trade deficit whilst maintaining strong economic ties, and harvest greater co-operation to address global challenges.
Nathan Beck-Samuels
Research Associate
British Chamber of Commerce in China
References
Beijing to Britain, "Where does each potential Prime Minister stand on China? A Beijing to Britain Briefing Note", July 2022. Available at: https://beijingtobritain.substack.com/p/where-does-each-potential-prime-minister?r=ax5st&utm_medium=ios
British Chamber of Commerce in China, "British Business in China: Position Paper
2022", July 2022. Available at: https://www.britishchamber.cn/en/british-business-in-
china-position-paper/
China Chamber of Commerce in the UK, "Report on the Development of Chinese Enterprises in the UK", November 2020. Available at  at: http://www.cccuk.co.uk/pdf/2020ReportontheDevelopmentofChineseEnterprisesintheUK-CCCUK.pdf
Department for International Trade, "Trade and Investment Core Statistics Book", July 2022. Available at: https://assets.publishing.service.gov.uk/government/uploads/system/uploads/attach
ment_data/file/1091691/dit-trade-and-investment-core-statistics-book.pdf
Department for International Trade, "Trade & Investment Factsheets: China", August
2022.Availableat: https://assets.publishing.service.gov.uk/government/uploads/system/uploads/attach
ment_data/file/1094983/china-trade-and-investment-factsheet-2022-08-01.pdf
Grant Thornton, "Tou Ying Tracker 2021",in collaboration with the China Chamber of
Commerce in the UK and China Daily UK, February 2022. Available at: https://www.grantthornton.co.uk/news-centre/tou-ying-tracker-reveals-scale-of-chinese-investment-in-uk/
International Institute for Sustainable Development, "Insight: The UK's Global Tariff:
A new broom sweeps green?", June 2020. Available at: https://www.iisd.org/articles/uk-global-tariff-new-broom
UK Government, "Speech: WTO Trade Policy Review of China: UK Statement",
October 2021. Available at: https://www.gov.uk/government/speeches/wto-trade-
policy-review-of-china-uk-statement
UK Parliament Hansard, "UK Global Tariff: Statement from the Secretary of State for International Trade", Volume 676, May2020. Available at: https://hansard.parliament.uk/commons/2020-05-
19/debates/20051914000012/UKGlobalTariff