China sold over 3.2 million electric passenger vehicles in 2021, accounting for 53% of global EV sales. What can British businesses learn from the Chinese EV industry to help fight against climate change?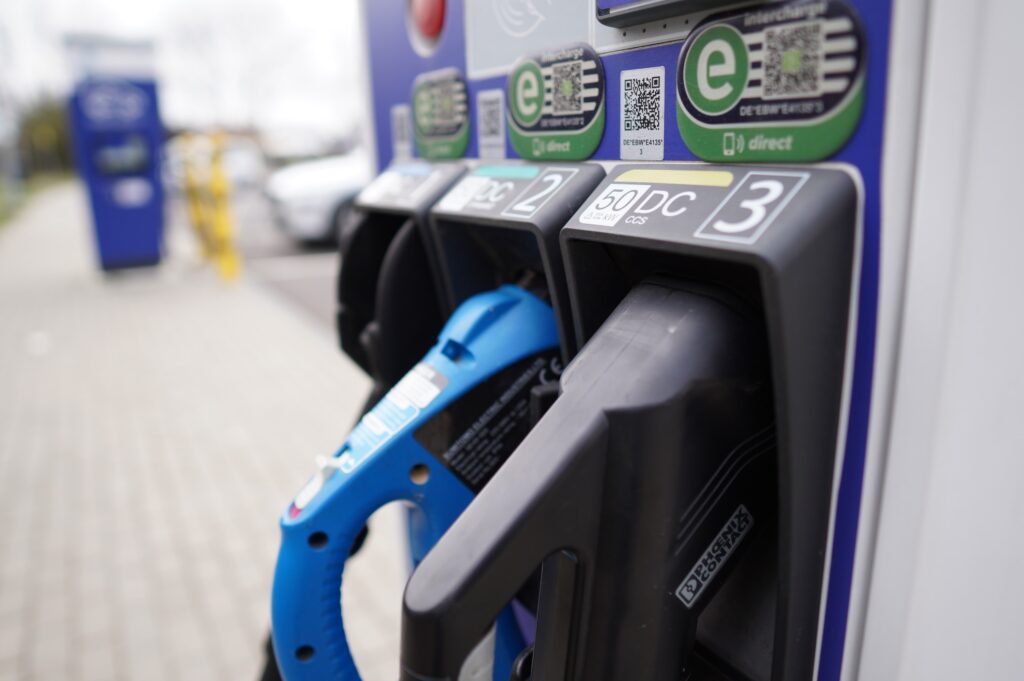 About EVs
Electric vehicles (EVs) are at the forefront of tackling climate change in the transportation sector. Transitioning from Internal Combustion Engine (ICE) vehicles to electric powered vehicles – including Battery-Electric Vehicles (BEV), Plug-In Hybrid Electric Vehicles (PHEV), or Hybrid-Electric Vehicles (HEV) – is regarded as a major step to achieving zero-carbon emissions by the mid-century.
China has the largest EV market in the world. In addition to high numbers of EV sales, roughly 98% of all electric buses worldwide operate in China.
China's successful EV industry is largely thanks to effective incentivised financial and infrastructural policies. Such policies – including the Dual-Credit Policy and consumer-based subsidies – have provided China with the ability to facilitate and grow the intention, supply, and demand for EVs.
Analysing this success could provide inspiration as to how British businesses could develop and grow the UK EV industry – such as domestic EV battery production, increased R&D, and local government financing. This would not only provide opportunities for British businesses, but foster closer co-operation between the UK and China.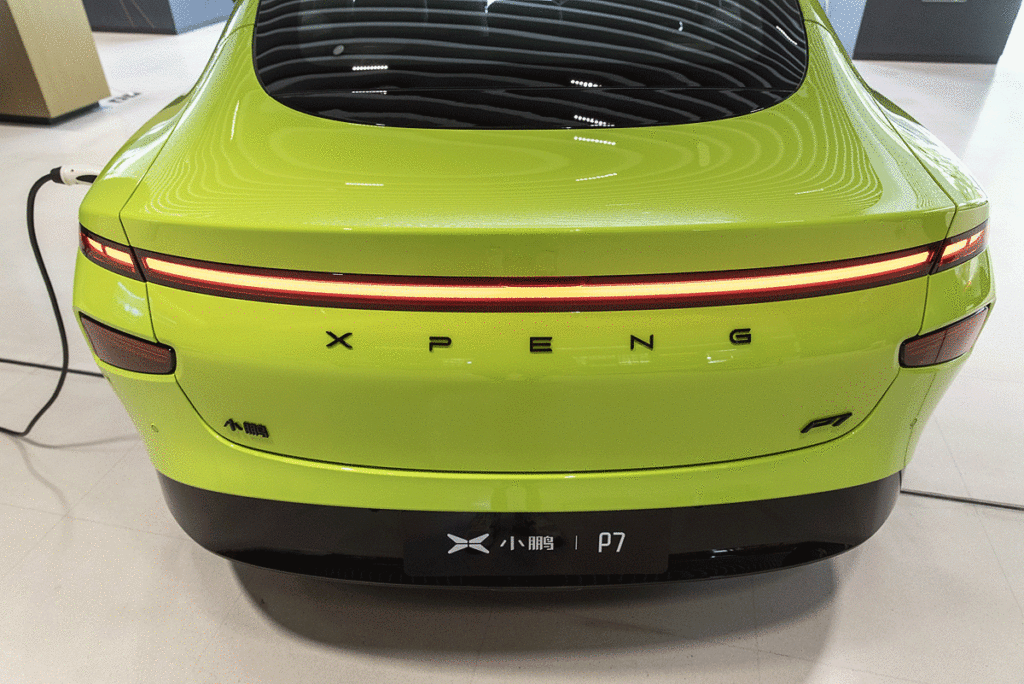 Source: Automotive News
The Chinese EV market
In 2021, China sold over 3.2 million electric passenger vehicles – which accounted for around 15% of total car sales in the country – with an estimated market value of over ¥833 billion (£101bn / US$124bn). Currently, there are estimated to be over 7.8 million electric vehicles on the road in China.
Since 2009, the Chinese government has invested around US$60 billion in the EV industry, including US$30 billion on EV subsidies, which has helped a number of Chinese start-up EV manufacturers to develop, and dominate, the Chinese EV market. Such start-ups received significant investment – including BYD, Nio, Xpeng, and Li Auto. Currently, BYD dominates the Chinese EV market with a 25% market share.
Tesla established its first overseas 'Giga' factory in Shanghai in 2019, without joint-venture requirements, to address rising demand in the Chinese EV market. Analysts have emphasised that Tesla's presence has intensified the competitiveness of the Chinese EV market – encouraging Chinese EV manufacturers to innovate in order to compete successfully.
Although some analysts suggest there is little 'organic' demand for EVs in China when financial incentives are excluded, the market is nevertheless expected to continue to grow. Forecasts by a major American consultancy firm suggests that EVs will account for 37% of all total vehicle sales in China by 2030. In addition, analysis from BloombergNEF predicts that China will have around 162 million EVs on the road by 2040.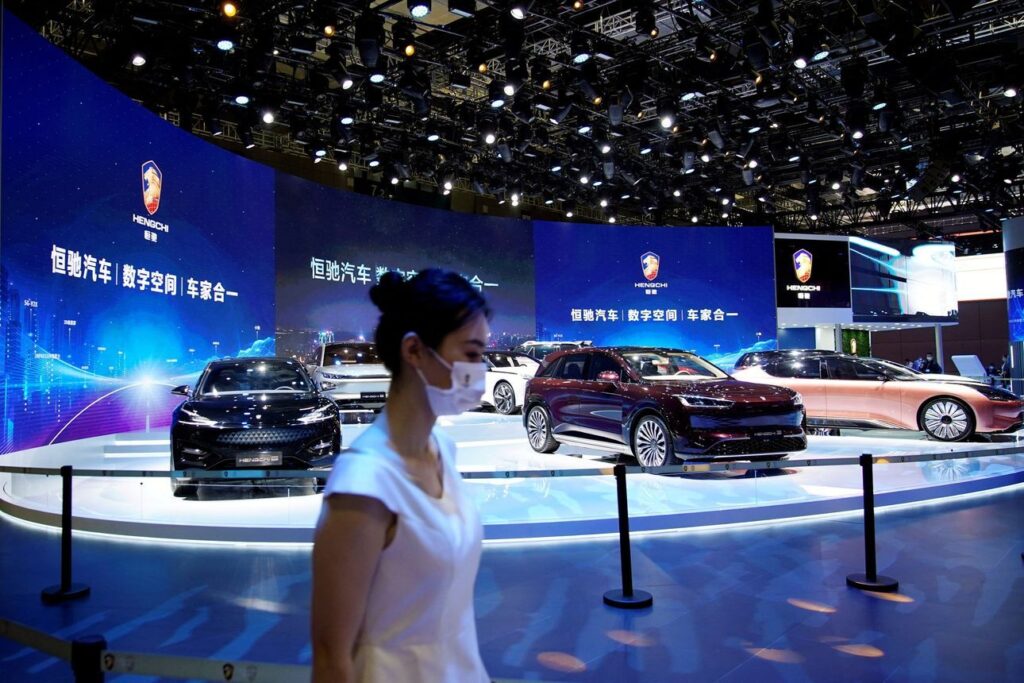 Source: Reuters
China in the global EV market
China's ambition to dominate the global EV market is already demonstrated by a number of Chinese manufacturers exporting overseas – particularly to Europe. Xpeng, for example, delivered its first exported BEV to Norway in 2020. Similarly, it is reported that Nio intends to develop its presence in 25 countries worldwide by 2025.
However, Chinese manufacturers face fierce competition overseas. Volkswagen Group, for example, dominates the European EV market with a 20% market share as of January, 2022. With other EV manufacturers from Germany, France, and South Korea, for example, competing in Europe, analysts suggest that the quality (and brand image) of Chinese EVs needs to improve if it is to successfully compete in the second largest global EV market.
Similarly, in the US, Chinese manufacturers would need to compete against Tesla which accounted for 70% of all new EV units registered in the US in 2021 (14% of the global EV market). Furthermore, Ford, General Motors, and start-ups such as Rivian and Canoo, are garnering traction with electric SUV/Pickup models. General Motors has announced plans to produce only EVs by 2035 – exemplifying US ambitions to compete in the global EV market.
Whether China can transfer its success to the global EV market is yet to be seen. However, its strong domestic performance has provided it with a head start in comparison to some other EV manufacturers in Europe and the US.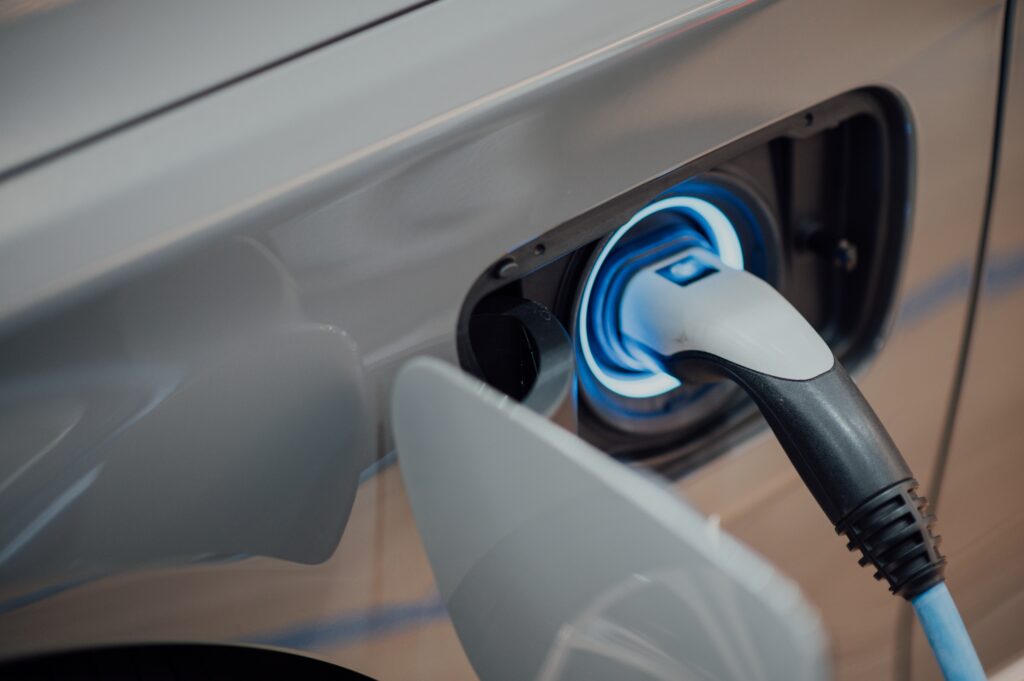 EV incentivisation
The success of the Chinese EV market is largely thanks to the financial, infrastructural, and consumer-based incentive policies of the Chinese government to develop the industry since 2009. Such policies have had a significant impact on China's ability to produce, facilitate, and create demand for electric vehicles on a considerable scale.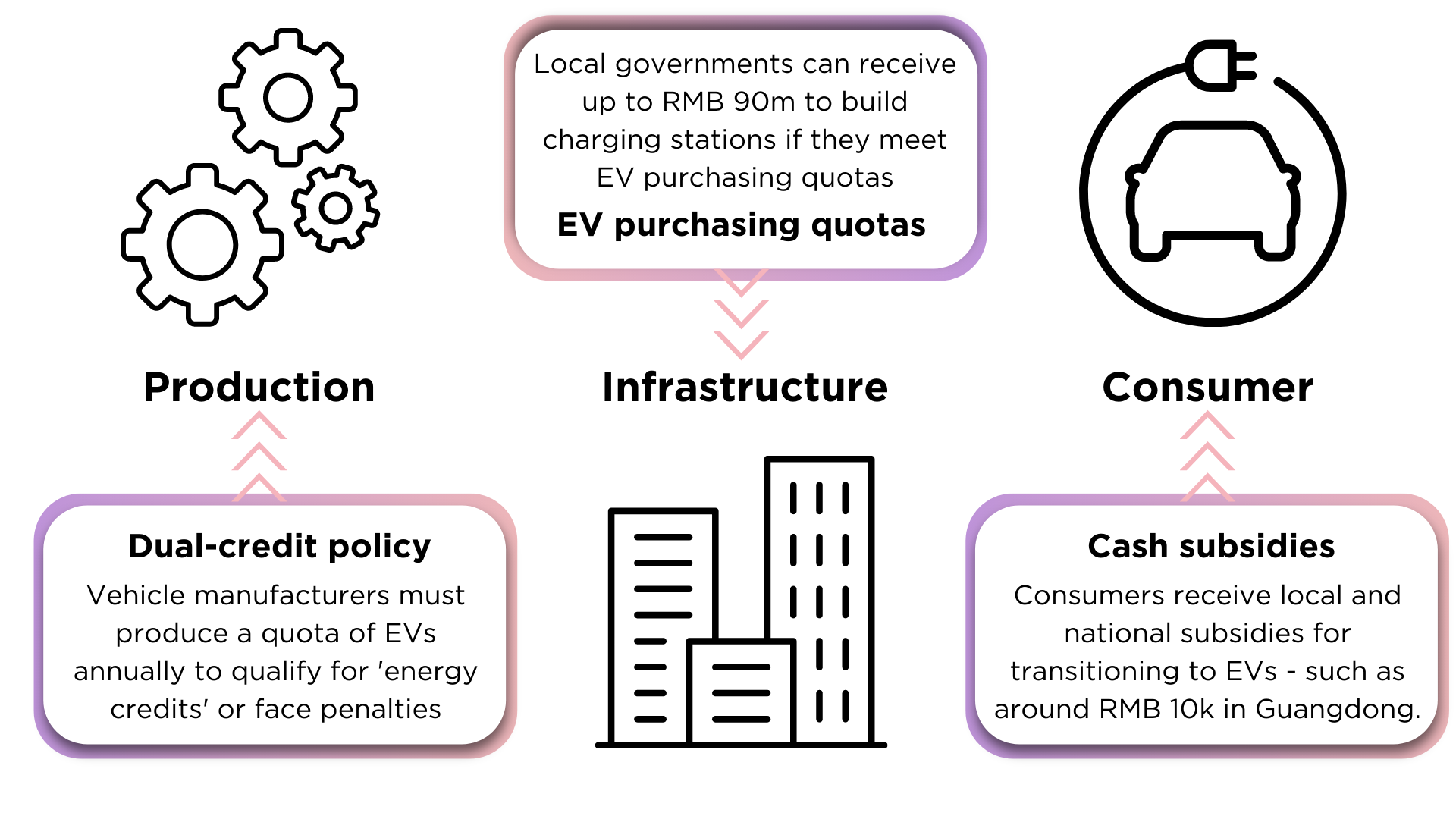 The incentivisation of production, infrastructure, and consumer behaviour has significantly bolstered the EV industry in China – accelerating the transition away from ICE vehicles and furthering its goals to phase out fossil-fuelled passenger vehicles by 2035.
However, the Chinese Ministry of Finance announced in January that it plans to cut EV subsidies by up to 30% by the end of 2022. The announcement by the Chinese government suggests that it intends to scale back its involvement in the Chinese EV industry in future.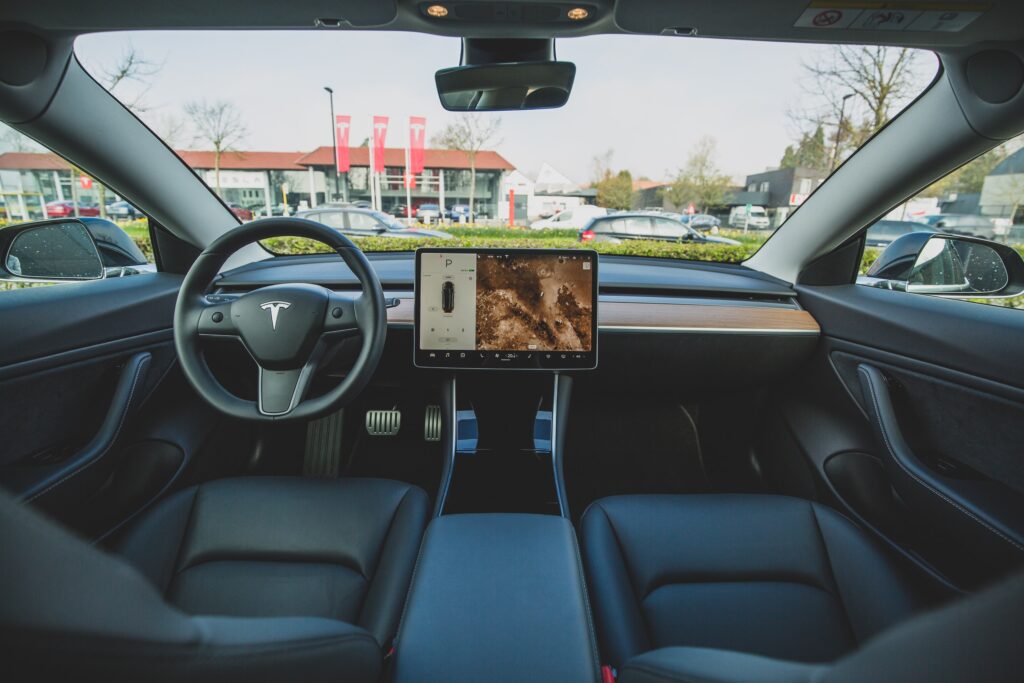 What can the UK learn from China?
In the UK, whilst improvements have been made to EV infrastructure in recent years, there is still hesitancy amongst British drivers to switch to electric vehicles as a result of several issues – including costs, energy, and infrastructure. In addition, electric-powered buses, although present, have yet to make a significant appearance.
Although there are significant geographic, demographic, and policy differences, what can British businesses learn from China to tackle these three issues?
Cost
The average new ICE car in the UK costs around £25,000 whereas a new electric car costs on average £44,000. Many British drivers simply cannot afford electric vehicles and, whilst the UK Government provides some financial incentives, they have not substantially influenced consumer behaviour. Cost is a major obstacle towards transitioning to EVs.
As highlighted earlier, the Chinese government has boosted demand for EVs by providing subsidies to the consumer – as much as ¥10,000 (£1,200) per EV. Similar policies have been introduced across Europe where EVs feature a 0% road tax policy – reducing overall purchase and running costs – and thus encouraging EV transition.
However, around 77% of all EV lithium-ion batteries are produced in China. As a result, EV battery prices are lower in China at $111 per kilowatt-hour as of the end of 2021 (60% less than in Europe, and 40% less than in the US, respectively). This reduces overall EV purchasing costs for the consumer – as demonstrated by China's bestselling Wuling Hongguang Mini EV costing only ¥30,000 (£3,400).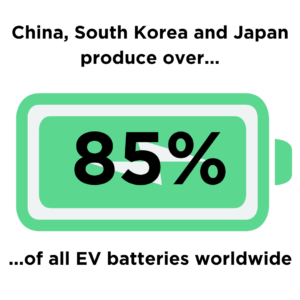 Producing electric vehicles and batteries domestically could therefore be an effective solution to resolving cost obstacles for British drivers. Such development could significantly decrease EV purchasing costs in the UK whilst providing opportunities for British businesses, and greater co-operation between the UK and China.
Creating a self-sustaining domestic EV industry, and battery production, in the UK could significantly reduce EV costs for the consumer and thus boost demand for EVs.
Energy
Leading on from battery production, battery durability is another concern for British drivers. Known in the industry as "range anxiety", many drivers fear BEVs have insufficient charge to complete a journey – discouraging EV adoption. While most journeys can be accomplished on a single charge, expanding battery capabilities would address range anxiety.
Contemporary Amperex Technology Limited (CATL) – the largest manufacturer of EV batteries in China – has sought to mine and develop more lithium sources to ensure EV battery supply chains are sustainable.
Chinese EV Manufacturers are also exploring options. Nio, for example, introduced a battery swapping scheme in 2018 where drivers can replace EV batteries at designated stations. However, the scheme is not universal (only Nio vehicles can use it) and, as some critics highlight, can be regarded as a short-term solution to expanding battery capacity.
Reports from the Society of Motor Manufacturers and Trade (SMMT) indicate that manufacturers have committed around £10.8 billion in EV battery R&D in the UK since 2011 – creating over 14,300 jobs nationwide. As highlighted by Sino Auto Insights, British industry is in a prime position to innovate EV battery technology and software – providing opportunities for British businesses and venture capitals, creating jobs, and introducing ready-made technology to the British consumer.
Breakthroughs in battery technology (R&D) would have a significant impact on producing sustainable batteries for the future – meeting range anxiety concerns.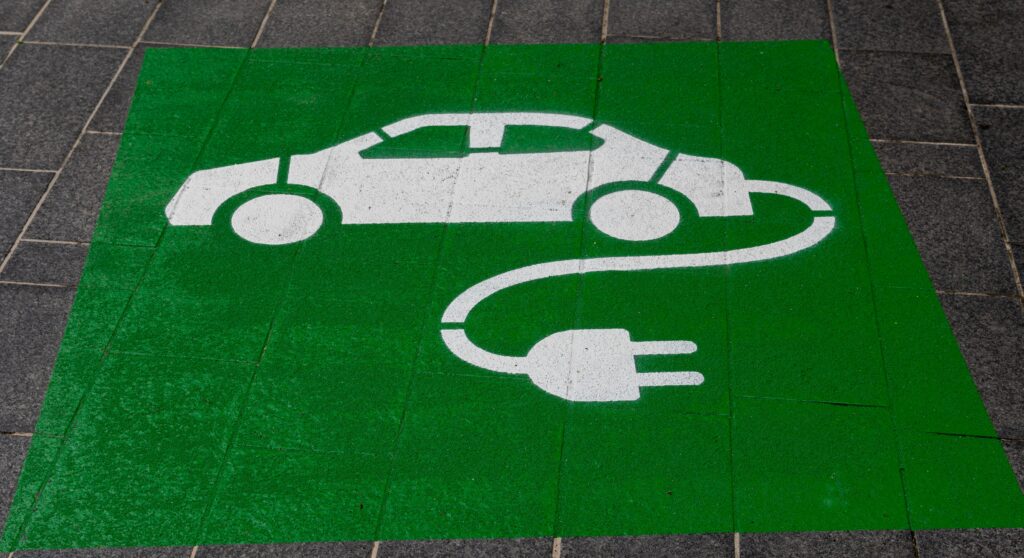 Infrastructure
Connected to range anxiety, accessing public charging points is a major concern for British EV drivers. There are over 37,000 public charging points across the UK; one public charging point for every twelve EVs. However, if drivers are to be encouraged to adopt EVs, additional charging capacity is needed in order to meet future demand.
China has eight charging points for every one charging point in the US –a total of 1.15 million public EV charging stations as of 2021. As previouslyhighlighted, local governments can receive up to ¥90 million to build chargingstations if they meet EV purchasing quotas – enabling China to build EV infrastructureon demand. However, Chinese EV infrastructure is concentrated in cities; only1% of all charging points in China are situated on highways.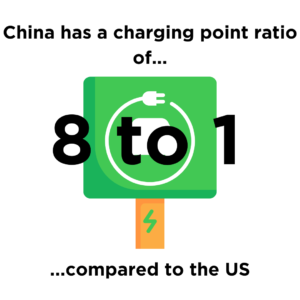 Work is already under way in the UK to increase capacity. Shell Energy, for example, opened its first EV Charging Hub in January, 2022, in Fulham, London, where EVs can be typically 'super-charged' within an hour in a petrol-station-style format. Shell intends to introduce 50,000 similar charging hubs across the UK by 2025. In addition, Shell and BYD announced a strategic co-operation agreement in March, 2022, to improve BYD charging infrastructure in China and Europe – exemplifying the importance of joint-venture partnerships in EV transitions.
Outside of London, however, charging points reportedly require tedious processes such as downloading apps, creating accounts, and sharing payment details before charging. A simpler approach is needed if EVs are to be more attractive nationwide.
Increasing accessibility, and simplicity, of public charging points – particularly in non-urban areas – would significantly increase the attraction, and thus demand, for EVs in the UK.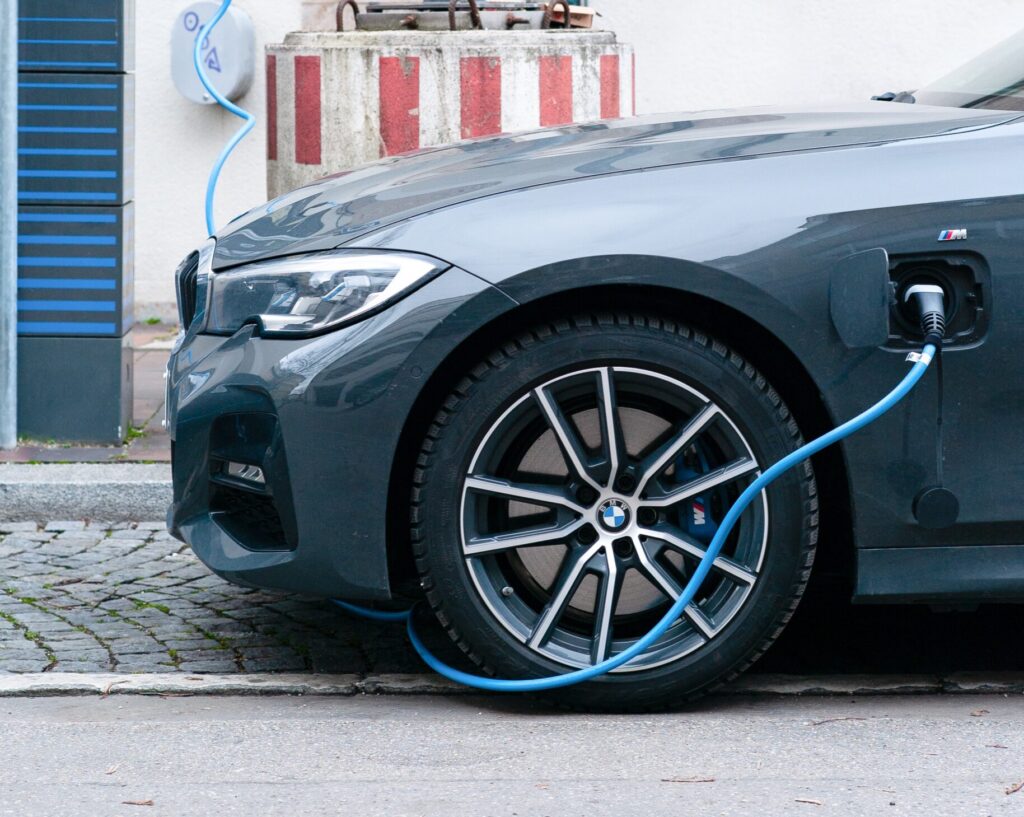 E-buses and public transport
Buses are another area where British businesses could learn from China. As previously mentioned, 98% of all electric buses worldwide operate in China. This is largely due to Chinese bus companies updating old ICE fleets with new electric buses, in addition to local governments installing pantographs on bus routes and at depots.
With initiatives such as the BYD UK and Alexander Dennis Limited joint-venture, the UK has a growing network of just under 1,000 electric buses nationally. Encouraging British transport businesses to update bus fleets with electric buses, and encouraging local councils to invest in electric public transport infrastructure, could significantly cut public transport emissions and encourage green public transport use.